Volkswagen Announces New Site for Scandal Updates

By Jeff Ostroff, Consumer Advocate, Editor-In-Chief
Published September 27, 2015
New info web site has apology video, FAQs, no plans to reimburse owners, and official press related releases
Volkswagen USA today announced the launching of a new information web site VWDieselinfo.com that they have just created to give us all official information on the TDI diesel vehicle emissions scandal update. In case you've been living under a rock the last 7 days, the EPA issued a Notice of Violation to Volkswagen for using a defeat device to trick the EPA during emissions testing, making them think their diesel cars produced from 2009-2015 emitted low amounts of pollutants.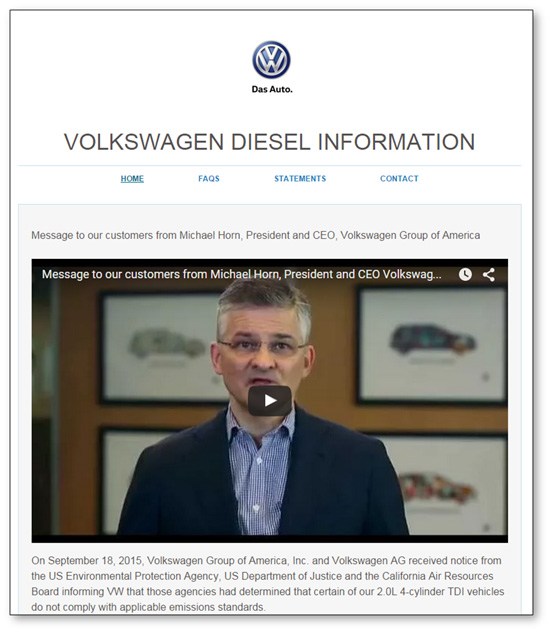 Of course it turned out after further testing that VW diesel vehicles are pumping out nearly 40 times the legal limit of Nitrous Oxide pollutants, and now VW faces worldwide shame, regulatory investigations and grillings, potentially 11 million vehicle recalls, and $18 billion in fines, not to mention the VW owner class action lawsuits that have already started trickling in from owners angry that they paid up to $6000 in premiums for VW CleanDiesel vehicles.
VW need this official site to keep us updated on Dieselgate
This new VWDieselinfo.com web site has little that we don't already know, and has unfulfilling attempts to vaguely answer other questions. We can only hope it grows over time to provide more useful information. On the front page they have initiated the web site with a YouTube video "Message to our customers from Michael Horn, President and CEO, Volkswagen Group of America", where he apologizes and states that they are working on a solution and are committed at every level of the company to regain your trust.
What else is on VWDieselinfo.com?
The site also contains FAQs answering the question "is my car safe to drive?" which they say yes it is, there are no safety dangers. One question concerning when a remedy will be ready, they answer "We cannot offer a firm date now because we need to work on the remedy.
This really means Oh dang, we did not fully engineer real a clean diesel system in these cars with a urea tank to aid in filtering out the pollutants, now what do we do? My guess is this fix will not be an easy task for them, they may end up re-engineering the "pollution control" part of their engine from scratch or they could end up taking back some cars for being unrepairable.
I want to turn in my vehicle–Can I and how?
Well now, this is where the dishonest VW is trying to be semi-honest, but still playing truth shell games. Their answer is "We are cooperating closely with the regulatory authorities to develop a remedy as quickly as possible. We ask for your patience as we work to get this done right." Well that sounds like a smoke screen.
If I may go out on a limb here, I'll answer your question on their behalf: No! We are not giving you your money back! So by their wording above you can see their plan is likely to try to come up with some Apollo 13 fix with maybe some chewing gum and duct tape, and let's tape some square thing to fit into a circle thing and hope it works. But it looks like they have no plans to give you any money back.
Watch out for opportunist scammers and your VW
If you are a VW owner, you might want to bookmark their new web site, and this site CarBuyingTips.com for official and truthful information, so that you don't get victimized or scammed by misleading information from opportunists foaming at the mouth and circling you like buzzards feeding off of your loss.
Here is a copy of the tweet sent out by Volkswagen USA today:
Visit http://t.co/EpDCkECSwV for information regarding affected TDI vehicles. pic.twitter.com/il2AjTXkCc

— Volkswagen USA (@VW) September 27, 2015
We have more related articles below that have much more details on the Volkswagen Dieselgate Scandal for you to read and get caught up.
Related Articles:

About The Author: Jeff Ostroff
A lifelong consumer advocate with over 20 years of unparalleled expertise, Jeff is the Founder, CEO and Editor-In-Chief of CarBuyingTips.com. As chief consumer advocate, he oversees a team of experts who cover all aspects of buying and selling new and used cars including leasing and financing.
For decades, Jeff has been the recognized authority on vehicle purchasing, sought out often by the media for his decades of experience and commentary, for live call-in business radio talk shows and is cited often by the press for his expertise in savvy car shopping methods and preventing consumer scams and online fraud. Jeff has been quoted in: CNN, MSNBC, Forbes, New York Times, Consumer Reports, Wall Street Journal and many more.
Jeff also has extensive experience and expertise in new car brokering and selling used cars for clients on eBay and Craigslist. Connect with Jeff via Email or on Twitter.