2020 Shelby Mustang GT500 Pricing, Details Revealed by Ford at Barrett-Jackson Palm Beach

By Jeff Ostroff, Consumer Advocate, Editor-In-Chief
Published April 17, 2019
2020 Shelby GT500 to be the fastest Mustang ever produced!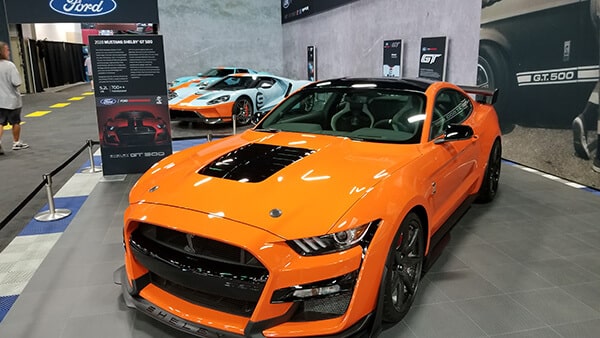 At the Barrett-Jackson Palm Beach Collector Car Auction last week, Ford Performance held its Florida debut of the new 2020 Mustang Shelby GT500, due in Ford dealer lots by the third quarter of this year. Ford claimed this new Shelby Mustang GT500 is the most powerful and aerodynamically advanced street-legal Mustang ever.
We here at CarBuyingTips.com were invited to the media event presented by Ford Performance for the official reveal presentation by both Barrett-Jackson CEO Craig Jackson, their President Steve Davis, and Ford Performance managers as they offered us a tour of the fastest Ford Mustang ever.
This year also marks several firsts for the Shelby GT500 Mustang platform. It is the first time since 1970 that Ford has offered both the GT350 and the GT500 for sale at the same time.
Barrett-Jackson CEO Craig Jackson told us "I am a huge Shelby Ford fan and have a 2005 GT and a 2017 GT and numerous Shelbys in between. The newest is what I bought here, VIN #1 of the new GT500 here to go along with all my vintage cars."
Jackson also stated "The history of Ford and Shelby is truly amazing it's an American icon, how he took it to Ferrari, how a bunch of hot-rodders from Southern California went to Europe with the coupes and won, and it is just the whole heritage of Shelby and the Ford connection. Most of my collection is Shelby's."
Ford Motor Company was founded on racing technology transfer for the road to race and from race to the road. This is an important distinction here because it shows that Ford is not just a car company that on occasion builds a race car at a loss with all unique architecture, they use the technology back and forth between the two street and track platforms.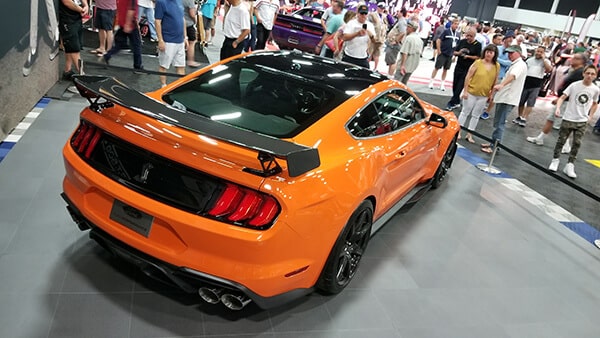 2020 Shelby GT500 fastest street legal Mustang ever produced
Jeannee Kirkaldy, Ford Performance Motorsports Marketing Manager told us "It's the fastest street-legal Mustang that ford has ever produced, and it has the largest hood vent Ford has ever produced. The GT500 also has the largest quad exhaust we've ever put on a Mustang."
This GT500 was roped off in the Ford Performance display booth and was equipped with the Carbon Fiber Track Package option. It was keeping company with some other heavy hitting cousins parked next to it, such as the 2006 Ford GT Heritage Edition and the 2019 Ford GT.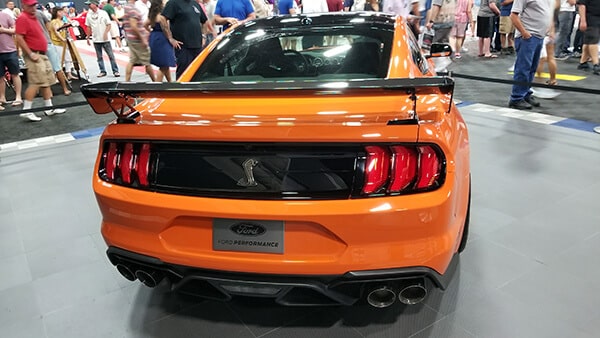 Engineered to attack on all fronts
Kirkaldy also stated Ford Performance used a lot of their race car drivers to help test and evaluate this GT500 during the design. This 2020 Shelby GT500 will be available in 2300 Shelby-enrolled dealers by this fall. You will see Ford Performance mention many times the GT500 is "engineered to attack on all fronts."
This GT500 on display comes in Twister Orange, one of 11 colors in the palette for you to choose from, and you may opt-in to get stripes on it too. The base package includes vinyl striping or you can order painted-on stripes. You also have a choice to get your stripes in 3 different color options.
The Track Package on this Shelby Mustang GT500 has 20-inch carbon fiber wheels and in the rear, they are 1/2 inch wider for the rear tires. The rear carbon fiber wing can be adjusted from the downward street position as shown in the photos we shot here from the Ford Performance booth or the wing can be positioned up higher into the race position when you take your Cobra out onto the track.
Inside the 2020 Mustang Shelby GT500
On the inside of the GT500, we have an exposed carbon fiber dashboard as well as standard Recaro seats. You can see Cobra emblems everywhere; they are not shy at all about it.
Ford Performance provides standard with this Track Package, a lower total vehicle weight, and they have removed the rear seats out of the GT500 for reduced weight and optimal performance. You are not allowed to put the rear seats back in.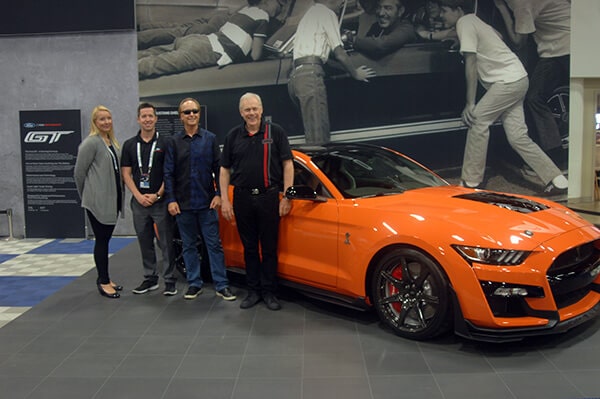 Shelby GT500 Engine Specs
This 2020 Shelby GT500 has a hand-crafted 5.2-liter supercharged V8 engine capable of over a stunning 700 horsepower. This powerful engine is joined to an ultra-fast TREMEC 7-speed dual-clutch transmission, all the calibration is done by Ford Performance.
Compare this massive power rating to the latest 6th generation standard Ford Mustangs with Their 5.0L V8 and they only max out at 460 hp, a spectacular engineering feat in their own right that smashes all previous Mustang variants from Saleen and Steeda, but still falls short of the Shelby GT500 unveiled today.
No other Mustang variants even come close to matching this new Shelby GT500 in terms of raw power and torque. Even the 2006 Steeda Q525 Mustang equipped with a 5.0L Modular V8, was only capable of producing 500 hp, which was a major engineering feat at the time.
The Saleen 302 CID Extreme Mustang variant was likely the most powerful previous Mustang variant with a Saleen Series VI Supercharger providing a horsepower rating up to 620 hp, still far below the new Shelby GT500.
The final speed numbers and engine specs for the Shelby GT500 won't be available until late summer but Ford Performance is already boasting about speeds of 0-60 MPH in the mid-3 seconds and a ¼-mile in under 11 seconds. Our guess is that Ford Performance is still working around the clock with their engineers and heroic race drivers trying to squeak out every single last horsepower, cutting more weight, probably waiting until the day before they hit the Ford dealers to announce the latest power and speed specs.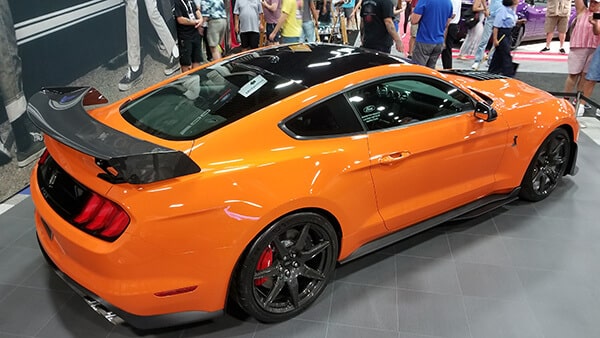 Pricing announced and production quantities of the 2020 GT500
Ford Performance is not releasing any production quantity numbers or pricing for our new 2020Shelby GT500 yet. They refused to divulge any of that information when we pressed them for it. But the price for the base model of this 2020 Shelby GT500 was likely accidentally announced by a Ford employee in California the same day we attended this debut at Barrett-Jackson.
Kudos to YouTuber Speed Phenom, a Shelby lifestyle personality, who on the same day we were being denied pricing info by Ford, attended the Fabulous Fords Forever show in Anaheim California. There a Ford representative revealed the 2020 Shelby GT500 base pricing to be $67,000, which we believe may they may have accidentally leaked this pricing information out.
You can bet this Carbon Fiber Track package will likely add another $10,000 to $15,000 to the base price. Ford plays these secretive pricing games all the time with the GT exotic car as well as the Bullitt Mustang last year. They like to leave us in the dark about pricing to keep the interest and suspense up.
Don't think for a minute that you are going to get away with paying just that base price or "only" several thousand dollars above that already stratospheric price. With super-hot and in-demand cars like these, new car dealers typically add what we call ADM (Additional Dealer Markup) stickers placed on the windshield or next to the window sticker, which is often tens of thousands of dollars more than the actual window sticker price.
Porsche and Chevrolet Corvette dealers are notoriously known for doing this but as long as customers are willing to pay the exorbitant price and give car dealers thick icing on their cakes for the honor of being the only person they know to own one, car dealers will keep gouging car shoppers legally.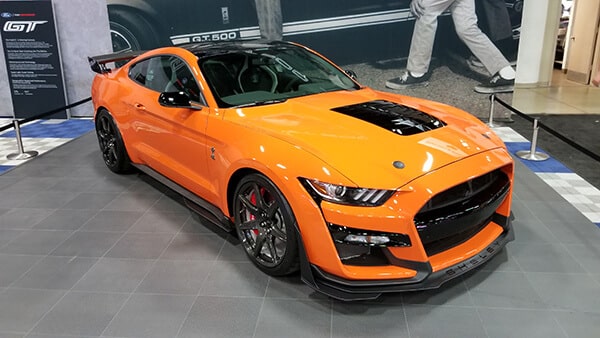 2020 Shelby GT500 architecture, engine cooling and aspiration
As you walk around the front of the Shelby GT500 you will notice the air intakes and openings are twice as large as the Mustang Shelby GT350. A ferocious engine of this type needs to be fed lots of air in huge volumes to gulp it all down and stay cool, much more than previous Mustangs.
Ford Performance engineered the GT500 this way for increased cooling capacity for the hungry 700 horsepower supercharged V8 engine.
For starters, the 2020 Shelby GT500 has that record-breaking 6 square-foot main hood vent and a main engine air intake, then there is a secondary air intake for the brake duct to help cool the brakes, and finally, Ford included an engine oil cooler.
The Shelby GT500 also sports 3 radiators: a main high-temperature radiator, a second low-temperature radiator dedicated to the supercharger, and the third one is an auxiliary high-temperature radiator, likely one that kicks in during high speed and performance demands.
Ford Performance claims the front-end cooling design with its larger total intake square footage and additional cooling system components increases airflow by 50 percent compared to the airflow rating on its smaller sibling Shelby GT350 model. These improved modifications allow the GT500 to extract up to 230 kilowatts of engine heat with the accelerator to the floor, which they claim is enough power to heat a dozen homes.
An auxiliary engine radiator and a dual thermostat system provide us with additional thermal capacity during those high-demand driving situations. Ford also designed in a rear heat exchanger to maintain rear differential temperatures.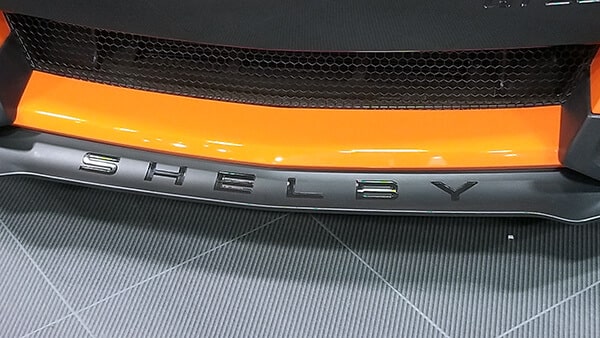 Aerodynamic Features of the GT500
All subsystems work together to provide us with these record-breaking power ratings. It is more than just the raw power of the engine; it also is dependent on how you manage the air flowing through, under, and around your race car.
This Shelby GT500 has a front splitter, a belly pan with reverse wing and side splitters to channel airflow to reduce the front-end lift of your GT500 vehicle and minimize drag on the vehicle as well.
The six-square-foot louvered hood vent with its removable rain tray help further reduce front-end lift and all that extra hood vent square footage contributes to this Cobra's cooling efficiency. Larger ducting on the Shelby GT500 we mentioned above for the front brakes extracts up to 100 kilowatts of heat alone from these massive 16.5-inch two-piece brake rotors.
Surely those front brake rotors must be a production car record size for front brakes, or close to a record. The side splitters and the rear diffuser both work to channel high-pressure wind both around and below the Shelby GT500, helping to reduce overall drag on the vehicle during high speeds.
This GT500 also comes equipped with the GT4-style rear track wing, was originally designed for the Ford GT Le Mans race car and is now available on this Carbon Fiber Track Package. Ford Performance claims this rear wing adds up to 550 pounds of rear downforce at 180 mph.
Only time will tell what the actual pricing and specs and availability will be on this most powerful Mustang ever built. Until that time may you enjoy many exciting and happy new car shopping days.

About The Author: Jeff Ostroff
A lifelong consumer advocate with over 20 years of unparalleled expertise, Jeff is the Founder, CEO and Editor-In-Chief of CarBuyingTips.com. As chief consumer advocate, he oversees a team of experts who cover all aspects of buying and selling new and used cars including leasing and financing.
For decades, Jeff has been the recognized authority on vehicle purchasing, sought out often by the media for his decades of experience and commentary, for live call-in business radio talk shows and is cited often by the press for his expertise in savvy car shopping methods and preventing consumer scams and online fraud. Jeff has been quoted in: CNN, MSNBC, Forbes, New York Times, Consumer Reports, Wall Street Journal and many more.
Jeff also has extensive experience and expertise in new car brokering and selling used cars for clients on eBay and Craigslist. Connect with Jeff via Email or on Twitter.