Buying a Used Car
Buying a used car can be a tricky process to navigate because no two used cars are the same. Each car has it's unique history which can either work in your favor or become your biggest nightmare. In addition to the steps required to get a good deal on a new car, when buying a used vehicle there are additional steps you must be aware of. We will also review the top used car sites like RydeShopper, TrueCar and Cars.com.
One of the most important steps is to make sure to run a used car history report in addition to having a certified mechanic inspect the car on a lift. Why should you spend your hard earned money on a mechanic? It's better to pay for a mechanic now than spend thousands on repairs later.
You need to be very careful when buying a used car. You can easily end up with a lemon or rebuilt car. When you see a horrific wreck on the highway you probably don't realize that many of those cars end up repaired, rebuilt and sold on the used car market.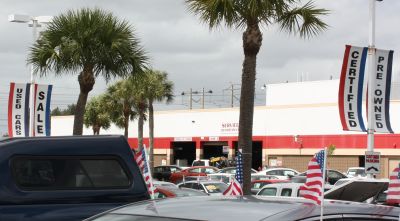 There are positives to buying used. Most importantly you will get more value for your dollar since somebody else took the huge hit on the initial depreciation. This hit is the largest source of lost money when buying a car. By following our used car buying guide you will learn how to avoid the common scams and pitfalls.
1. Find the Right Used Car for You
This step may seem obvious but you shouldn't just go out to used car dealerships and start the shopping process. First you should search the online used car classifieds. Go to the local newspaper websites to view the automotive classifieds to view ads for cars that are close to you. However, to get the largest selection we recommend that you use the larger sites with thousands of listings like the ones mentioned below.
Advertising Policy
Top Sites To Get Used Car Quotes
Each of the trusted used car sites that we recommend has a unique inventory. There will br some overlap, but you should try them all, to fine the gem you are looking for!

RydeShopper searches the huge inventory of vehicles from their network of dealers to get you the best discounted price. Use their simple form to select the make and model and instantly see what is available near you. You will be able to easily get quotes on several similar cars to give you negotiating power!
Click Here to Visit RydeShopper
---

Looking for a used car? TrueCar has you covered. With an extensive inventory of over 750,000 pre-owned vehicles for sale at Certified Dealers nationwide. You can browse through quality vehicles and know the condition of the car before you buy. Sort vehicles by TrueCar Price Rating, favorite colors, body styles and more. Plus, you can get used car discounts* and free CARFAX Vehicle History Reports on qualifying vehicles. (*Used car discounts not available in all states).
Search Used Vehicles on TrueCar
---

Cars.com is the place to search for your next car, truck or SUV with over 2.8 million used car listings. Compare used vehicles, locate certified pre-owned cars, quotes from used car dealers and private sellers. You can also sell your car fast at Cars.com. Place your online ad to reach millions of car buyers.
Our full chapter on used car quotes will teach you more >
2. Investigating the Car's History
This is the most important tip to follow when buying a used car. Whatever you do, you should never buy a car without first verifying what you are buying by running a history report. I get a ton of emails from people that ended up buying a used car and later finding out it had been wrecked. There are body shops that are professionals at making a car look good. It can happen to anybody. If the VIN isn't clearly listed in the ad and the seller won't give it to you then move on to the next car. They are most likely trying to hide something. Since you are normally buying a used car "As Is," you will want to know about any problems before the purchase.
CarBuyingTips.com recommends the AutoCheck 25 report package. It gives you the ability to run 25 reports over 21 days so you will be able to compare the histories of the cars you are seriously considering. Find out if the AutoCheck 25 report package is right for you.
Learn more in our complete section on Vehicle History Reports >
Jeff's Tip:
It is impossible to really know how well a used car was taken care of by the prior owners. No matter how many inspections you do or how many reports you run, unless a mechanic tears the engine and transmission down, you'll never know what hidden issues are lurking. My advice is that you should consider buying a new car that fits your budget so that you will be covered by the manufacturer's warranty if there are any problems. You won't get the bang for the buck or have as "nice" of a car, but you can avoid headaches and expenses.
3. Financing a Used Car
Financing is handled differently depending on whether you are purchasing from a dealership or a private party. Either way, most banks will not give you a loan for a car older than 4 or 5 years. In general, you will pay at least 2% higher APR for a used car than you would on a new car loan but you can offset this by using an online lender that specialized in financing used cars such as the ones we recommend. Try to have your credit score over 680 because you will be considered a prime borrower and get the lowest possible APR. If your credit is really bad you might want to try and repair it before you buy a car.
Top Recommended Used Car Loan Sites
LightStream is the online lending division of SunTrust Banks Inc. They offer low interest, unsecured loans for highly qualified customers. LightStream offers "The Anything Loan" which can be used to finance your used, private party or dealer, car purchase. Click Here to Visit LightStream
Auto Credit Express specializes in finding financing for people with bad credit. You may be limited in your choices of what car you can purchase or where you can buy from but they will help you. Click Here for a Bad Credit Loan from Auto Credit Express
Our complete used car loan page has all of the information you need >
4. Negotiating Like a Pro
Out of all the steps to buying a used car, the one-on-one negotiation is the most daunting! You need to use all of the available information to your advantage to drive the price down. Before you begin negotiating, invest the time to do all of the research we recommend. Since there is so much to learn about negotiating, we have written a full page of advice for you.
Click here to learn to negotiate a used car price >
5. Closing the Deal
Now that your price negotiating is complete, it is time finalize the transaction. You should never pay cash because if something goes wrong you may have trouble getting your money back. Besides, carrying around large sums of cash is dangerous. You should pay with a credit card if possible or a check of some type (personal, official check, etc.). With a credit card or check you have a paper trail and some recourse available if something goes wrong.
One of the trickiest things to deal with when finalizing the purchase of a used car is when the seller still owes money on it. This should only occur when you are buying from a private party. The lender is holding the title and you must make arrangements with them to have the note paid off and the title transferred to you.
The CarBuyingTips.com "Used Car Bill Of Sale Form" is a useful free spreadsheet (actually 2 forms in one) to help you finalize the sale. It contains a Used Car Bill Of Sale, so you know what information you need when transferring the title of a car. It also contains a Deposit Slip Form. The deposit slip is used for written confirmation of the agreed upon selling price of the car. You can find this form in our free tools download area.
CarBuyingTips.com Rules of the Deal
DO NOT sign an "As Is" agreement at a used car dealer!

DO NOT even think about taking delivery of a used car without the title!
For more complete information read our full page on completing the used car sale >
6. Get an Extended Warranty to Protect Your Purchase
If you buy a used car that is no longer covered by the manufactures warranty, you are at risk for expensive repairs. That's why CarBuyingTips.com recommends that you get an extended warranty any time you are in this situation. In our extended warranty section, we review high quality warranty sites like CARCHEX. They offer extended warranties at much lower prices than you will find at dealerships. If you buy a 3 or 4 year old used car, chances are that the manufacturer's warranty has expired and you will be liable for the repair costs. Don't be fooled by high mileage "powertrain" warranties as these do not cover most common problems. Do your research to determine what is actually covered by the manufacturer and what isn't.
If you bought your car from a private seller it will always be "As Is". I don't think you really have any choice in this case and you must buy an extended warranty or you are taking too much risk.
Be sure to read our complete extended warranty chapter >
7. Bonus Tips
Used Cars from Rental Companies
There are a few things to consider when thinking about buying a former rental car. The companies do usually follow the recommended maintenance so the key components like the engine are probably in better condition than cars owned by private people. Cosmetically you may find more minor scrapes and dings especially around the trunk since people don't seem to be able to lift their luggage. The rental companies tend to take cars out of service after a year or two so you will be getting a relatively new car that has been well maintained. Since they don't want to deal with negotiating, they will typically have "no haggle" pricing. If you don't want to deal with negotiating but want a good car at a decent price, this option may be the one for you.
Used Car Myth: "A car sold by a big dealer has got to be ok!"
No matter where you buy, you have to perform your due diligence. We've seen certified pre-owned luxury cars that have been previously wrecked or have other problems. A totaled car was sold as "certified" by a Mercedes-Benz dealer. The dealers like to advertise things like 175 point inspections but in reality these don't mean much and they really don't do much to recondition the cars other than normal detailing. Please do the proper background check on any used car and get an AutoCheck report.
Don't Rely on a Used Car Lemon Law!
Lemon laws are generally written to protect new car buyers. Most states don't have lemon laws for used cars. Since these laws vary, check the web site for your state's Attorney General to see what might apply.
For related CarBuyingTips.com content, visit: