Burt Reynolds strikes gold at Barrett-Jackson Palm Beach Auction with Cannonball Run Car

By Jeff Ostroff, Consumer Advocate, Editor-In-Chief
Published April 11, 2017
Academy Award-nominated actor sold 3 notable cars including Smokey & the Bandit 2 Trans Am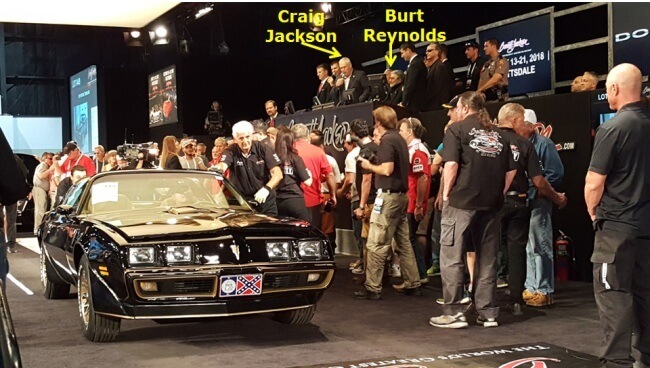 Each time we cover the Barrett-Jackson Auction in Palm Beach, we are always pleasantly surprised with some of the cars or celebrities that show up on the auction block to help push the sale of a car to historic heights. This past Friday we were given a bonus when Oscar-nominated actor Burt Reynolds showed up to auction off 3 cars standing right next to Craig Jackson at the hammer.
Everyone fondly remembers blockbusters "Smokey & the Bandit" and "Cannonball Run"
Many of us easily associate Burt Reynolds with cars, as we grew up watching him in the "Smokey & the Bandit" movie series, as well as the "Cannonball Run" series of movies, "Deliverance" from the early 1970s, "Sharkey's Machine", and later on his Academy Award-nominated role in "Boogie Nights." Burt Reynolds took in some serious coin by auctioning off these 3 special vehicles:
1979 Pontiac Trans Am, with iconic black and gold "Smokey & the Bandit" style
This is a beautiful Starlight Black Y84 Special Edition Trans Am with a similar theme to the Trans Am seen in Smokey & the Bandit 2, which was actually a 1980 Pontiac Turbo Trans Am. It was reconditioned by Restore A Muscle Car. This one is not my favorite year of the Pontiac Firebird model lineup; I still preferred my 1975 Firebird or my 1978 Trans Am vehicles that I owned in my early adulthood. I would later go on to purchase as my own first brand new car a 1988 Pontiac Trans Am GTA that served me well for 10 years.
I never liked the square lights on the front grill of the 1979 Firebirds. But at least this car has power and Burt's favorite black and gold color trims. This Trans Am also comes with the iconic screaming chicken on the hood, synonymous with the Americana pop culture classic, Burt Reynold's famous outlaw character Bo "Bandit" Darville's vehicle from Smokey & the Bandit 2.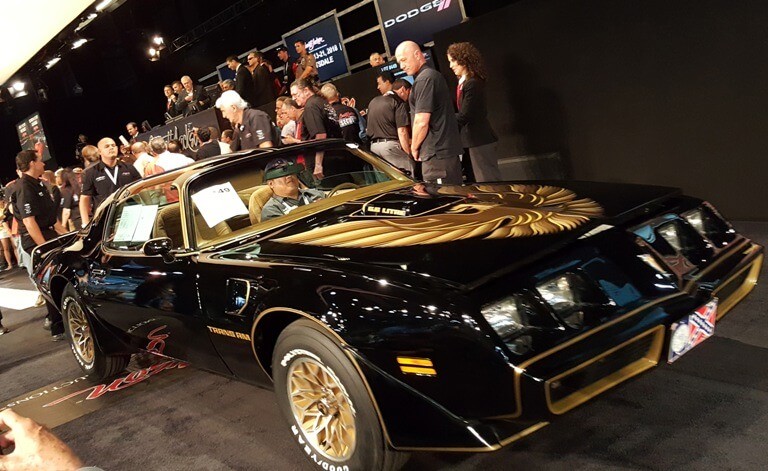 This sweet ride bid up to a hammer price of $78,000 and with Barrett-Jackson's 10% commission, the buyer paid $85,800 total for this Trans Am. Now the new owner can partake in the 2017 Bandit Run from Texarkana, TX to Atlanta, GA on June 17. The annual Bandit Run began in 2007 and takes place every year as a reenactment of the famous adventure depicted in "Smokey and the Bandit" to deliver illegal Coors beer from Texarkana, TX to Atlanta. You might recall in the 1970s it was illegal to sell Coors beer east of the Mississippi River.
Vehicle Auction #2: 1974 Chevy Chevelle 454 Laguna S3 "Cannonball Run" car
This famous movie car is a re-creation of the promotional car used in the Burt Reynolds ultra-famous "Cannonball Run" movie. In that movie, a pair of good old boys, who were played by Terry Bradshaw and Mel Tillis, drove a replica of Donnie Allison's Hawaiian Tropic NASCAR Winston Cup Chevrolet stock car.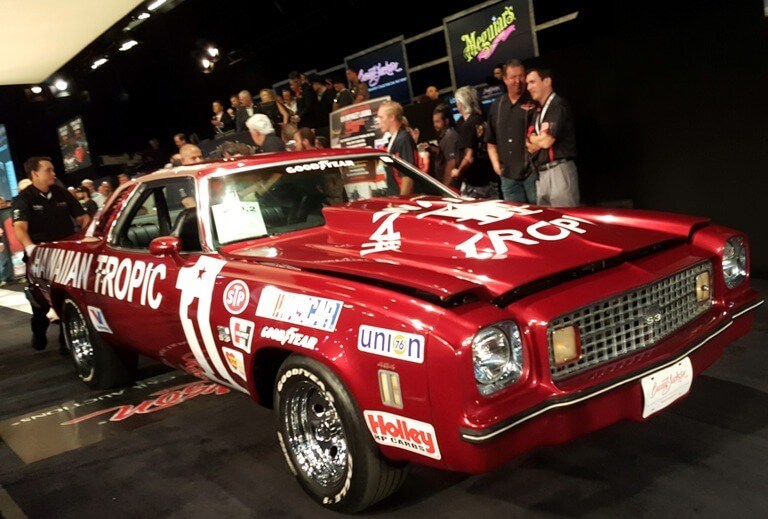 This is why most people call this the Hawaiian Tropic car. This Chevrolet Chevelle bid up to a hammer price of $35,000, and with the buyer's premium/commission, the buyer's total outlay was $38,500. I suspect that if this was one of the actual cars from the movie, Burt may have gotten more money for it.
Vehicle Auction #3: 2008 Pontiac G8 with VIN 001
The Pontiac G8 was built in Australia and introduced in 2008, but shut down production in 2009 when the U.S. financial markets were collapsing, and GM shuttered the entire Pontiac brand forever. It was a shame because the G8 was actually a nice sporty looking mid-sized car slated to take the place of the Pontiac Bonneville. Too bad GM shuttered Pontiac because the G8 never received the chance it deserved to take off.
What makes this G8 so special is the fact that it is one of a kind, a rare catch with a VIN # 001, the first production model to roll off the factory line, and Burt Reynolds owns it. This Pontiac was bid up to $35,000, and with the buyer's premium, the buyer's total outlay was $38,500. This car would have and should have bid much higher due to the VIN of 001, and the rarity of the car, and the fact that it was a favorite from the Burt Reynolds collection.
I suspect that because they auctioned this one off right after the climax of the Cannonball Run Car, the crowd was already leaving, and not enough bidders hung around, or even noticed it was Burt's third car to be auctioned off.
Is Burt Reynolds' health in decline?
Burt's total haul from Barrett-Jackson Palm Beach was about $148,000 in about 10 minutes of total auction block time for the three cars. One thing that everyone noticed on that afternoon is how frail 81 year old Burt appeared, he just seemed very weak, and even his voice was weak. As he was being ushered back outside to his car to be driven home just a few miles away, we noticed he had to lean on a couple of people to walk. It's still hard to believe he is 81.
I positioned myself at the right rear wheel of the car that he was to ride home in and got these spectacular photos of him below as he left the rear of the auction block building and was escorted to his waiting limo. He appeared to be visibly weak, but in very good spirits, he smiled and waved at all of us, as the crowd cheered him on.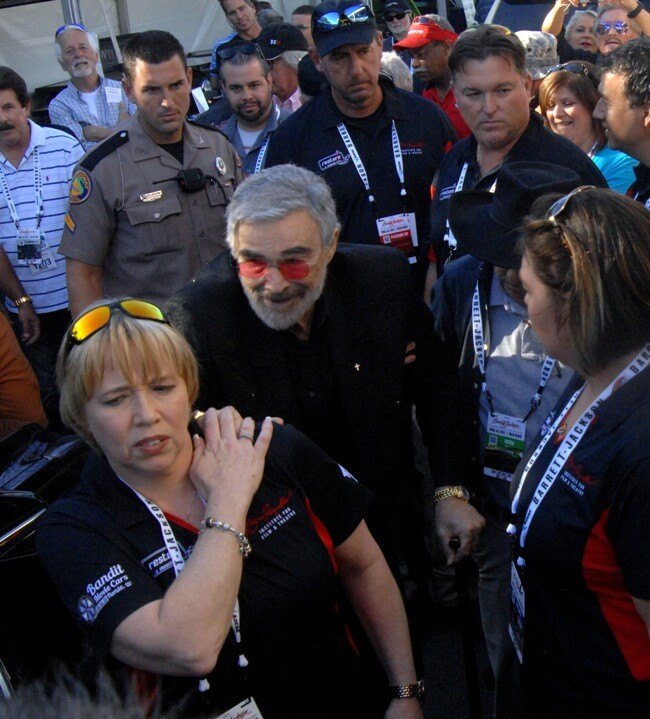 But don't feel sorry for Burt, it is unlikely he would want us to, he has lived a good life so far, but years of performing many of his own stunts has taken its toll on his body. Add to the mix his admitted abuse of painkillers, 2 back surgeries, and a massive heart operation, it is amazing he is still among us.
Reports have surfaced from his close friends that he may be suffering from Parkinson's disease, which we hope is not true, but based on what we have seen, we suspect these reports may be correct.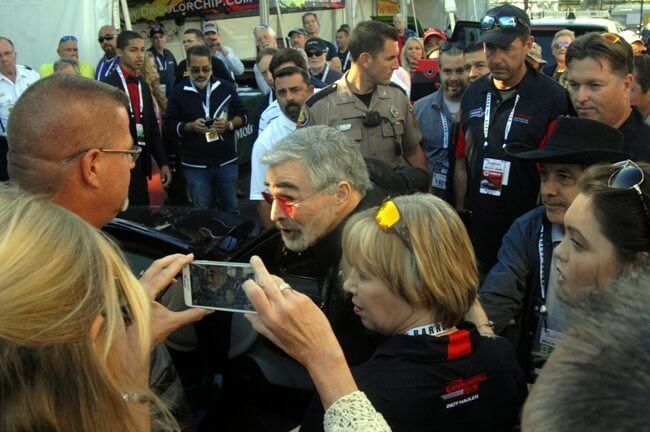 It was still great to see one of our childhood movie star idols, and what a great way to cap off day 2 of the Barrett-Jackson Auction in Palm Beach. Glad he could make it there for us, and glad we could be there for him to wave him goodbye afterwards. Were you there at the auction? Tell us what you liked best about the auction in the comments below.

About The Author: Jeff Ostroff
A lifelong consumer advocate with over 20 years of unparalleled expertise, Jeff is the Founder, CEO and Editor-In-Chief of CarBuyingTips.com. As chief consumer advocate, he oversees a team of experts who cover all aspects of buying and selling new and used cars including leasing and financing.
For decades, Jeff has been the recognized authority on vehicle purchasing, sought out often by the media for his decades of experience and commentary, for live call-in business radio talk shows and is cited often by the press for his expertise in savvy car shopping methods and preventing consumer scams and online fraud. Jeff has been quoted in: CNN, MSNBC, Forbes, New York Times, Consumer Reports, Wall Street Journal and many more.
Jeff also has extensive experience and expertise in new car brokering and selling used cars for clients on eBay and Craigslist. Connect with Jeff via Email or on Twitter.