Dieselgate: Top 10 Things You Need to Know About the Volkswagen Emissions Scandal

By Jeff Ostroff, Consumer Advocate, Editor-In-Chief
Published September 24, 2015
CEO has resigned, VW says 11 million cars worldwide affected, sets aside $7 Billion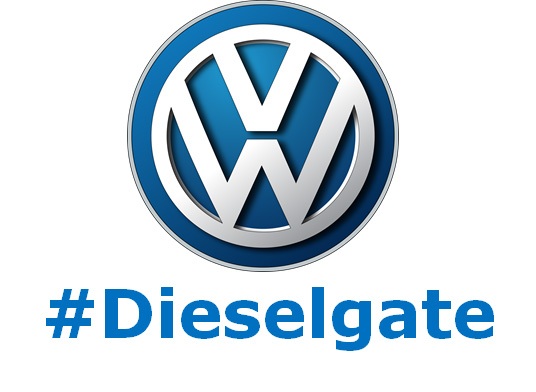 By now everyone has heard the scandal that broke wide open earlier this week about Volkswagen. This has got to be the fastest unraveling scandal in modern times. Our list here gives you an up to date analysis of just what is happening with VW and how it all affects the environment, the world financial markets and those of you who own Volkswagen vehicles. This is what you need to know.
1) What exactly is this scandal about? What crime did Volkswagen commit?
It all started with a single tweet on September 18 from the Environmental Protection Agency (EPA) and the California Air Resources Board (CARB) announcing that while re-testing diesel cars from the Volkswagen Group they discovered that VW and Audi diesel models emit up to 40 times the national standard for Nitrogen Oxide (NO).
This is bad for asthmatics and other respiratory sufferers because this makes emphysema and bronchitis worse and it can aggravate existing heart disease. The EPA has issued a notice of violation (NOV) to Volkswagen. Here's the EPA's Tweet heard round the world here:
The VW cars under investigation emit up to 40x the national standard for nitrogen oxide, which is linked to asthma & lung illnesses.

— U.S. EPA (@EPA) September 18, 2015
The EPA accused Volkswagen in a press release of using a "defeat device" as defined by the Clean Air Act, which made VW's diesel models appear to emit way less pollution during EPA testing, than they would during actual owner's driving them on the road. How was Volkswagen able to cheat the EPA?
This was accomplished using software in the car's computer that detects testing mode and shuts down the dirtier parts of the engine to make it appear to be a cleaner emitting engine. Then after testing, the software opened up the flood gates of these dirtier parts again, where it now emits 40x the pollution allowed by law.
In summary, the EPA's claim therefore is that Volkswagen allegedly rigged the cars to pass the emissions tests with flying colors.
2) How many VW vehicles does this emission testing fraud affect?
Estimates show about 500,000 cars here in the US, but over 11 million vehicles may be affected worldwide according to Volkswagen. Diesel is a big thing in Europe, so naturally everyone over there is going to be very nervous. VW announced that "discrepancies relate to vehicles with Type EA 189 engines, involving some eleven million vehicles worldwide."
3) Which models of Volkswagen Diesel vehicles are affected by this emissions scandal?
Here in the U.S. the EPA specified Model Years 2009 to 2015 of the Jetta, Beetle, Audi A3, Golf and the 2014-2015 Passat. Many people are unaware that Volkswagen owns Audi, so if you know anyone with an A3 Diesel, you might want to let them know about this.
4) Is my Volkswagen diesel car going to be recalled? Will I fail inspection?
As of this writing the EPA was urging VW to issue a recall, so chances are your car will be recalled. Your car is still safe, so you have little to fear. What we don't know is whether the emissions issue has a workable solution yet, because if they simply adjust the software in your car back to "defeat device/cheating/lying/misleading mode" to shut off the dirtier emitting sections, your engine might suffer in performance.
This could turn out to be an expensive and complex repair at VW's expense. I would imagine in my opinion that states who do have emissions testing would have to let you slide on that until such time that fixes are implemented. Then they would most likely give you a grace period to get your car recalled and back into compliance.
I think VW should fix your car, offer you a buyback program and a steep discount on a new car or cash, or some combination of these. One thing is for sure; kiss the value of your diesel vehicle goodbye.
This scandal just made your diesel VW unsellable. I'd be suing Jokeswagen for diminished value losses. No one will want to buy your car and it may not even be transferable to a new owner while it is failing emissions in your home state.
Expect a cottage industry of low balling sleazy used VW dealers to pop up and offer you peanuts for your car, then they wait it out for the recalls and resell the car at potentially much higher prices once this mess blows over. You can also expect many other scam artists to beat a path to your door to take advantage of your hopeless situation, offering you lofty promises.
You should avoid any attempts to consign your car for sale. Just ask anyone who has tried to consign products and they end up losing everything. With a car, you can expect much worse. You have been warned.
I would not wait for any letters from VW, we just went through this with the Toyota and Lexus cracked dashboard scandal. You need to call your local VW dealer and be the monkey on their back, find out if there are any will call lists that they are starting and you need to get onto a will call list ASAP. For tips on this, read our other article for accomplishing this for the Toyota and Lexus repair waiting lists, these tips will apply to you.
For more information, read our blog: Update with Tips on Toyota, Lexus Cracked Dash Warranty Repair
5) Is Volkswagen admitting any wrongdoing or are they denying it?
On September 20, Volkswagen's CEO since 2007, Prof. Dr. Martin Winterkorn, issued a press release and in it he stated "I personally am deeply sorry that we have broken the trust of our customers and the public." He also stated "We do not and will not tolerate violations of any kind of our internal rules or of the law." On September 20, VW then issued a stop sale order for all 2015 Diesel vehicles. This caused Volkswagen's stock to tank 20% on September 21, as this now means much lower earnings for Volkswagen than were previously projected.
6) What are Volkswagen's competitors saying?
I was watching Robert Lutz, former Vice Chairman at General Motors being interviewed live by CNBC on September 21, when the world woke up to the news of this scandal. Lutz stated that this vindicates the engineers at GM, he said before he left GM he was always asking the engineers about the low emissions from VW diesels, asking "If VW can do it, why can't we? And they would always say we don't know." Lutz stated that even back then GM engineers had a hard time believing VW" emissions ratings.
7) Is Volkswagen going to pay fines or damages or try to make things right?
Things always get worse right before they get much worse. Yes, Volkswagen faces possible fines of over $37,000 per vehicle in the U.S., which is over $18 Billion in fines. You as a VW diesel owner probably won't get any cash, which is the real rub here, because you are the end victim, not the government, not the EPA. Why does the government always get to extort more money from criminals than the victims could ever receive in a lawsuit?
VW announced they will set aside 6.5 billion EUR ($7.3 Billion) for repairs and that this will hit their 3rd quarter profit. They also stated "Due to the ongoing investigations the amounts estimated may be subject to revaluation." This sent the stock down another nearly another 20% and it had dropped almost 40% over 2 trading days. It actually dragged the entire German stock market down a bit with it on Tuesday. Even Porsche dropped nearly 20% as investors began to lose their appetite for anything German.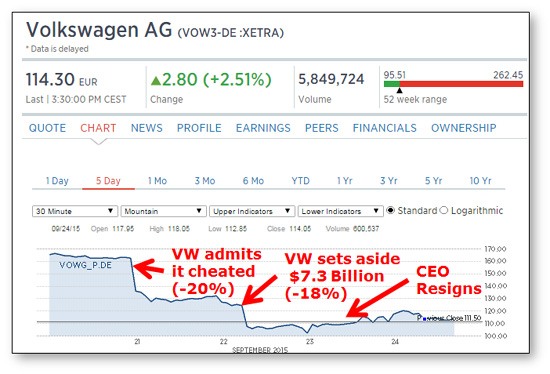 8) Will there be any criminal charges, or lawsuits against VW?
The Justice Department is starting an investigation and Congress was already talking about holding some hearings. The German government also owns a percentage of VW, so German Federal Motor Transport Authority will be investigating. You can also expect numerous lawsuits from Volkswagen shareholders, angry that their stock just dropped nearly 40% in 2 days.
We might also expect class action lawsuits from people who own Volkswagen diesel cars which are now unsellable bricks, as they feel they were misled, because they thought they were buying a clean car. Remember Pigpen from Charlie Brown? His car is probably cleaner.
9) Someone should lose their job over this, has anyone been fired?
You can bet they are just getting warmed up. But on September 23, Martin Winterkorn resigned as CEO, stating "as CEO I accept responsibility for the irregularities that have been found in diesel engines." He also said "I am doing this in the interests of the company even though I am not aware of any wrong doing on my part." Funny how he refers to the cheating as "irregularities." Oh, this guy is good!
In addition, 2 Volkswagen board members are out. Winterkorn has allowed himself to be the scapegoat to alleviate the pressure off others. This was highly appropriate since Winterkorn was at the helm of Volkswagen, as the CEO since 2007 and this issue started allegedly with the 2009-2015 models. It's a shame because Volkswagen's sales increased 70% under his leadership. Maybe VW will give him a Diesel Jetta as part of his severance package.
10) What will happen to Volkswagen now?
Can you say erosion of trust? This will surely hurt VW and other German brands now, as many loyal customers who trusted them just had their worlds turned upside down. It may take a few years for Volkswagen to recover. This is not like the Toyota stuck accelerator issue of 2008, Or the Toyota and Lexus cracked dashboard, or GM's ignition issue in 2014, which we can refer to as accidents of engineering.
No this is way different. VW is alleged to have purposely misled all of us and so erosion of trust is a hard cancer to recover from. Can you imagine driving your car for 5 years bragging that you have a clean emissions vehicle only to find out you are polluting at 40 times the legal limit? Now you'll have the ire of people looking down their noses at you on the road, wondering why you're still driving that pollution spewing tin can.
Since the Volkswagen Group also owns Porsche, Audi and Lamborghini, these other VW brands might suffer in sympathy along with VW's likely slumping vehicle sales.
Final thoughts on Diesel vehicles
I have never been a fan of diesel cars. Every time I pulled up behind one at a traffic light, you can see thick black smoke. I always coughed and gagged on the exhaust. A former coworker had a Diesel Mercedes and I used to tell him to get rid of it. He'd argue that the diesel engines burn clean. So why did diesel cars have black soot stains on the rear bumper?
I think you'll start to see buyers with distrust shift away from diesel cars in favor of electric cars like Tesla Model S and the future Porsche Mission E. This could be the shot in the arm that the Chevy volt needed. I also believe that VW is not he only car maker that you'll see failing emissions tests as the world regulatory agencies turn their eager eyes next on other manufacturers with a fool me once shame on me vengeance.

About The Author: Jeff Ostroff
A lifelong consumer advocate with over 20 years of unparalleled expertise, Jeff is the Founder, CEO and Editor-In-Chief of CarBuyingTips.com. As chief consumer advocate, he oversees a team of experts who cover all aspects of buying and selling new and used cars including leasing and financing.
For decades, Jeff has been the recognized authority on vehicle purchasing, sought out often by the media for his decades of experience and commentary, for live call-in business radio talk shows and is cited often by the press for his expertise in savvy car shopping methods and preventing consumer scams and online fraud. Jeff has been quoted in: CNN, MSNBC, Forbes, New York Times, Consumer Reports, Wall Street Journal and many more.
Jeff also has extensive experience and expertise in new car brokering and selling used cars for clients on eBay and Craigslist. Connect with Jeff via Email or on Twitter.