2019 Limited Edition Ford Mustang Bullitt Review

By Jeff Ostroff, Consumer Advocate, Editor-In-Chief
Published April 16, 2018
How this new super powered pony is superior to the Mustang GT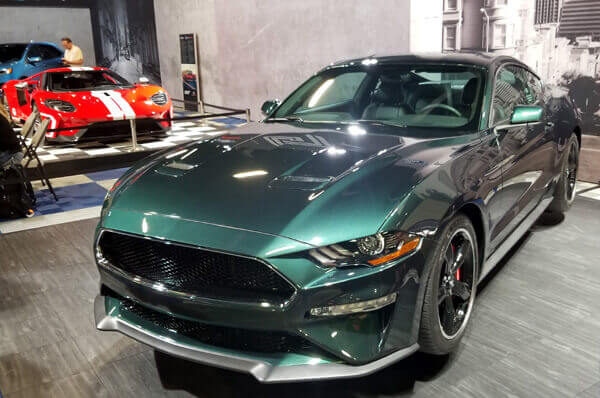 Here at Barrett-Jackson's 16th Palm Beach Collector Car Auction this week Ford treated us members of the media to an exclusive guided behind-the-scenes look, showing off the brand new 2019 Ford Mustang Bullitt prototype, led by Ford performance Marketing Manager Jim Owens. This fierce new pony just recently had its debut at the Detroit Auto Show a few weeks ago, and many people still don't know it exists.
What is the Ford Mustang Bullitt?
The original Mustang Bullitt was not even its real name; it was actually just a 1968 Mustang GT Fastback, which earned its nickname after the 1968 classic suspense movie "Bullitt," starring Steve McQueen as San Francisco police Lieutenant Frank Bullitt. The movie features that now famous 10 minute chase scene regarded by many film critics as the best movie chase scene ever. The chase scene involved Two 1968 390 V8 Ford Mustang GT Fastbacks, each sporting 325 horsepower. Both Mustang GTs had four-speed manual transmissions that were used for the chase scene.
After the popularity of the movie gripped American pop culture, this model Mustang was nicknamed Bullitt, just like the 1971 Mustang Sportroof from the original 1974 movie "Gone in 60 Seconds" was nicknamed Eleanor, which is now trademarked. Ford has released two subsequent versions of the Mustang GT which they did actually officially market it as the Bullitt; the first generation was in 2001 and a second generation Bullitt was introduced in 2008 to commemorate 40th anniversary of the movie.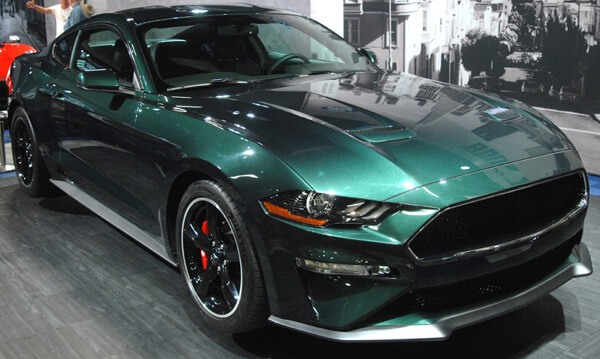 What is different about this Mustang Bullitt compared to the GT?
Some of the performance features of the Shelby GT350 are incorporated into this third and most powerful generation of the Bullitt. It is the only Mustang model that will have these performance enhancing parts. It will have a base price of about $48,000, but you can bet many car dealers will be adding "Additional Dealer Markup" (ADM) stickers of thousands more on top of the MSRP price for these.
New car pricing is always hard to determine on rare vehicles like this. Consider yourself lucky if you drive off the lot paying "only" sticker price and no additional markup. The Bullitt will be limited edition, but Ford has not yet disclosed how many units will be produced.
This performance enhanced engine will have 475 horsepower, about 20 more than the GT and certainly way more than the 325 horsepower in McQueen's original 1968 pony. It is the same 5.0 liter V8 engine used in today's Mustang GT, but re-tuned with a larger 87 mm intake manifold from the Shelby GT350. It will also have the famous muscle car Torq Thrust wheels, a throwback to the 1960s, and the Bullitt sports a 6-speed manual transmission. No automatic transmissions will be offered on this model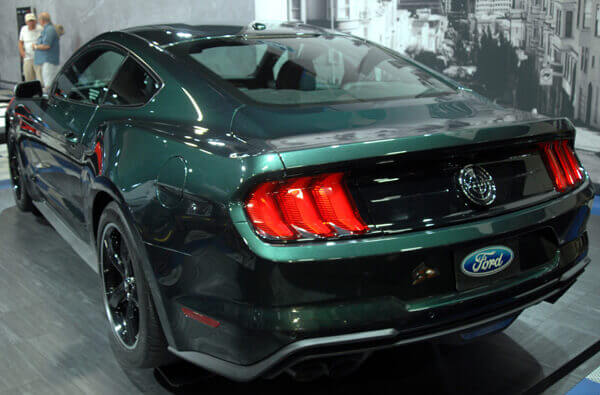 The Bullitt will come in Highland Green, which is color-matched to the same shade of green in the original Bullitt driven by Steve McQueen, and the other color choice will be Shadow Black. But with today's modern paint technology, the paint will of course survive a lot better.
This new Mustang Bullitt also sports the MagneRide Suspension, as an option which is an incredibly high tech form of electromagnetic damping or shock absorbers, using magnetic particles suspended in a liquid that respond in milliseconds. As Jim Owen's explained it to us, if your front tire hits a pot hole, by time the rear tire hits the pothole your suspension has already changed its settings to accommodate it.
Video of the new 2019 Ford Mustang Bullitt
Here it is basking in the glory at Ford's display booth in the Barrett-Jackson Auction this past weekend, right next to the 2018 Ford GT super car. Below is a video we shot of the exclusive short presentation Ford Performance gave us where Jim Owens explains the new features of this powerful Mustang.
Designed out of the gate to be collector friendly
Each of these 2019 Ford Mustang Bullitts will also be individually numbered so they can be tracked by respected industry experts like Hagerty or Kevin Marti, who all Ford owners trust, and he is a licensee to Ford's entire database of parts from the late 1960's to 2012. Marti was brought in to verify to authenticity of the recently re-discovered Mustang Bullitt used in the movie. It was found in a garage in Tennessee, where its owner kept it hidden from even visiting family. Marti confirmed the VIN as the one matching what Steve McQueen used in the movie.
Badges? We don't need no stinking badges!
One obvious feature (or lack thereof) on the 2019 Mustang Bullitt is the complete lack of Mustang-related badges on the car. No Ponies anywhere, no GT anywhere, and no Ford logo. In their efforts to keep this 50th anniversary edition of the Mustang Bullitt as true to McQueen's version as possible, Ford has left off all Mustang badges, just as McQueen did.
The design team felt they did not need the badges, so when this color Highland Green Mustang shows up with these Torq Thrust wheels, people will know what it is, this car needs no introduction. On the rear of the car is the only badge, a Bullitt dummy "gas cap", see photo below.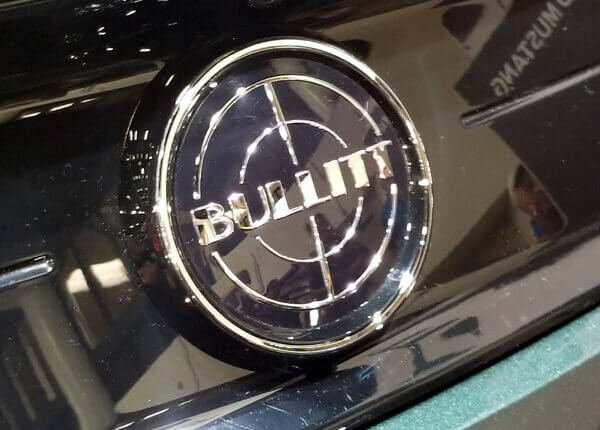 Ford dealers are already accepting deposits for the new Bullitt, but cannot give a definitive price yet with options. They are also not telling us yet how many cars will be made, leaving it up to you for now to define "limited edition." If you want one of these you better get your deposit in now, this car will surely run circles around Frank Bullitt's original muscle car.

About The Author: Jeff Ostroff
A lifelong consumer advocate with over 20 years of unparalleled expertise, Jeff is the Founder, CEO and Editor-In-Chief of CarBuyingTips.com. As chief consumer advocate, he oversees a team of experts who cover all aspects of buying and selling new and used cars including leasing and financing.
For decades, Jeff has been the recognized authority on vehicle purchasing, sought out often by the media for his decades of experience and commentary, for live call-in business radio talk shows and is cited often by the press for his expertise in savvy car shopping methods and preventing consumer scams and online fraud. Jeff has been quoted in: CNN, MSNBC, Forbes, New York Times, Consumer Reports, Wall Street Journal and many more.
Jeff also has extensive experience and expertise in new car brokering and selling used cars for clients on eBay and Craigslist. Connect with Jeff via Email or on Twitter.