2012 Lexus LFA Nürburgring Edition sells for record $700,000 at Barrett-Jackson

By Jeff Ostroff, Consumer Advocate, Editor-In-Chief
Published April 25, 2017
Rare supercar, one of only 50 made helps set a record for the Barrett-Jackson Palm Beach auction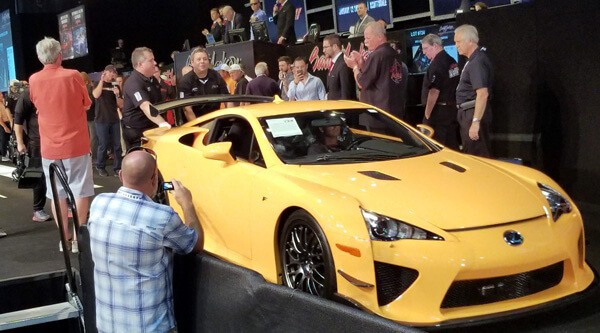 On a special expanded and record week with $39.4 million in collector car auctions at the 16th annual Barrett-Jackson Palm Beach auction, a very special version of the Lexus LFA supercar settled at a hammer price of $700,000 to the loud cheers of a highly charged building full of bidders, and car fans. Some of you may be unfamiliar with this exotic car and wonder what makes it worth so much.
What is the Lexus LFA?
You don't see a whole lot of press concerning this Japanese super car, so here is a primer on it. The Lexus LF-A (originally spelled with a hyphen) began its humble start in 2000 as a design which would show off the best performance that Toyota and Lexus had to offer. The first Prototype was built in 2003 and the U.S. prototype debut was at the Auto Show in Detroit in 2005.
What makes this car so special is that unlike other cars that might have aluminum or steel frames, the LF-A concept vehicles adopted a carbon fiber tub, stronger than steel, manufactured on supposedly one of only 2 looms in the world capable of making this type of carbon fiber. Even the hood support stick is made of carbon fiber, as weight was a major design consideration in their goal for the ultimate power to weight ratio. Anywhere you can reduce the total weight helps.
Only 500 LFA models were ever produced
In 2009 on the 20th anniversary of the launch of Lexus, it was announced that 500 production units of the new and slightly renamed LFA would begin in 2010, with a base price of $375,000 and the custom Bridgestone tires built for this car cost $500 each.
The production version of the car introduced in 2009 has a top speed of 202 MPH, and had the same name as the concept models shown at earlier shows but this one has the LFA without the hyphen. This new production version supposedly stood for Lexus Fuji Apex. The LFA units were all custom built and configured to order for each buyer, with 4.8 V10 engines, 560 hp, 350 lb-ft of torque and each one was hand built by an elite team of engineers and assembly line experts all wearing gloves. No one was allowed to put bare hands on any part, and signs in the factory warned people not to talk to the engineers while they were building.
LFA was initially available by 2-year lease only
Here in the U.S. there were only 150-170 LFAs which were sold only through a two-year lease to own program, meaning no one would really buy it and then flip it for a profit. This LFA lease program was just like the program for the Ferrari F50, which you might recall was setup by Ferrari to prevent owners from flipping the highly sought after race car for a quick profit.
They want you to own it and race it, not use it as a sleazy get rich quick vehicle scalping scheme. There was one and only one Spider version of this car ever made, and it is a true Spider, no folding roof, no panel roof to store somewhere, just a one of a kind pure topless supercar that must be worth a fortune.
Enter the dragon: LFA Nürburgring Package, only 50 made
In 2010 Lexus announced that they would take a subset of these 500 LFA vehicles and make 50 highly tuned racing trim levels called the LFA Nürburgring Package, paying homage to the configurations of the racing LFAs used for and tuned specifically for the 24 Hours Nürburgring race. These minor tweaks that were made specifically for these cars to race better at Nürburgring only increase the power by a whopping 10 horsepower, but they cost a whopping $75,000 extra compared to the other 450 LFA models.
LFA Nürburgring Package car holds the Nürburgring record for a production vehicle. Also Lexus has claimed that racing versions of this car have posted in the top 5 record times on this track for various portions of the track as well.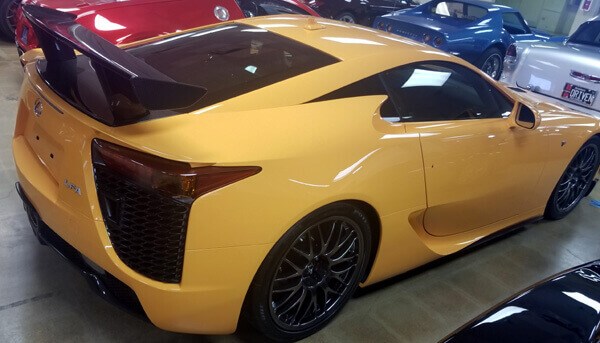 Come on do you really think you and I would notice this amount of power for an extra $75,000? Of course not, but races like this are like the Olympics where you need to shave microseconds off your time. Our hero LFA which sold here at the Barrett-Jackson auction was of course Race Yellow, one of 4 colors which this special edition of LFA was manufactured, in addition to black, matte black, and white.
The Nürburgring Package had a base price of $445,000, but you can bet that with just a few options, the price would be launched northbound from $500,000 in a hurry. Buyers were also put through training by the factory and race drivers.
TV appearances of the Lexus LFA
LFA appeared on the TV show Top Gear for a review and it set the record for the quickest wet test lap on the Top Gear test track, which was even faster than the Lamborghini Gallardo. Of course the price is way more than the Gallardo too, so it is almost an unfair advantage.
In 2012 the LFA was featured on an episode of the popular TV show Jay Leno's Garage, where Leno referred to it as "one of the world's greatest super cars, certainly the greatest supercar to ever come out of Japan." Leno also stated that this engine has one of the best sounds ever for an engine.
The Lexus LFA has an incredible engine sound unmatched by other super cars
If you have never heard the roaring engine of an LFA on the road, you are truly missing out. Go search YouTube for LFA test drives and you'll agree. On the Leno's Garage episode, Jay Leno really fell in love with the LFA engine sound, and repeatedly spoke of how incredible the sound is. The sound is actually piped directly into the cabin from the manifold and Jay quipped that "there might be other cars that can go faster, but they are not going to sound any better doing it."
2012 Lexus LFA Nürburgring Edition finally Hits the Barrett-Jackson auction block
Here at the Barrett-Jackson Collector Car auction in Palm Beach, FL, the 2012 Lexus LFA Nürburgring Edition finally made its grand entrance to eagerly waiting fans. This is the first time a Lexus LFA has been sold at a Barrett-Jackson auction. You can see from our photos here that the LFA was on display prior to the sale in a special pavilion building on the site which I bet most visitors were unaware of, because it was tucked away back by the bidders registration area. When we cover Barrett-Jackson, this is the first place I head to for my photos of the top exotic cars.
You can see below that our LFA had some expensive neighbors keeping it company, in the form of a Lamborghini Gallardo, a 2013 McLaren MP4-12C supercar, a 2006 Ford GT, among others, each of these exotic cars cost more than my house.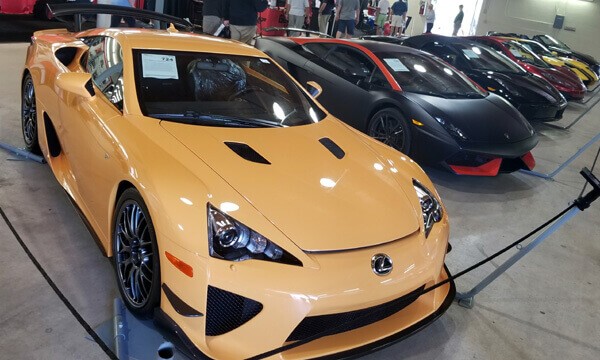 The LFA enters the auction block
Finally at the prime time for the televised Velocity channel coverage on a late Saturday afternoon for the Barrett-Jackson auction, our yellow friend known as lot #724 finally rolls up onto the block. During the 3 minute auction, the price rose dramatically and quickly, with phone and internet bidders, and each tick upward drew louder and louder cheers from the record attendance crowd.
Barret-Jackson had a record number of bidders at Palm Beach due to the expanded extra day because of the sale of John Staluppi's 145 vehicle Cars of Dreams collection and they had to expand the bidder area to accommodate everyone. Finally the LFA bid up to a hammer price of $700,000.
But as we always warn people about car auctions, you need to watch out for that 10% buyer's premium. The winning bidder had to fork over another $70,000 just for the buyer's premium, bringing the total sale price to a whopping $770,000. As far as we can research it, this was the highest price ever paid for a Lexus LFA.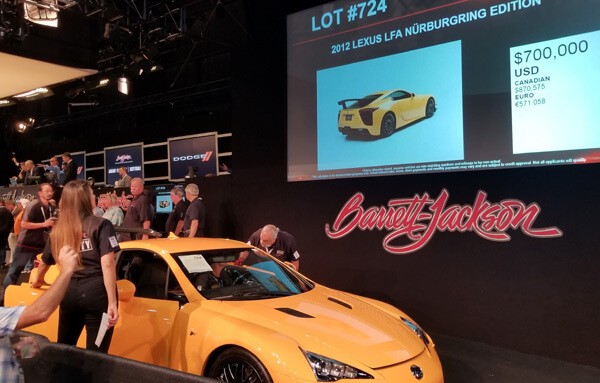 Here on CarbuyingTips.com we have advised consumers for years just how much cars depreciate and how it is so important to put down 20% when you buy a new car to stay ahead of the depreciation curve which can be 30% the first year alone. Here of course you can see that our LFA saw no depreciation, this was one investment that was well bought.

About The Author: Jeff Ostroff
A lifelong consumer advocate with over 20 years of unparalleled expertise, Jeff is the Founder, CEO and Editor-In-Chief of CarBuyingTips.com. As chief consumer advocate, he oversees a team of experts who cover all aspects of buying and selling new and used cars including leasing and financing.
For decades, Jeff has been the recognized authority on vehicle purchasing, sought out often by the media for his decades of experience and commentary, for live call-in business radio talk shows and is cited often by the press for his expertise in savvy car shopping methods and preventing consumer scams and online fraud. Jeff has been quoted in: CNN, MSNBC, Forbes, New York Times, Consumer Reports, Wall Street Journal and many more.
Jeff also has extensive experience and expertise in new car brokering and selling used cars for clients on eBay and Craigslist. Connect with Jeff via Email or on Twitter.