Burt Reynolds Adds Fuel to the Fire at Record Barrett-Jackson Palm Beach Auction

By Jeff Ostroff, Consumer Advocate, Editor-In-Chief
Published April 18, 2018
Reynolds presides over sale of 3 rare Pontiac Firebird Trans AMs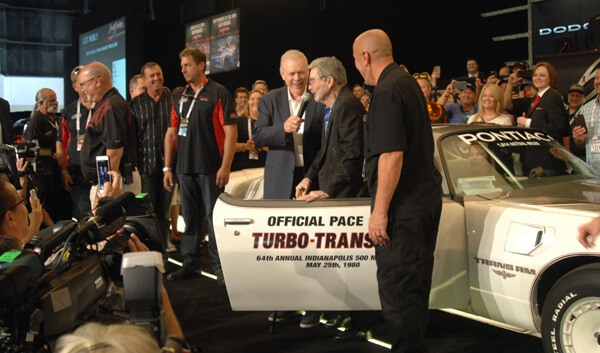 Actor Burt Reynolds, known to most of us for his Smokey and the Bandit series of movies, was on hand at Barrett-Jackson's $39.4 million record setting 16th annual collector car auction here in Palm Beach, FL last weekend, creating a fun filled and action pact series of sales.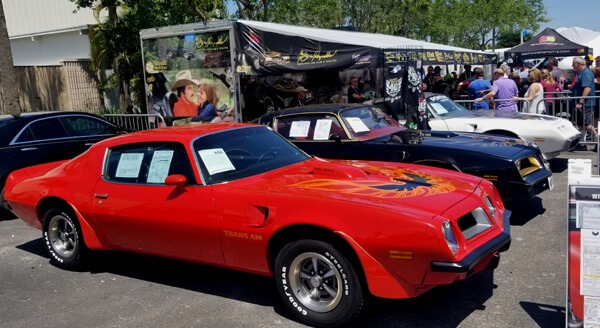 This time Reynolds showed up in full force with major fanfare, at a large outdoor booth displaying some of his personally owned Pontiac Trans Am vehicles through Bandit Movie Cars of Florida, the official custodian of the Burt Reynolds Collection. Reynolds was at the booth signing autographs and posing for photos.
On display at the booth were several Trans Am vehicles, including on the right side of the booth, Burt Reynolds' personally owned Bandit Trans Am. For an added touch of class they also had a Burt Reynolds look-alike actor decked out just as Burt was in the Smokey & The Bandit movie, and this actor looked spot on just like Burt. Fans were getting photographed next to "Burt" in front of this iconic part of American pop culture automotive history.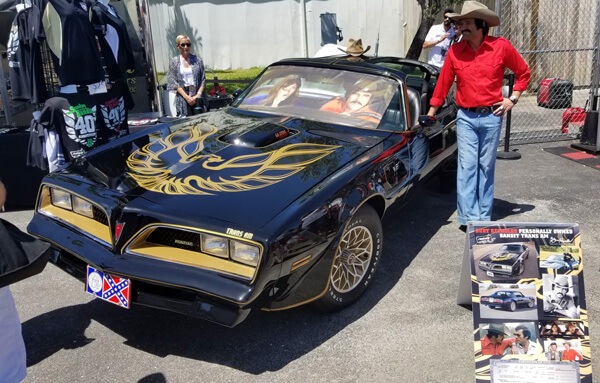 Also on display in the Bandit Movie Cars of Florida booth at Barrett-Jackson was the famous 1978 Pontiac Firebird Trans AM rocket car from the Burt Reynolds movie Hooper, where he played the famous fictional Sonny Hooper known in the movie as "The Greatest Stuntman Alive". Below you can see the rocket exhaust port coming out of the back bumper. Inside the car was the apparatus and tank that fueled the rocket.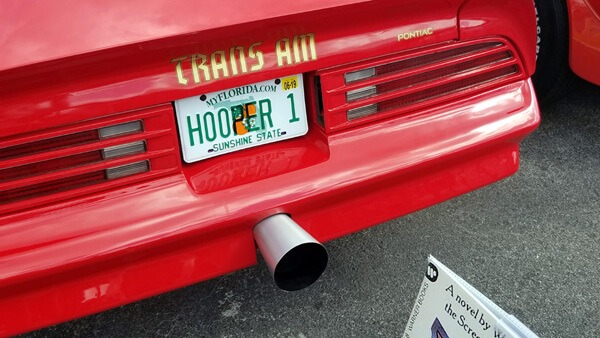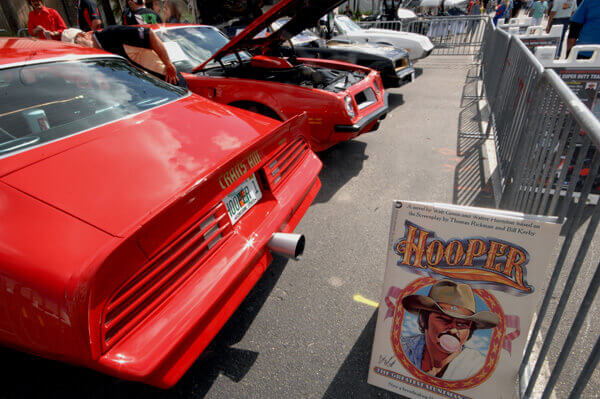 Three cars which Burt Reynolds presided over on the auction block
Lot #655.1 1977 Pontiac Firebird Trans Am

This Trans Am is a survivor car, sporting its original factory Code 19 Starlite Black finish. This is one of only 6,000 of this model that was manufactured by Pontiac with an automatic transmission. This was one of the Restore a Muscle Car Collection vehicles that were on display at the booth where Burt was signing autographs. This one sold for $57,200 including the 10% buyer's premium.

Lot #656 1974 Pontiac Trans Am 455 Super Duty

This Trans Am Super Duty is also survivor, which is a nickname terminology letting us know that this is original from the factory, with the original paint and decals, and nothing was changed on the car. To find one at this age in this pristine condition is rare indeed, which is why it enjoyed a massive hammer price of $100,000, and with the buyer's premium, it jacks the selling price up to $110,000.

Lot #656.1 1980 Pontiac Trans Am Indy Pace Car

This is the car which Burt Reynolds made his appearance up on the auction block as shown in our photo at the top of this article. Craig Jackson himself drove Burt up onto the auction block stage in this car, with the Smokey and the Bandit theme song "East Bound and Down" playing in the auditorium, and they both got out and auctioned off the car.

The crowd was beyond excited as they all stood up for a standing ovation, and all you can see was thousands of smart phones reaching high in the sky to capture a photo of the occasion and they continuously shouted out "We love you Burt!"" Also present on stage near Burt Reynolds was actor Alfie Wise, now a Palm Beach real estate agent, but a former co-star of Reynolds, who played the state trooper in Smokey and the Bandit who tried to chew out Jackie Gleason's character Sheriff Buford T. Justice before getting chewed out himself.

This car also had hammer price of $100,000, and with the buyer's premium, selling price was $110,000. Not too bad for a weekend of sales promotion. We can't wait to see what he has in store for next year's auction.



About The Author: Jeff Ostroff
A lifelong consumer advocate with over 20 years of unparalleled expertise, Jeff is the Founder, CEO and Editor-In-Chief of CarBuyingTips.com. As chief consumer advocate, he oversees a team of experts who cover all aspects of buying and selling new and used cars including leasing and financing.
For decades, Jeff has been the recognized authority on vehicle purchasing, sought out often by the media for his decades of experience and commentary, for live call-in business radio talk shows and is cited often by the press for his expertise in savvy car shopping methods and preventing consumer scams and online fraud. Jeff has been quoted in: CNN, MSNBC, Forbes, New York Times, Consumer Reports, Wall Street Journal and many more.
Jeff also has extensive experience and expertise in new car brokering and selling used cars for clients on eBay and Craigslist. Connect with Jeff via Email or on Twitter.