15 Most Notable Cars Sold at Barrett-Jackson Auction in Palm Beach, FL

By Jeff Ostroff, Consumer Advocate, Editor-In-Chief
Published April 26, 2017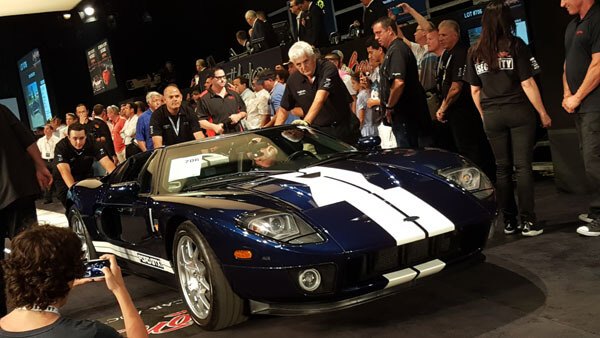 Everyone loves watching the high end expensive cars bid up into the stratosphere at the Barrett-Jackson Collector Car Auction in Palm Beach. Now that it has wrapped up, we searched through the hundreds of vehicles sold to pull out some real notable specimens, some based on selling price, celebrity ownership, one of a kind status, and more.
Keep in mind when you see Barrett-Jackson's web site display the selling price results of a car at their auction, it includes the 10% buyer's premium that that winning bidders have to pay. The actual hammer price, or highest bid is actually 10% less than the posted number. Here is our list of the most notable vehicles for this year:
1. 2006 Ford GTX1 (Lot #706) - $401,000
The Ford GT is one of the few true American exotic cars, introduced in 2005 as a $150,000 supercar, although at the time, many people were paying $100,000 over sticker to get their hands on one. This throwback to Ford's GT40, their famous multi winner race car from the 1960's, enjoyed a production run of over 4,000 between 2005 and 2006 model years. The finances on this one are astounding, as the hammer price was actually "only" $365,000, but the buyers have to pay Barrett Jackson a 10% buyer's premium of $36,500, bringing the total cost to $401,000. Here at CarBuyingTips.com, we usually help you to save money while buying a used car, but this is auction, and this means bidding wars, good old supply and demand.
This Ford is not a run of the mill GT, this is the Ford GTX1, which is a hard top convertible roadster version of the GT which also happens to have over 700 horsepower. This beautiful open top roadster conversion only had a production run of about 100, making this one rare exotic car indeed. The GTX1 was a joint effort between the Ford Motor Co. and Genaddi Design Group, who performed the conversion for current owners of the GT model, adding all sorts of additional upgrades including a disappearing rear bumper. This was the highest price paid for a car at Barrett Jackson Palm Beach that weekend. This is one of the few cars that had a reserve price, which was met. Normally Barrett Jackson only sells cars with no reserve to maximize the bidding prices.
2. 1961 Volkswagen 23-Window Deluxe Microbus (Lot #711) - $291,500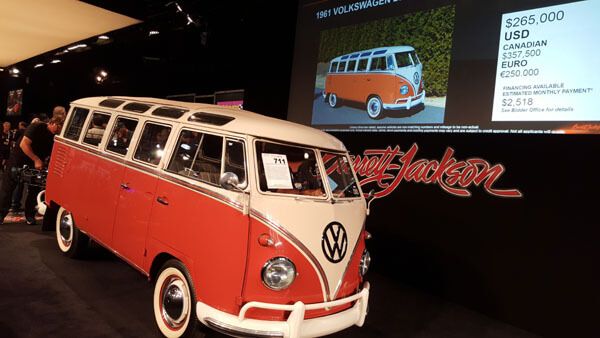 Say what? A VW Microbus sold for well north of $200,000? I bet many of you who owned one in the past are kicking yourselves in the back now for not hanging on to it and restoring it. It is so mind boggling how the 23-window Microbus has become such a hot collector's item, more than doubling in value in the last few years.
At Barrett-Jackson Palm Beach 2014 we saw one just like this one settle on a hammer price for $100,000 and everyone was blown away by it. Now only 3 years later this VW hammered at a whopping $265,000, which has got to be the highest price we've ever seen one sell for. Remember when you're bidding folks, that 10% premium catapults your final price up to $291,500.
3. Reggie Wayne's 1967 Ford Mustang GT Custom Fastback (Lot #707) - $206,800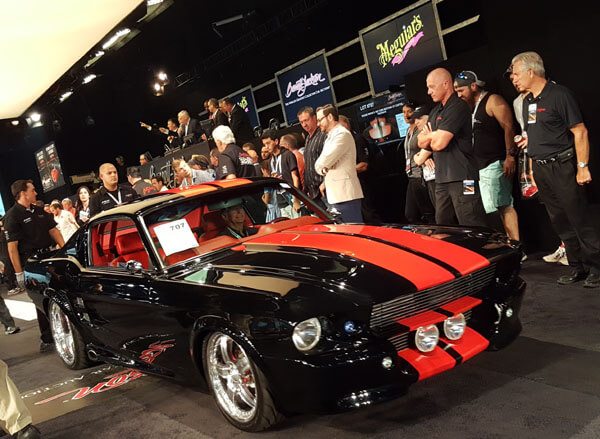 Reggie Wayne is a former NFL wide receiver, a Super Bowl Ring winner and Indianapolis Colts player who retired in 2014 after playing his entire 14 year career with them, playing in more games than Peyton Manning. He was ninth all-time in NFL receiving yards.
He was present at the auction block to help motivate the crowd and help Barrett-Jackson auctioneers bid his car up into the stratosphere, which also had a reserve price that was met. Most vintage late 1960s Mustangs, especially fastbacks typically do quite well at Barrett-Jackson auctions and this one was no exception.
With a 545 cubic inch Ford V8 engine, this horse has matching red inside, outside, and on the engine too. This one hammered at a whopping $188,000, and with Barrett-Jackson's commission, the total comes to $206,800. They never tell you what the reserve price was, but obviously it was met, and Reggie went home quite happy I'm sure.
4. Dale Earnhardt's #3 Goodwrench 1989 Chevrolet Lumina Race Car (Lot #648) - $220,000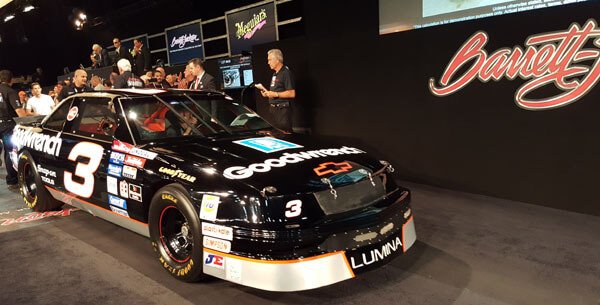 Many NASCAR fans wish they had pockets deep enough to own the very NASCAR Cup car that Dale Earnhardt drove to victory in 1990, winning the Atlanta 500. Some lucky fan with big bucks did just that. The hammer price on this car came in at $200,000.
I hope the buyer realizes that this car is not street legal, for obvious reasons. Hence this race car was sold on a bill of sale only, there is no title. This car is likely to find itself on display in an auto museum, that is after the new owner takes it out on a track a few times.
5. President Bush's 2009 Ford F-150 King Ranch SuperCrew Pickup Truck (Lot #3004) – $90,000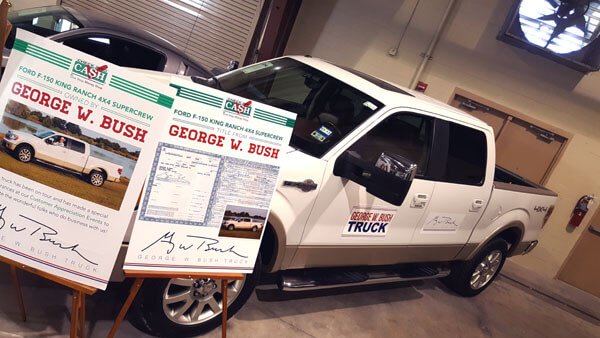 This pickup truck was owned by our very own 43rd President of the United States, George W. Bush, and he used it on his Crawford, TX ranch after he left the Whitehouse. He also autographed the airbag cover. They also have a title that shows the ownership history and showing it was from Crawford, TX.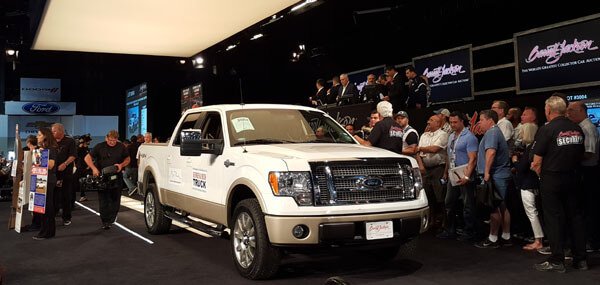 Since this auction was for the benefit of a charity, Barrett-Jackson does not charge a fee, so the $90,000 hammer price was the full 100% amount that went to the Community Foundation of Cleveland and Bradley County, a charity that supports one of the nation's top youth wrestling clubs, known as the Higher Calling Wrestling Club.
6. 1988 Lamborghini Countach (Lot #748) - $236,500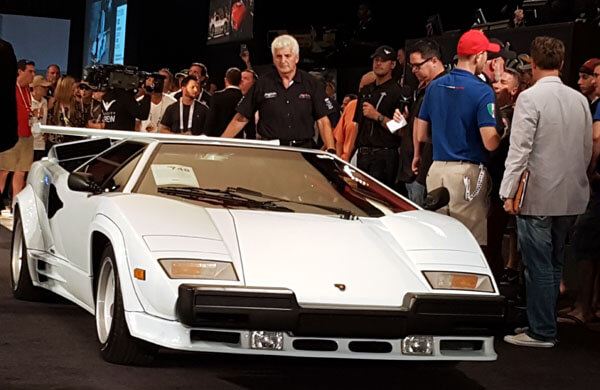 What high school guy growing up in the early 1980s didn't love the Lamborghini Countach? Seeing pictures of this car, or even the rare event of seeing one in person would give me the will to live when I was 18. The only thing I didn't like was the black bumper, added in order to pass DOT requirements to make it street legal.
During the mid-1980s they made about 600 of these Countach 5000 QV models between 1985 and 1988 model years. When this gorgeous car showed up on the block, the bidding was fierce, with the hammer price settling on $215,000. But as you know, the higher you bid on a car at Barrett-Jackson, the more buyer's fees you pay as a commission to the house. So Barrett-Jackson pocketed a cool $21,500; not bad for a few minutes work.
7. 1994 Lamborghini Diablo VT (Lot #744) - $139,700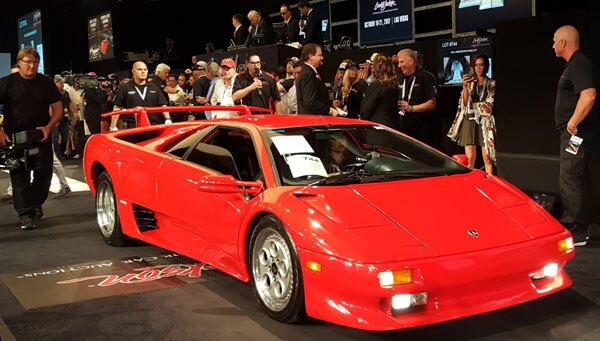 The Diablo was my second favorite Lamborghini back in the 1990s, and this was truly a breathtaking fire engine red specimen. This Diablo had a final hammer price of only a measly $127,000, not faring as well as its cousin the Countach did above, only a few lots later on the auction block.
The commission brought the total sale of this classic exotic supercar to $139,700. Maybe if this had been a roadster the seller would have gotten lot more. Still, not a bad amount to raise, and this exotic car had a reserve on it that was obviously satisfied, so we assume the seller was happy with the results.
8. 1974 Pontiac Trans Am Super Duty (Lot #704) - $110,000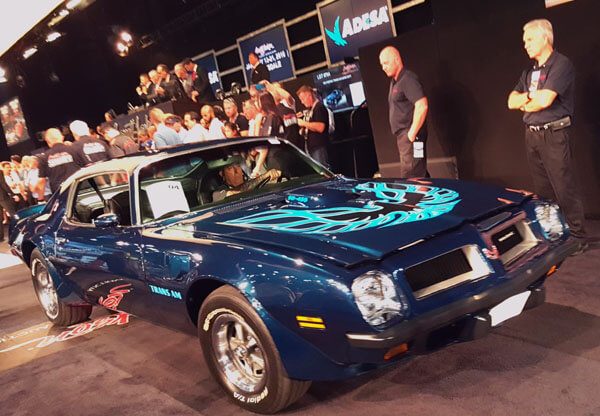 I have to disclose, I am a bit biased here, because I have owned a Firebird, a Trans Am, and a Trans Am GTA, in that order during the 1980s. I used to own a 1975 Pontiac Firebird that I sold in 1985 for about $900. After seeing how much people are getting for Firebirds these days I just about blew a gasket!
It was so incredible watching this stunning metallic blue bird with the screaming chicken on the hood roll up onto the block, the photo does not even do justice to this paint that seemed to glow in the light of the auction block. I also owned a metallic blue 1978 Trans Am, but it never looked this good. I'm still salivating over seeing this car. The hammer price was $100,000 and the final cost with commissions came to $110,000.
9. 1969 Ford Mustang Boss 429 (Lot #729) - $291,500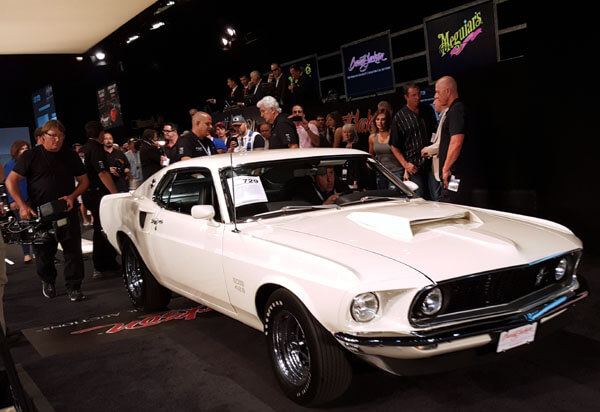 When I stumbled across this Mustang Boss 429, it wasn't in the tents with the other cars waiting to be sold. It wasn't in the pavilion building with all the other extraordinary cars; it was roped off with its own corner lot inside the main building behind the DuPont Registry booth. I know these Bosses bid up, they are some of the most sought after and priceless muscle cars in history, but no one expected this.
What makes the Mustang Boss so special is the engine is actually a race car engine, some say well over 500 horsepower, made for NASCAR. But NASCAR requires that the engine be used in at least 500 production units, so the Mustang Boss 429 was born. This oversized engine required Ford to send these Mustang Bosses up the street to another company to be fitted to the engine.
Just over 800 of this model year were manufactured by Ford, and who knows how many are still in use today, as this one is, fully restored with a rebuilt engine. The final hammer on this wild horse was $265,000, and with commission, the final cost to the buyer was $291,500.
10. Shirley Temple Black's 1993 Mercedes-Benz 400SE (Lot #362) - $18,150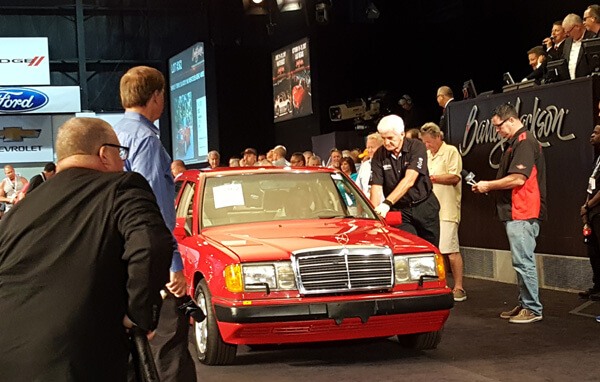 A lot of us remember watching Shirley Temple movies as youngsters. She was the highest grossing actress in Hollywood during the mid-1930s. As an adult she became a U.S. Ambassador. I was surprised her Mercedes did not reel in more money, but it was in the middle of the afternoon on the first day of the auction.
Most of the big ticket cars sold at the Barrett-Jackson auction are sold on the third and final day of the auction. So much for nostalgia, her Mercedes with the windshield wipers over the headlights only fetched $16,500, a steal for a lucky buyer to own a car once owned by Shirley Temple.
11. Burt Reynold's collection 1979 Pontiac Trans Am (Lot #449) - $85,800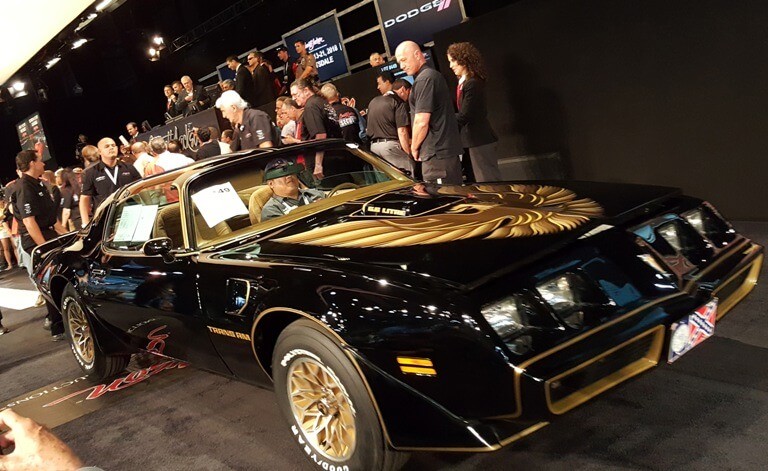 I'm giving you a double header on the Burt Reynolds collection, as he was on hand to auction off some vehicles from his collection and brought in a pretty penny doing it. Numbers 11 and 12 on our list here are notable examples of American pop culture vehicles and are some of the most recognizable cars around. Of course the Trans Am he sold is not exactly like the one in Smokey & the Bandit 2, but is similar.
12. Burt Reynold's collection Cannonball Run car (Lot #449.2) - $38,500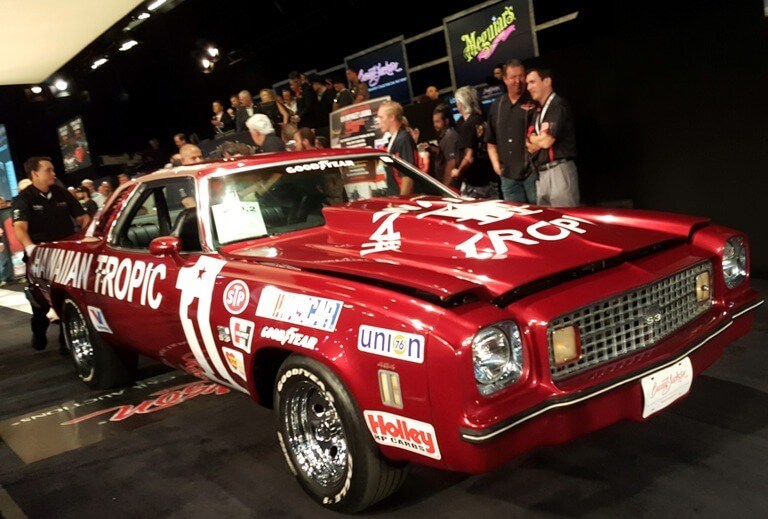 Also, the Cannonball Run car is a re-creation of the cars they used in the movie. Still Burt managed to rake in hammer prices of $78,000 for the Trans AM, and $35,000 for the 1974 Chevy Chevelle Laguna S3 Cannonball Run Car. We have a full article with several photos of the sale of Burt Reynold's collection at Barrett-Jackson Palm Beach, called Burt Reynolds strikes gold at Barrett-Jackson Palm Beach Auction with Cannonball Run Car.
13. 1967 Chevrolet Camaro Custom Coupe (Lot #767) - $82,500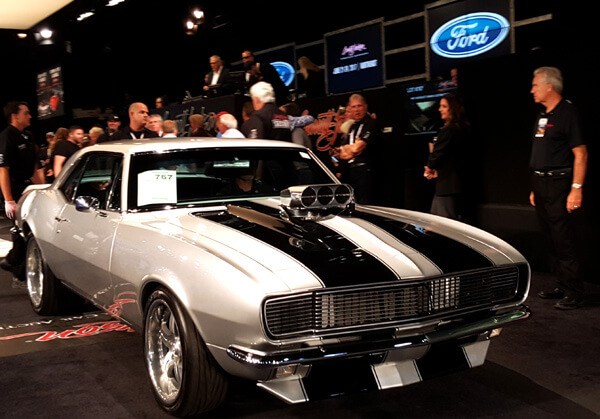 I knew this was a special muscle car when I saw it inside the showcase pavilion with the other high end cars. This one of a kind customized Pro-Touring Camaro is painted metallic silver and has a 776 horsepower engine.
Usually this vintage of Camaro bids well north of $100,000, maybe it did not bid as high because they did not leave the color and parts stock as you would find them originally, or maybe it was near the end of the last day of the auction, and all the big money left already. I expected this one to fetch a lot more, but still what an amazing car to see in front of you.
14. 1972 De Tomaso Pantera Custom Roadster (Lot #647) - $48,400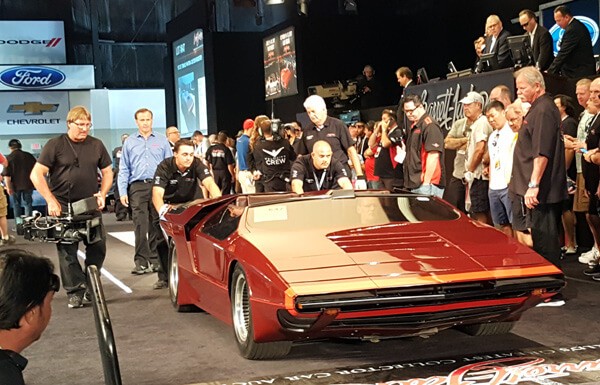 This is one super futuristic car design, and even the old ill-fated Vector car from the 1980s looks a lot like this one-off customization of a 1972 De Tomasao Pantera. This was designed and built by legendary car builder Sam Foose, who is the father of Chip Foose, star of Velocity's reality television series Overhaulin'.
The story behind this one of a kind rarity is that a De Tomaso Pantera was totaled in a crash. The Pantera looks nothing like this car. Sam Foose took that wrecked Pantera into his shop in Santa Barbara and created this modern marvel out of it. Hard to believe a car this rare only hammered at $44,000. Just look how low the roof of this car is off the ground.
15. 1990 Chevrolet Corvette Right-Hand-Drive Coupe (Lot #72.2) - $13,200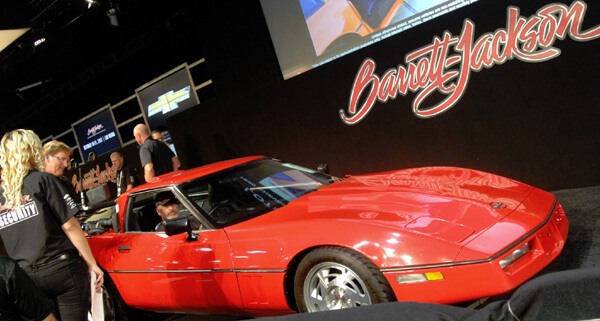 Our final candidate is such a unique car it had everyone do a double take. I bet you have never seen a right hand drive Corvette before. If you tell us you've seen one we know you're a liar, because this is the only one of its kind in the world. GM built this one-off car as an engineering study to see if they wanted to ship Corvettes to U.K., Japan, or Australia.
Amazingly this one of a kind Corvette only hammered for $12,000, largely due to the fact that it is not street legal, so this was sold on a bill of sale only with a scrap title. It is illegal to drive this car on the road. What a unique car. No, this photo is not a mirror image, the driver is on the right side of the car.
One last parting gift for you, an honorable mention:
This is a 1938 Allis Chalmers Custom Fire Truck, Lot #323, that sold for $22,000 total, with a hammer price of $20,000. This was such a cool yet tiny fire engine, it had everyone in the tents checking it out and posing for photos.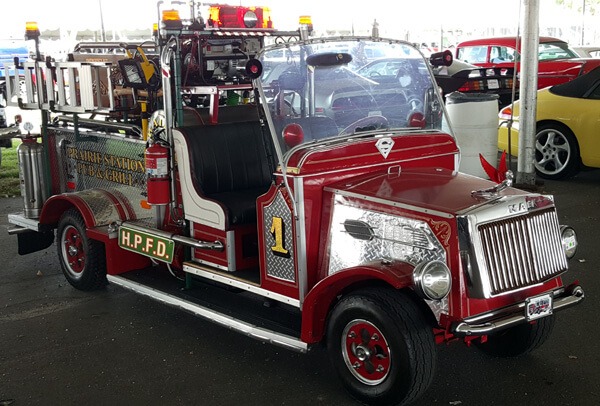 Since this one of a kind vehicle was custom made from a tractor, the buyer gets no title, and it is not street legal, they get a bill of sale only.
Which vehicle was your favorite at the auction? Let us know in the comments below.

About The Author: Jeff Ostroff
A lifelong consumer advocate with over 20 years of unparalleled expertise, Jeff is the Founder, CEO and Editor-In-Chief of CarBuyingTips.com. As chief consumer advocate, he oversees a team of experts who cover all aspects of buying and selling new and used cars including leasing and financing.
For decades, Jeff has been the recognized authority on vehicle purchasing, sought out often by the media for his decades of experience and commentary, for live call-in business radio talk shows and is cited often by the press for his expertise in savvy car shopping methods and preventing consumer scams and online fraud. Jeff has been quoted in: CNN, MSNBC, Forbes, New York Times, Consumer Reports, Wall Street Journal and many more.
Jeff also has extensive experience and expertise in new car brokering and selling used cars for clients on eBay and Craigslist. Connect with Jeff via Email or on Twitter.