Volkswagen Issues Stop Sale Order for 2015 Diesel Vehicles - Faces $18 Billion EPA Fine

By Jeff Ostroff, Consumer Advocate, Editor-In-Chief
Published September 21, 2015
Volkswagen CEO issues apology letter after EPA alleges cheating
Today the share price of Volkswagen was down about 20 percent because of the news that VW told U.S. dealers to halt sales of certain 2015 diesel cars, related to the false emissions numbers, a charge that could result in $18 Billion in fines.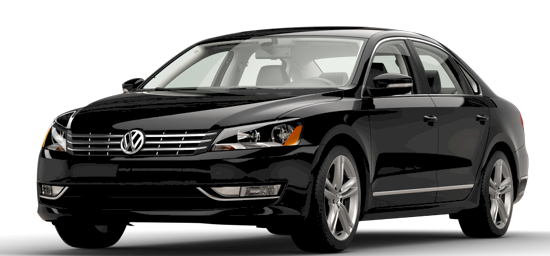 The EPA stated last week the carmaker allegedly used software that circumvents emissions testing for certain air pollutants.
The EPA issued a Notice of Violation (NOV) which alleged that 4-cylinder 2009-2015 model year Volkswagen and Audi diesel cars include software that circumvents EPA emissions standards for certain air pollutants. In other words, the EPA is alleging that VW cheated on their emissions claims.
The Environmental Protection Agency and the California Air Resources Board (EPA and CARB) announced that while testing diesel cars of the Volkswagen Group they "detected manipulations that violate American environmental standards." These are some pretty serious charges.
Somehow the EPA discovered that software VW designed for its vehicles gave false emissions data. The code VW installed would detect when the engine was being tested and run in a mode where it would meet emissions standards and run in a completely different mode in all other circumstances.
EPA stated that the software produced by Volkswagen is a "defeat device," as defined by the Clean Air Act. Here's a tweet the EPA sent out Friday alleging that VW cars emit up to 40 times the national standard for Nitrogen Oxide:
The VW cars under investigation emit up to 40x the national standard for nitrogen oxide, which is linked to asthma & lung illnesses.

— U.S. EPA (@EPA) September 18, 2015
The EPA says that this covers 482,000 diesel cars sold since 2008
Affected VW diesel models:
Jetta (Model Years 2009 – 2015)
Beetle (Model Years 2009 – 2015)
Golf (Model Years 2009 – 2015)
Audi A3 (Model Years 2009 – 2015)
Passat (Model Years 2014-2015)
On Sunday VW released a letter of apology from Prof. Dr. Martin Winterkorn, CEO of Volkswagen AG who stated in his letter: "I personally am deeply sorry that we have broken the trust of our customers and the public."
VW issued a stop sale order today
In that letter above, Winterkorn stated that it is his top priority to cooperate with the governing authorities to undo any damage that has been caused and that it has launched an investigation. To that end, VW has ordered all of it's dealers to stop selling any 2015 diesel models. This will no doubt have a huge downward affect on their earnings.
Check out the stock chart below, you can see VW shares were down 20% this morning, dropping $30 Euros to 131.90 when we took the snap shot. VW shares had traded as high as 170 EU last week before the news broke. At the 2015 peak of trading, VW shares traded as high as around 250 EU, so their stock is down around 50% from those April highs.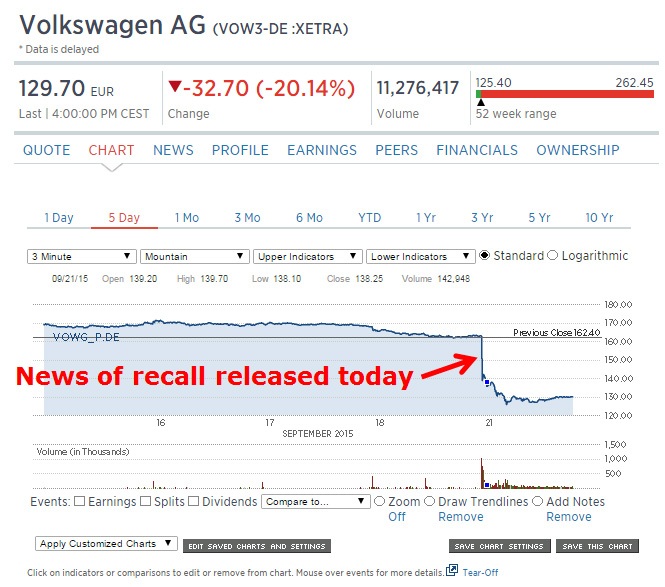 If you own one of these affected Volkswagen vehicles, you can probably expect a recall for your car in the near future.

About The Author: Jeff Ostroff
A lifelong consumer advocate with over 20 years of unparalleled expertise, Jeff is the Founder, CEO and Editor-In-Chief of CarBuyingTips.com. As chief consumer advocate, he oversees a team of experts who cover all aspects of buying and selling new and used cars including leasing and financing.
For decades, Jeff has been the recognized authority on vehicle purchasing, sought out often by the media for his decades of experience and commentary, for live call-in business radio talk shows and is cited often by the press for his expertise in savvy car shopping methods and preventing consumer scams and online fraud. Jeff has been quoted in: CNN, MSNBC, Forbes, New York Times, Consumer Reports, Wall Street Journal and many more.
Jeff also has extensive experience and expertise in new car brokering and selling used cars for clients on eBay and Craigslist. Connect with Jeff via Email or on Twitter.