Jeff Ostroff
Consumer Advocate and Editor-In-Chief - CarBuyingTips.com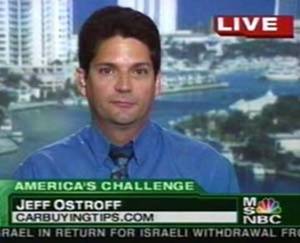 A lifelong consumer advocate with over 20 years of unparalleled expertise, Jeff is the Founder, CEO and Editor-In-Chief of CarBuyingTips.com. As chief consumer advocate, he oversees a team of experts who cover all aspects of buying and selling new and used cars including leasing and financing.
For decades, he has been the recognized authority on vehicle purchasing, sought out often by the media for his unparalleled experience and commentary, for live call-in business radio talk shows and is cited often by the press for his expertise in savvy car shopping methods and preventing consumer scams and online fraud. Jeff has been quoted in:
CNN
MSNBC
The New York Times
Forbes

More instances of media coverage can be found on our Press/Media Information Center
Jeff founded CarBuyingTips.com in 1997 after years of extensive research into the car buying process, spotting numerous sales scams along the journey. He vowed to prevent that from happening to any victims, and helped many colleagues who had purchased cars to get the pulse of the challenges and scams that car buyers were seeing.
He worked tirelessly to strategize solutions to the toughest problems facing consumers. He developed unique and sophisticated Excel Spreadsheet Tools to empower consumers with budgeting, determining dealer cost of new vehicles, formulating a buyers offer to purchase a new car, bill of sale, lease payment calculators and loan calculators.
These spreadsheet tools he developed help consumers negotiate the purchase of a vehicle on a level playing field. These free tools and his popular educational guides became the cornerstone of this free consumer advocate site. The result is thousands of consumers every year report saving an average of $3,000 when buying a new car.
Jeff has covered the automotive space since 1997 and has extensive experience in selling used cars for clients on eBay and Craigslist and teaching them how to get the most for their cars. His team of consumer advocates has also acted as an auto broker for numerous paid clients, haggling the lowest price for their new car purchases.
Jeff's investigative skills have been sought by the FBI and Secret Service in cases of electronic fraud. He has recovered hundreds of thousands of dollars for victims of online fraud from major classified ads auction sites such as eBay and Craigslist. He has even been flown by the Secret Service to Washington D.C. to give training at a Joint Economic Crimes Task Force conference.
His investigations have led to the shutdown of over 600 fraudulent escrow web sites and became the basis for the sections here on CarBuyingtips.com covering online fraud and counterfeit checks related to vehicle purchases, which has saved thousands more potential victims from losing money.