RV and Camper Buying Tips and Scams To Avoid
There are a wide range of Recreational Vehicles out there. One for almost every budget. Some recreational vehicles can cost over a $1,000,000. Most RV dealers cater to retiring couples with big equity in their homes, large pensions, and savings accounts. In other words, you are viewed as a life support system for a wallet. The problem with buying an RV is you can't guarantee that you are getting a fair price. There are no web sites where you can lookup dealer cost and holdback, then walk into the dealer and say "here's how much you paid for it, and here's how much profit I want to give you."
Are you getting a truck camper, a pop up camper or Class A? There's tons of options and configurations that can move the price up and you have no way to verify how much it should cost. So the only way we can help you is to list the pros and cons of RV ownership and share some negotiating tips based a few war stories from a person we know who sold them for a living and revealed many of his tricks of the trade.
Try The RV Life First Before You Buy Into It
"The two best days you have as an RV owner are the day you buy it and the day you sell it." RV life is just wonderful for many people who swear by it. But how do you really know if you're ready for it? Instead of mortgaging your house and plunking down $200,000 on an recreational vehicle, try renting one for a holiday getaway and see how you like it. A $700 a week rental for two weeks plus expenses might add up to $2,000 but you will know if you're ready for the RV life by the end of the trip. Also, talk to other people who own RVs and ask them for the pros and cons. Try RV camp grounds, you'll find plenty of RV owners with opinions.
The Pros & Cons Of RV Ownership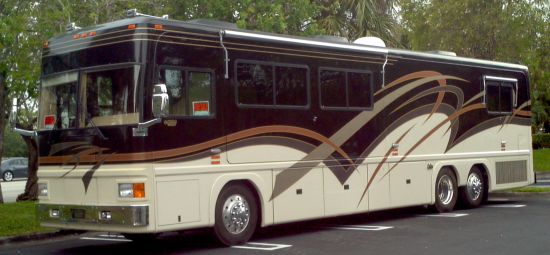 Based on Our Research of RV Owners and Salespeople
The Pros
It's a second house on wheels! Many people use them several months out of the year.
If you live in it, there's no property taxes, lawns to mow, no weeds to pull.
You are closer to nature because you don't have to stay in hotels.
You get to sleep in beautiful campgrounds and national parks.
With your RV camper, you never have to look for a bathroom!
RV travel is a life like no other.
You get to meet other friendly people who share your interests.
You can easily pack the whole family on a vacation.
Freedom to tour the countryside.
The Cons
They depreciate very rapidly, 20% or more the first year. Just ask anyone who had to sell theirs.
Certain holidays it's impossible to find a parking space in an RV park.
Find an RV parking spot in Yellowstone? Good Luck! Of course, hotels are hard to get too.
If you park where there's no AC power, your RV gets real hot unless you have a generator.
You might realize a year later your RV is just too big to drive around.
Most repair shops don't have the space to work on your 35' long bus.
Gas Mileage: RVs get 8 - 10 miles per gallon on the freeway.
Repairs can take days, especially if they have to wait for RV parts.
You need to tow a smaller car if you want your space to still be there when you get back.
Lots of maintenance buddy! Hope you're a handy person.
Financing Your RV Loan
Some people put their house on the market, then buy an RV while waiting for the house to sell. Don't even think of selling your house before you've spent some time living in an RV. Most RVs are financed for 10-15 years. The quicker you pay it off the better, especially if you're retired. Do you really want to spend the next 15 years making payments? Restrictions apply depending on what's installed, but you may be able to write off the interest like a second mortgage, ask your accountant.
Qualifying for an RV Loan is harder than a car loan. Most lenders want to see 2 years of tax returns. It is similar to buying a house. Most RV lenders allow you to put down as little as 10% but we recommend you put down 20%. If you don't have 20% to put down then you should not be buying because you will be upside down. Salespeople will tell you that I'm wrong, that "this is how people have been doing it for years." This is how people have been running into trouble for years too. They just want to sell you an RV. Any vehicle you buy depreciates 20% the first year. You should arrange your own RV financing yourself and get pre-approved. Now RV dealers can't quote padded monthly payments that you don't know how to verify. They can't lie to you now, and tell you that you must buy the extended warranty as required by the bank, because you have your own loan setup already.
Continue for Tips on Negotiating the Best Price & Protecting Yourself >