What to Expect When Lexus and Toyota Repair Your Melted or Cracked Dashboard

By Jeff Ostroff, Consumer Advocate, Editor-In-Chief
Published September 25, 2015
A review with photos of the process at the dealership when Toyota or Lexus repairs your melted or cracked dashboard
Like many Toyota or Lexus owners of certain vehicle models from 2004 to 2011, chances are you have either a cracked dashboard or a melted dashboard with some glazed stickiness, especially here in the Southeast and you're probably wondering if you did something wrong to cause your dash to crack.
You're off the hook, it turns out the problem was with Toyota's dashboard supplier, and had nothing to do with you at all.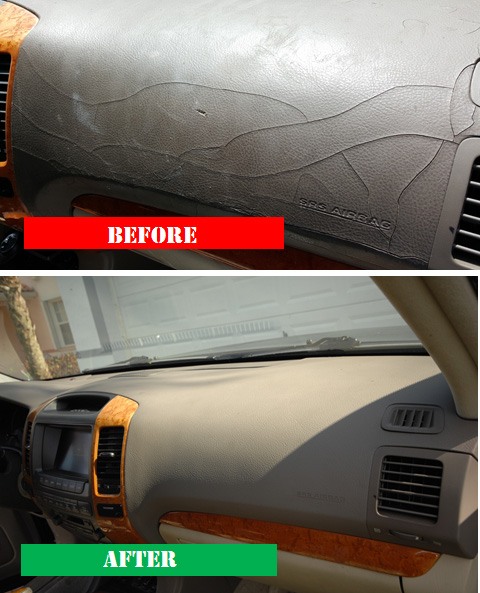 Some of the IS models had it particularly bad, and their dashboards melted and got so sticky and shiny drivers had a hard time seeing the road through the reflection on the windshield.
Relief started with a warranty enhancement letter from Toyota
Beginning in December, 2014 many owners of Lexus and Toyota vehicles began receiving "Warranty Enhancement Notification ZLD" letters from Toyota corporate, informing us that our cracked dashboards are now covered under a new warranty enhancement program, as a gesture of customer satisfaction.
That's among the best news I had received in years. Back in the 1990s we used to call these secret warranties from various car makers, which were not made overtly public, but you could get certain failures repaired at a dealer for free. I once got a free paint job on my 6 year old Trans AM GTA under a similar unadvertised warranty enhancement from Pontiac because my clear coat had worn prematurely.
This announcement from Toyota was like hitting the jackpot for many of us whose warranties had long expired, as our 2004 Lexus GX470 SUV was already 10 years old. Our dashboard had started cracking when the vehicle was only 6 years old but beyond the standard Lexus Warranty.

I had long written this cracked dashboard off, when our letter arrived from Toyota last December. The Club Lexus Forums also lit up with other owners who were ecstatic about receiving their letters. At first it seemed it would be a short lived celebration, because the letter estimated the repairs would take place between May and June of 2015. Well July came and went and no one had heard anything. Other Lexus owners on Club Lexus were getting antsy as were Toyota owners over on Toyota Nation and Tacoma World Forums.
We decided in June to get with our local JM Lexus dealer for a status update and find out about getting started on a list of first come first serve owners for repairs. They already had a list 50 names deep. This turned out to be the critical time saver if you heeded our advice.
It starts with getting your name on the dealer's will call waiting list
We got our names on the list, and they are performing the repairs by model, so for Lexus, the pecking order was all ES models first, followed by GX470 SUV, Lexus IS250, IS350, LS460, RX330, RX350, and finally the RX400h models. The dealer told us it would be about a month on the waiting list until they called us. It was 2 1/2 months before they called us in, not too unbearable.
After the Lexus dealers work their way down the list, they call you in
Finally after about 2 months on the list we got a call out of the blue from our Lexus dealer that our dashboard had come in, and we immediately set an appointment for early the next day because they prefer to have your car all day to make the repair, which they said can take 4 to 5 hours.
Some dealers do it somewhat backwards and waste time. These other dealers want you to bring your Lexus in and they photograph it, fill out a whole checklist detailing the condition of several items in your cabin, and then they submit it to Toyota for approval, and wait and wait for an approval if qualified, then they order your part and call you when it comes in. This is not as efficient as they did it at JM Lexus.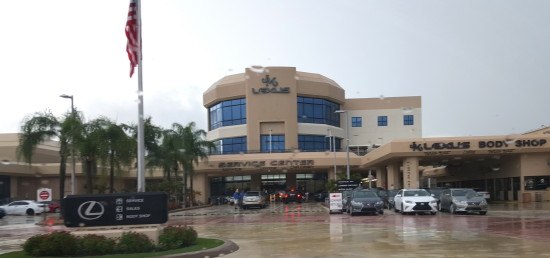 When they call you in, make your appointment as soon as possible
When your dealer calls you, make sure to get with them right away and book your appointment, don't delay returning any voice mail calls, not even a few hours. They are probably booking repairs like crazy, filling up their limited calender. They may be only able to accommodate 2 cars per day for this repair, so you don't want to be waiting in another queue.
Bring your car in early in the week to repair your dash if possible
If you can, schedule your dashboard repair earlier in the week, in case they have it for a more than one day and you don't have a loaner car. You don't want to bring your vehicle in on a Friday, then some complication causes them to hold it over the weekend. You want to get in and get out quickly.
In our case, the speaker grill on top of the dashboard was cracked, and so it took them one extra day to order the new grill to complete the install. Our total time of our GX470 in the repair shop was 2 days.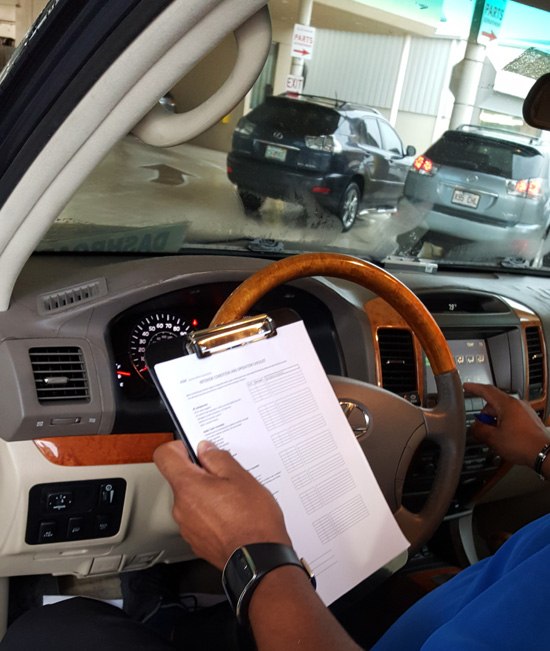 We arrived at JM Lexus for our 9 AM appointment time, and our service advisor came out with paperwork. He photographed the cracked dashboard from numerous angles, and checked off his lengthy condition checklist of items as part of this repair order. The service writer told us that the dashboard part for our GX470 is valued at $2,400, so we were getting the deal of the century paying $0.
Lexus kills a forest for each one of these dash repairs, with several pages of documentation and printed photos that must be sent back to Toyota for each dashboard replaced under this warranty enhancement program. It is an astounding amount of paper used for this repair.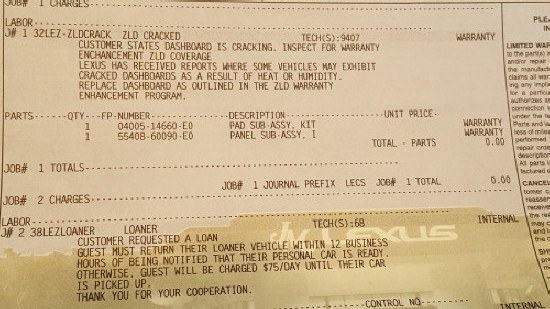 Hopefully Lexus gives you a loaner car
Our Lexus dealer has always been big on giving loaner cars, and happily, this was no exception, even though we were not paying the dealer any out of pocket expense for the repair. I can't speak for Toyota, so we have no way of knowing if your local Toyota dealer will give you a loaner or not. But you should ask when you make your vehicle service appointment.
For loaner cars do not forget your driver's license and proof of insurance
Make sure you have your valid driver's license and proof of insurance with you, or the car dealer will not let you drive off the lot with a loaner car; It is required by law for you to carry both anyway, and the dealers will photocopy your license and insurance card before they allow you to drive off in a loaner car.
Do a walk around on your loaner car, marking off all preexisting damage
Just like renting a U-Haul, you should walk around the loaner car with your service advisor and have them check off all the damage on the vehicle. We found a huge series of scrapes on the left quarter panel, and smaller scrapes on the front bumper, and made sure that it was noted as a pre-existing condition.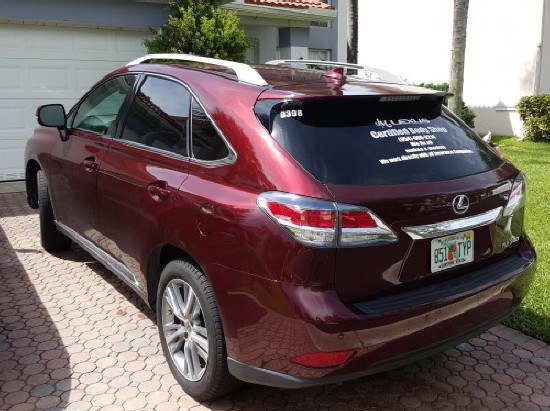 Sit back, relax and wait for the call, the dealer has you covered
When they call you to pick up your car, usually the same day or the next, make sure the fuel in level in your loaner car is the same when you checked it out of the car dealership. Some dealers may charge you for the gas you used and can bill you $100 per day if you don't return the car the day they call you back.
Before you leave the service center to drive home with your repaired vehicle, make sure nothing is out of place with your dashboard and instrument cluster. Make sure your AC works, the radio, the lights, verify all your vents open, close, and swivel. Make sure no erroneous check engine lights are lit.
Smart marketers at the dealer gave us a thorough automobile status report
The folks at our local Lexus dealership are marketing geniuses. Rather than have this situation just be a low paying reimbursement warranty repair, they have a whole new revenue stream going. They ran a whole diagnostic report on our GX470 SUV by Dealertrack Technologies to give us.
This impressive 10 page Automobile Status Report, conveniently itemized about $5,200 in "needed repairs," many of which I'm sure are not in dire need, like $60 to replace the windshield wipers, which are doing just fine.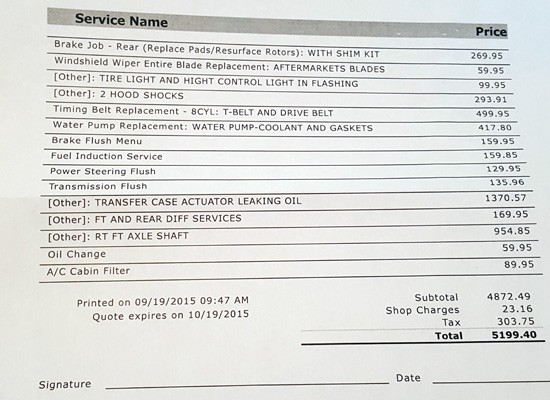 In summary, your key to success here is to make sure you have contacted your local dealer, and confirm that you are on the will call list, and when they call you in, don't waste time, schedule your appointment immediately. When they are finished, your car will look brand new again.
Don't forget to give them 5 stars in their post service survey if you get one. Good luck and let us know how your repair went, we'd love to hear feedback on your experience.

About The Author: Jeff Ostroff
A lifelong consumer advocate with over 20 years of unparalleled expertise, Jeff is the Founder, CEO and Editor-In-Chief of CarBuyingTips.com. As chief consumer advocate, he oversees a team of experts who cover all aspects of buying and selling new and used cars including leasing and financing.
For decades, Jeff has been the recognized authority on vehicle purchasing, sought out often by the media for his decades of experience and commentary, for live call-in business radio talk shows and is cited often by the press for his expertise in savvy car shopping methods and preventing consumer scams and online fraud. Jeff has been quoted in: CNN, MSNBC, Forbes, New York Times, Consumer Reports, Wall Street Journal and many more.
Jeff also has extensive experience and expertise in new car brokering and selling used cars for clients on eBay and Craigslist. Connect with Jeff via Email or on Twitter.