Toyota and Lexus Begin Rolling out Cracked Dash Warranty Repairs

By Jeff Ostroff, Consumer Advocate, Editor-In-Chief
Published August 6, 2015
CarBuyingTips.com has been investigating the status of the Toyota and Lexus cracked dashboard free warranty repairs. This blog contains the latest update. Vehicle owners are being sent their second letter, or being contacted by their local dealer using their will call list to bring their vehicle in to be repaired for free.
Do you have a Toyota or Lexus with a sticky or melting or cracked dash? See the itemized tables below, we have for you the scheduled roll out for both companies to get your dashboard replaced. In June we told you about some updated tips to ensure you are on the list to be repaired for the Lexus cracked dashboard warranty enhancement, see our previous article here: Update with Tips on Toyota & Lexus Cracked Dash Warranty Repair.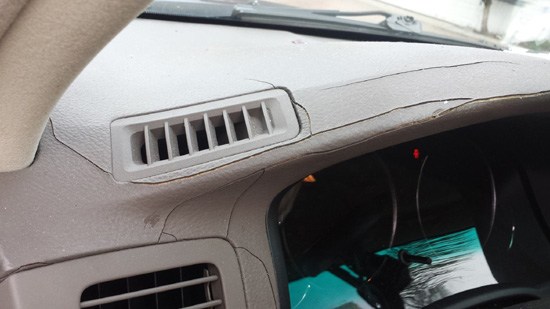 As a quick recap, we had mentioned that both Toyota and Lexus are performing this $800 repair at no charge via their "Warranty Enhancement Notification - ZLD" letter that they sent out to many of us Lexus owners back in January.
Everyone keeps asking us "when will my car get repaired?" Here is the latest update, what you need to know and what you need to do to ensure you are serviced and get your instrument panel repaired in a timely manner.
Let me remind you once again that this is not a recall; it is a voluntary warranty enhancement.
Toyota's roll out schedule for repairing the cracked dashboards
This table below was given to us directly by Toyota Motor Sales, USA, Inc. and shows the estimated roll out schedule dates for owners to get their dashboards replaced.

They are rolling out the repairs in phases, with Avalon, Camry and Solara first. This group of cars was supposed to be started in June. You can imagine this is a monumental task and so expect many logistical delays.
Phase 1: Reimbursement for prior repairs
The first phase of this warranty extension is pretty straightforward and has been ongoing. Since last December, they have been simply reimbursing owners if you had previously paid out of pocket to repair your dashboard to be replaced.
Phase 2: Avalon, Camry and Solara models
Phase 2 was supposed to commence in June, but got delayed. In the last week of July, some owners began to report they got called by the dealers to schedule appointments.
We have seen reports from Toyota owners that they have been notified by their dealer to make the appointment for the repair, but then part delays ensued and so still no repair. After searching the Club Lexus and Toyota Nation forums, we have yet to find a single owner who has confirmed that their car has been repaired yet under this new extended warranty program.
Phase 3: Toyota 4Runner SUV
Phase 3 of the repairs were supposed to be for owners of Toyota 4Runners and was scheduled to occur in July, but as best as we can determine so far, this has not occurred yet and we are not sure when this will happen, since Phase 2 still apparently has not gotten off the ground yet. As soon as we find out more, we'll let you know.
Phase 4: Toyota Sienna Minivan
Phase 4 of the repairs is supposed to be for owners of Toyota Sienna Minivans. They were originally slated to begin the part replacements in October, 2015, but you can be sure that date won't be met and this could likely be pushed forward into 2016.

The number of models involved is astounding, which is why it will take a while to get them all repaired. You have to figure the repair will take at least 2 or more hours per vehicle, thus limiting how many vehicles a dealership can perform this repair on a daily basis.
Here is the summary breakdown of the number of Toyota models involved:
4Runner SUV: 328,600 units
Avalon: 331,400 units
Camry: 1,631,200 units
Sienna Minivan: 924,800 units
Solara: 203,400 units
Lexus roll out schedule for repairing cracked dashboards
Similar to Toyota, Lexus is rolling out the repairs in phases as well and is facing the same logistical delays.
Phase 1: Reimbursement for out of pocket repairs
The first phase of the Lexus warranty extension has been ongoing just like Toyota. Since last December, they have been reimbursing owners who had previously paid out of pocket to repair their dash consoles.
Phase 2: Lexus ES350 models
Phase 2 was supposed to commence in late May, but also got delayed and we still have no record of any ES owners receiving word to bring their car in yet. But at least ES owners can sleep better knowing that they are first on the list in this pecking order.
I confirmed with a service employee at our local Lexus dealer that the dashboards they hoped were arriving in early August have not arrived yet. Although, they told us that some of the much anticipated "second letters" have started going out to people last week.
Phase 3: Lexus RX330, RX350, RX450h and GX470 SUV models
Phase 3 is by now about a month overdue and even then the original schedule from Lexus said it was "tentative."
Phase 3 for the RX and GX SUV models was supposed to commence in July, so we don't know when it will begin at this point, but we will keep you updated.
Phase 4: Lexus IS250, IS350 and LS 460 models
Phase 4 is for the IS and LS models and was "tentatively" scheduled for August, but you can expect maybe by the end of 2015 at the current rate that the schedule is progressing.

Just like with Toyota, we have the number of Lexus models involved:
ES350: 175,800 units
GX470 SUV: 156,200 units
Lexus IS250 and IS350: 146,000 units
LS460: 19,000 units
RX330: 285,800 units
RX350: 233,100 units
RX400h: 66,300 units
Trap warning: Don't think that you are automatically entered into some red carpet VIP list.
It is up to us to make sure we are on the dealer's will call list! Many dealers have already stated that they are repairing on a first come first serve basis off their list. If you're not on a dealer's waiting list now, who knows when they will get to you. Don't wait for Lexus or Toyota to call you, reach out to the dealer first.
As we mentioned in our previous blog article, pay close attention to our steps outline below.
Summary of our tips to ensure a speedy dashboard repair:
If Toyota or Lexus sent you a letter with your VIN# on it, file it in safe place
Call your local dealer to ask if your car qualifies and if they have a will call list
Get your name on the will call list, ask when dashboards will be in
Write down the name of your service writer
Have them confirm your car's correct info in their database
Confirm again that your car is eligible under this warranty enhancement
Call your dealer for a status update on the date they expect delivery
Re-confirm every month they still have your name on the will call list
Who to call at Lexus and Toyota for more info
Lexus Customer Assistance Center:
(800) 255-3987
Hours: Monday - Friday, 8:00 AM to 6:00 PM
Saturday 7:00 AM to 4:00 PM
Toyota Customer Support
(800) 331-4331
Hours: Monday - Friday 5:00 am - 6:00 pm PT
Sat 7:00 am - 4:00 pm PT
It is your turn; let us know about your success or issues with your dash repair. Have you received a second letter of phone call yet from your dealer telling you to bring your car in for the repair? Please let us know.

About The Author: Jeff Ostroff
A lifelong consumer advocate with over 20 years of unparalleled expertise, Jeff is the Founder, CEO and Editor-In-Chief of CarBuyingTips.com. As chief consumer advocate, he oversees a team of experts who cover all aspects of buying and selling new and used cars including leasing and financing.
For decades, Jeff has been the recognized authority on vehicle purchasing, sought out often by the media for his decades of experience and commentary, for live call-in business radio talk shows and is cited often by the press for his expertise in savvy car shopping methods and preventing consumer scams and online fraud. Jeff has been quoted in: CNN, MSNBC, Forbes, New York Times, Consumer Reports, Wall Street Journal and many more.
Jeff also has extensive experience and expertise in new car brokering and selling used cars for clients on eBay and Craigslist. Connect with Jeff via Email or on Twitter.