Lexus and Toyota Issue Recall for Side Curtain Airbag Erroneous Deployment

By Jeff Ostroff, Consumer Advocate, Editor-In-Chief
Published March 17, 2016
Recall affects over 320,000 Toyota and Lexus SUVs and Trucks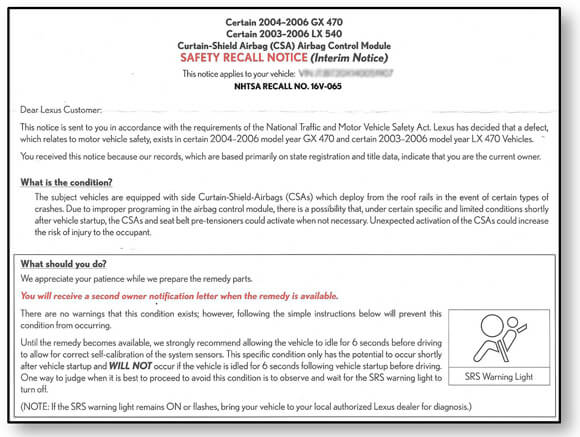 What is the issue for this airbag recall?
Toyota and Lexus have been sending out safety recall notices they refer to as an "interim notice" to us owners of certain models and years to alert us to a potentially dangerous issue with the side Curtain Shield Airbags (CSA) which could make them deploy inadvertently at engine start up. This comes after Toyota notified the National Highway Transportation Safety Administration (NHTSA) on February 5 of this recall. See the screen shot of the letter above, which Lexus sent to us.
What is the root cause of these airbag failures?
According to the letter from Lexus, the affected vehicles have side Curtain Shield Airbags which are supposed to deploy from the roof rails in the event of certain types of accidents. Lexus admitted there is a bug in the programming software inside the airbag control module.
The side curtain airbags can deploy without notice and cause injury
The nature of this programming error is such that under certain limited conditions shortly after vehicle startup, the CSAs and the belt pre-tensioners could activate when they should not be activating. If your CSAs activate unexpectedly, there could be an increased risk of you being injured.
Am I at risk of injury? Should I stop driving my Lexus?
You don't need to stop driving your Lexus, and in fact Toyota and Lexus are currently working on a remedy for this problem. NHTSA states on their web site that Lexus anticipates the remedy to be available in September, 2016. The remedy will consist of the replacement of the airbag control module, presumably which will have an update to correct the bug in their code.
Is there a workaround for me to avoid this failure?
Yes, Lexus claims that the failure condition for this recall only exists for 6 seconds after you start the engine. This failure condition will not occur if you idle the engine for 6 seconds before driving it after you start the engine. This 6 second period normally ends by the time the SRS Warning Light shuts off after you start the engine.
By leaving your engine in idle mode for 6 seconds before driving, Lexus claims this allows for correct self-calibration of the system sensors. Then when they are ready with our remedy, they will begin the repairs.
Which model vehicles are covered by this recall?
The following is a list of affected vehicles covered under this airbag recall:
Lexus GX470 2004-2006
Lexus LX470 2003-2006
Toyota 4Runner 2004-2006
Toyota Land Cruiser 2003-2006
Toyota Sequoia 2005-2006
Toyota Tundra 2005-2006
I did not receive a letter from Lexus or Toyota, what do I do?
If your SUV or pickup truck is on the list above and you did not receive a letter, then you should call the Lexus Customer Assistance Center at 1-800-255-3987 Monday through Friday, 8:00 AM to 6:00 PM, or Saturday 7:00 AM to 4:00 PM Pacific time.
You can also confirm if your vehicle is part of any type of recall by checking your VIN on the NHTSA's Recalls Look-up by VIN search tool.
Get on a waiting list at your local Lexus or Toyota Dealer
I strongly urge you to see if you can get on a waiting list for this recall repair at your local dealer; just call them to see if they have started a repair will call list yet. You'll want to be at the very top of the list, trust me on this one, I know from experience.
Just take a look at our CarBuyingTips.com blog article from last year titled Lexus and Toyota Owners Complain of Long Delays for Free Cracked Dashboard Repairs
We reported that many Lexus owners have spent months on their Lexus dealer free dashboard repair waiting lists, with repair date estimates deep into 2016 or beyond. So when this current side curtain airbag recall remedy is ready to go, you don't want to be waiting forever. Some dealers are still telling customers 100 deep on last year's dashboard repair list they can only replace 2 dashboards per month.
We are likely to see similar wait times for this airbag recall, and you can also expect it to roll out months later than the September prediction on NHTSA's web site. When Lexus finally rolled out their cracked dashboard repairs last year, they were 6 months behind the original planned start date.
Our best advice for you is to check your your local Lexus or Toyota dealer every month until they are ready to start putting names on their will call list, and make sure you are first on that list when they start.
If you're still not convinced how serious I am, just look at the large number of complaints from Lexus owners in the comments section on our other blog article Lexus to Pay for Cracked Dashboard Repairs
Let us know your experience with this Toyota and Lexus recall in the comments below.

About The Author: Jeff Ostroff
A lifelong consumer advocate with over 20 years of unparalleled expertise, Jeff is the Founder, CEO and Editor-In-Chief of CarBuyingTips.com. As chief consumer advocate, he oversees a team of experts who cover all aspects of buying and selling new and used cars including leasing and financing.
For decades, Jeff has been the recognized authority on vehicle purchasing, sought out often by the media for his decades of experience and commentary, for live call-in business radio talk shows and is cited often by the press for his expertise in savvy car shopping methods and preventing consumer scams and online fraud. Jeff has been quoted in: CNN, MSNBC, Forbes, New York Times, Consumer Reports, Wall Street Journal and many more.
Jeff also has extensive experience and expertise in new car brokering and selling used cars for clients on eBay and Craigslist. Connect with Jeff via Email or on Twitter.