Should I Refinance My Car?
The murky world of car finance is difficult for most people to navigate, and many get it wrong, often paying for their mistakes for years in the form of higher interest rates, sometimes triple what those of us with good credit would pay. Here at CarBuyingTips.com people often ask us "should I refinance my car?" It seems complicated to them, they also ask "can you refinance a car loan?" and even "How do I refinance my car?" Here we will clear the air on these common questions and make it simple for you to understand.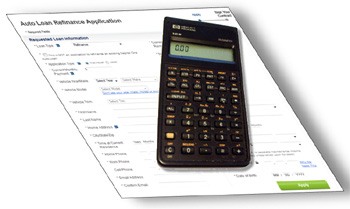 To be or not to be - to refinance or not, that is the dilemma. First, let's make sure we are on the same page with an understanding of what refinancing a vehicle is, before we determine whether it is prudent to refinance our existing car loan. The refinance process simply means you are paying off the existing auto loan and replacing it with a new auto loan with new terms and lower interest rate.
Typically if today's APR (interest rate) for refinancing is at least 2% lower than the original APR you got on your current loan, then it makes sense for you to refinance. With a $20,000 loan at 60 months and 8% APR, you could drop your monthly payment from $406 to $386 by refinancing to 6% APR, saving hundreds over the life of the loan.
Working With an Online Lender
Most lenders don't refinance their own loans, so you normally have to find a different lender such as LightStream and CARCHEX. By applying online, you get to see your APR and how much you could save in minutes. Now you know the criteria to determine whether you should redo your loan.
With online lenders you typically download documentation, sign it, FedEx it back, and they pay off your current loan in about a week.
Can I Refinance a Car Loan?
Many consumers were so duped by the car dealer they don't even know it's possible to get out of their loan. Many car buyers rush into dealers with no financial budget or credit check planning first to buy new cars, not knowing their credit score, and forgetting they have a checkered past with making payments on time. There's damage on their credit file that they could have easily repaired first and it all comes to bite them in the rear, and they get stuck paying 15% to 25% APR.
Referring back to the above referenced $20,000 loan, at 15% APR their payments would be $475, and cost over $4000 extra in interest. They have no idea that they could be paying down near 6%, which would save them thousands. Yes, you can indeed refinance your car loan.
There must be thousands of people out there, maybe even you, paying way too much APR because the dealer lies to you about your credit score. One benefit of refinancing is now that you are taking on a loan with different terms, you could spread out the months say from 48 to 60, which lowers your payments and gives you breathing room, but costs you more in interest. I recommend you choose the fewest months possible to pay off your new loan; you'll save the most money in interest payments over the life of the loan.
How Do I Refinance My Car?
Work to Improve Your Credit Score
Your first strategy is to work on getting your credit score up as high as you can. You have to remove the cause of your high APR in the first place. This is why we always tell you to buy your credit report from Experian, TransUnion or Equifax with the credit score option. Then go through it, search for and remove errors or stale data by contacting the creditors who put them there. Also dispute undeserved bad credit report items with the credit bureaus, which have 30 days to respond.
You can convince some creditors to remove black marks if you have paid them off already. I've helped many friends and family, and you'll be surprised how willing some of your creditors are to remove black marks. A 10 minute phone call to a few companies can bump up your score 50 points.
Each ding you get removed from your credit report can improve your score 10 points or more by the next month after its removal. This is why we tell you to wait 6 months, so that you have time to clean up your credit history, and have 6 months of on time payments with your current loan. Most black marks on your credit report will drop off after 7 years, so your score automatically improves over time.
Lastly, pay down any credit card balances you have as low as possible, and way below the 30% mark if you can. The lower your balances are, the more likely a lender is to approve you, with lower rates.
Summary of Steps to Refinance my Car:
Improve your credit score starting now, this can take a few months

Wait until you are at least 6 months into your current car loan before applying for any refinancing

Call your current lender, ask for early "payoff amount" so you know how much to borrow

Apply for a car loan refinance from a new lender, send in required documents

New lender pays off remaining amount of your current loan, saving you years of high APR

Now you make payments to your new lender with new terms and a lower interest rate


Before you start the process, read our full guide with more details on this topic here: Car and Auto Refinance Tips & Scams. Good luck out there, and let us know how much you saved refinancing your loan.

About The Author: Jeff Ostroff is a consumer advocate, Founding Editor and CEO of CarBuyingTips.com overseeing a team of expert authors. For over 17 years, he's been the recognized authority on car buying, leasing, used cars and financing. He developed sophisticated spreadsheet tools to help consumers negotiate on a level playing field. He is a widely sought out guru, cited by the press for his expertise in savvy car buying and preventing consumer scams. Jeff has been quoted in CNN, Bloomberg, MSNBC, Wall street Journal, Consumer Reports, NY Times, Reader's Digest, and many live call in radio shows. He has covered the automotive space since 1997. Jeff also has extensive experience and expertise in selling used cars for clients on eBay and Craigslist. Connect with Jeff via Email, Twitter or on Google+.