Most Popular New Car Feature

By Lyle Romer, Consumer Advocate
Published March 30, 2016
New cars these days seem to be loaded with as many features as the designers can dream up. Some of them are useful and some you may not even know exist unless you study the user manual. It took my friend over a month to discover that his new F-150 has a heated steering wheel.
The manufactures are adding all of these features to try and one up each other and also to give you more trim levels and option packages to upgrade to. Many times you will find one feature you really want but you have to buy a package with five that you don't in order to get it.
What Feature Do People Really Want
There does seem to be one feature that people really want. We've found that many people are deciding to purchase a different vehicle so that they can get it. That feature is the active collision avoidance system. Many manufacturers are offering this feature on several different models.
It is easy to see why this feature is so desired. You don't want your car to end up looking like the Charger in the above photo. At least the "Super Bee" logo didn't get scratched!
Some cars have it now and it is being heavily advertised. I'm sure you've seen the Volkswagen commercial where the father is driving his daughter to school and the collision avoidance system saves them from having an accident. I guess he was distracted wondering if his diesel exhaust will pass inspection.
Right now, this feature is standard on select vehicles and an option on many more. We expect that this will become standard equipment on a high percentage of vehicles over the next several years. As costs come down, it will probably become standard across the board at some point down the road like airbags, anti-lock breaks and traction control systems. In fact, I don't expect that it will be too many years before it is mandated by the government like backup cameras.
To illustrate how important this feature is, the Insurance Institue for Highway Safety (IIHS) has a web page set up to let you see which models have this feature available.
Should You Wait for the System?
There is a possibility that the model you are looking to buy doesn't have active collision avoidance yet, but will in the near future. Infiniti is making it a big release feature for the 2016 Q50. Even though we are almost in April, it hasn't even hit showroom floors yet. If you are considering buying one, you might want to wait a few months to get this important safety enhancement.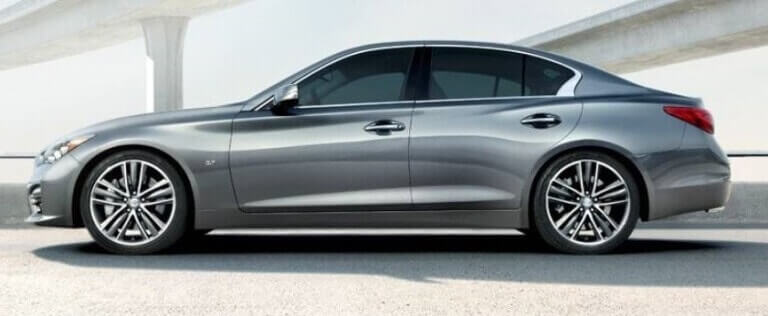 In general, if the model you are shopping for does not currently have a collision avoidance system available, you should research to find out if it will be available in the next model year. If it is more than a year away and you are already set on one particular vehicle, then you should buy now and get this feature on your next new car.
Don't Pay Too Much for Active Collision Avoidance
Even though you want to have this great new safety enhancement, you don't want to get ripped off and pay too much for it. Do not let the salesperson know that you are excited about having it on your car. If they mention it to you, shrug it off and act somewhat disinterested like you expected the car to have it.
This particular option is no different than any other. The best way to make sure you are not paying too much is to have dealers compete for your business. It is an essential part of our recommended new car buying strategy.
Once you have selected a model with active collision avoidance either standard or optional, begin your price research with TrueCar. You will be able to see how much people in your area are paying for the model with collision avoidance. You should also get additional price quotes from sites like CarClearanceDeals and Edmunds so that you can get dealers competing against each other.

About The Author: Lyle Romer is a consumer advocate, Founding Contributor and Vice President of CarBuyingTips.com. A 20 years veteran of the auto industry with a high level of expertise, Lyle has been researching all aspects of the automotive sales industry.
Lyle's expertise and research played a vital role during the creation of CarBuyingTips.com in 1999 after years of industry research. He carefully observed every aspect of his own car buying experience as the internet began to take a foothold in the process. He also designed the site to make sure that consumers had easy access to the best consumer advocate education.
Lyle has been an auto industry insider since 1999. He also has worked with other automotive websites to help improve their offerings based upon feedback from CarBuyingTips.com users. He covers important industry events and gathers off the record sources while attending industry conventions.
Connect with the author via: Email