How to Avoid fake VIN History Reports and Choose The Right Report

By Jeff Ostroff, Consumer Advocate, Editor-In-Chief
Published February 5, 2016
How to tell the difference between a quality VIN report and a scam
We here at CarBuyingTips.com have always done our best to steer you away from danger and scams. This has been our mantra since our inception in 1998. Today we are going to show you how to avoid phony VIN reports from loser web sites that claim to be "better than Carfax" and they take your money, but give you 1 or 2 pages of useless non-information. We all know the 2 major respected names in VIN history reports are Experian's AutoCheck and Carfax.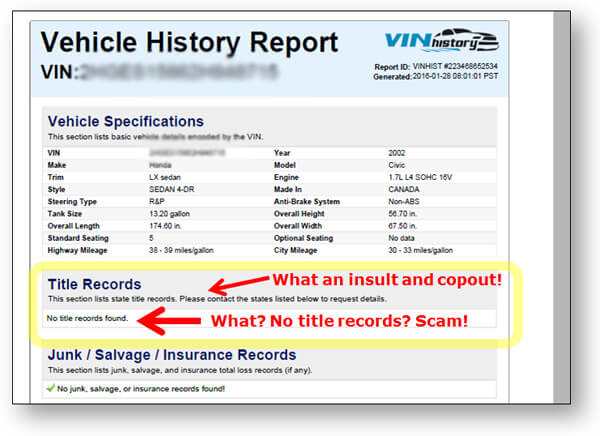 But there are a bunch of scam web sites, mostly non-secure with no https, being setup whose domain names are only days old by time they contact you, but they try to make you think they are some high end site with years of service to the public. A few months ago, we warned you about this new scam making the rounds on Craigslist with an article titled Fake used car buyers, trick sellers into running VIN# reports to prove car is OK.
In that article above, we explained how people selling used cars on Craigslist and probably other sites are being bombarded almost immediately by scammers posing as very excited and interested buyers who insist they want the seller to "click on this link" to run a Vehicle History Report on the car's VIN in order to prove that the car is okay. We have the actual fake report that a seller of a Honda Civic got tricked into buying.
Make sure you read our original news article above, it shows some good screen shots of a scammer that we ensnared into our trap, and it has all the screenshots of how they talk you into running the VIN Report, and screen shots of their fake but convincing VIN report site, and how to avoid the scam.
Since we published that consumer warning above, we started to hear from more victims of this used car VIN history report scam, and our local ABC news station aired this story about us based on our article.
Anatomy of a phony vehicle history report
Apparently, the people selling their used cars on Craigslist responded to the scammers and got suckered into buying these phony vehicle history reports via these scammers discovered that all they got for their $20 was a watered down useless non-report containing no real information. This joke of a report, for lack of a better word, gives you virtually no useful information other than a VIN decoder, which you can get for free on virtually any car, by running a Google search for example on free Honda Civic VIN decoder.
Real life example of an actual VIN report fraud
You can see the screen shot at the top of this article and see almost instantly how the report is a fake. Under the section Title Records, which is where we go to look for potential trouble with a used car, we see this poorly worded text that says "This section lists state title records. Please contact the states listed below to request details." Say what? That is one major cop out, their little way of saying, HA! We got your money!
Then it says in that same section on their report "No title records found." What a slap in the face this is to anyone with intelligence. Of course there were no states listed below, either. What a joke. In any legitimate report, there must be some title records, like duh, when it was originally title by the car dealer, and when it was sold to any new owner after that.
This scammer's report doesn't even show the most basic of title search data. Here is another view of the same fraudulent report below where they outline all the categories in which they allegedly perform "Problem Checks". Take a look as we debunk this joke for you: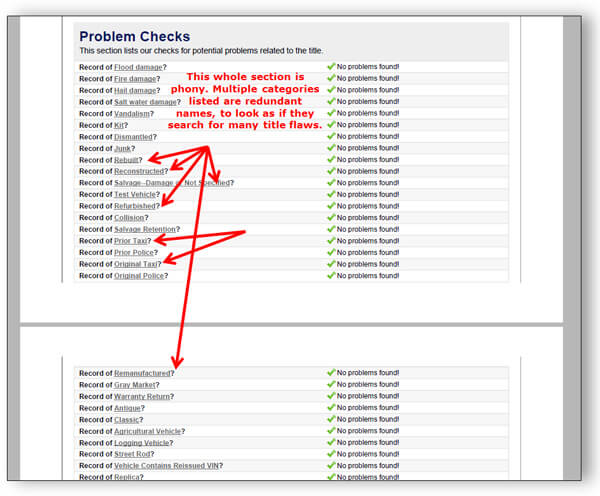 You can quickly see after looking at just this partial view of their report shown above, all these scammers did was try to trick you into thinking they check for all sorts of numerous problem categories to make you think you are getting a huge detailed report. But look at all our red arrows, and you'll see that most of these categories are redundant reworded names for each other. You can assume there really are no checks being done.
You can bet that entire Problem Checks section on their report above is a fake boiler plate, and that nothing was really done, and you can bet this same template appears on every report they generate. So it appears that there really is no useful information on this no name company's report, in fact the VIN decode you can get for free online doing a quick search. You just paid $20 and got nothing for your money. They probably steal the VIN decode information from other free sites and resell it to you.
How to tell which VIN report is a quality report
This is why we have always used the big name companies for our reports such as AutoCheck from Experian, who has been known in the auto industry for years as one of the ultimate data miners, and they also are one of the big three credit bureaus, with decades of data on consumers. Carfax has been doing vehicle history reports for decades and taps a huge database of historical information.
We ran the same Honda Civic VIN# on AutoCheck, and you can see a sample of that legitimate report below.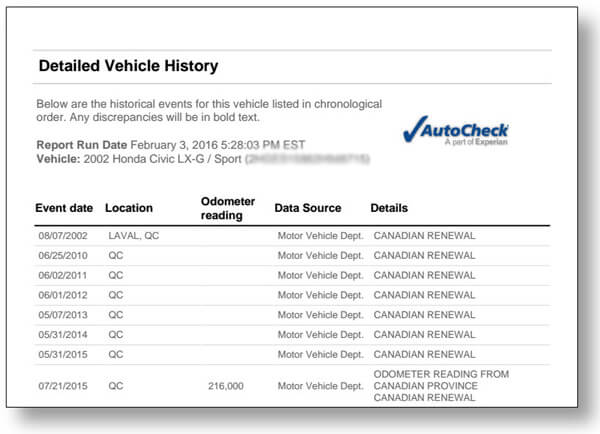 On the AutoCheck report, you can see they actually have a Detailed Vehicle History section. This has detailed historical events for this vehicle listed in chronological order. It shows all the years the car was renewed, and it shows the last mileage reading last summer of 216,000 miles. Why didn't this information appear in the scammer's report? You guessed it, the scammer's $20 fake is not a real VIN report.
Now you know that this detailed information did not appear on the scammer's fake report mentioned earlier. That is because the scammers were not really running any real report. Also when you order from legitimate web sites, the shopping cart is secure, meaning you will see https in the address bar of your browser, and you should see the padlock icon on your browser.
If anyone ever sends you to a web site asking for your credit card information and the site is not a secure site as outlined above, leave that web site immediately. Don't enter any information at all on any non-secure web site. So now you know what to look for in a vehicle history report, stick with the big companies and you will be fine.
Let us know how you did with your VIN report. Good luck and be careful out there.

About The Author: Jeff Ostroff
A lifelong consumer advocate with over 20 years of unparalleled expertise, Jeff is the Founder, CEO and Editor-In-Chief of CarBuyingTips.com. As chief consumer advocate, he oversees a team of experts who cover all aspects of buying and selling new and used cars including leasing and financing.
For decades, Jeff has been the recognized authority on vehicle purchasing, sought out often by the media for his decades of experience and commentary, for live call-in business radio talk shows and is cited often by the press for his expertise in savvy car shopping methods and preventing consumer scams and online fraud. Jeff has been quoted in: CNN, MSNBC, Forbes, New York Times, Consumer Reports, Wall Street Journal and many more.
Jeff also has extensive experience and expertise in new car brokering and selling used cars for clients on eBay and Craigslist. Connect with Jeff via Email or on Twitter.