Accounting for Dealer Fees When Viewing Price Data

By Lyle Romer, Consumer Advocate
Published February 15, 2016
We've talked a lot about the great tools you have as a car buyer in the 21st century. 30 years ago, people had no idea what a good price on a new car actually was. Kelley Blue Book and similar publications were available for used car values, but information on new cars was scarce. The best resource was probably word of mouth when a friend or neighbor told you what they paid.
The power of the internet has brought pricing data to the masses. But, are all of these pricing services comparing "apples to apples"? There is one wild card in the data that must be taken into account: dealer fees.
These fees must not be taken lightly. The picture below shows the actual fees charged by a dealership in Florida. They are charging $498 for nitrogen in the tires including "services and supplies". Really? The local tire shop charges $12 a tire and that is probably not even worth it. Talk about price gouging! Additionally, they charge $695 for dealer services and a $999 electronic filing fee. At first I thought I saw that last one wrong. Do they have a team of people working for 8 hours to submit your title and registration to a website? This is probably one of the most ridiculous fees I've ever come across!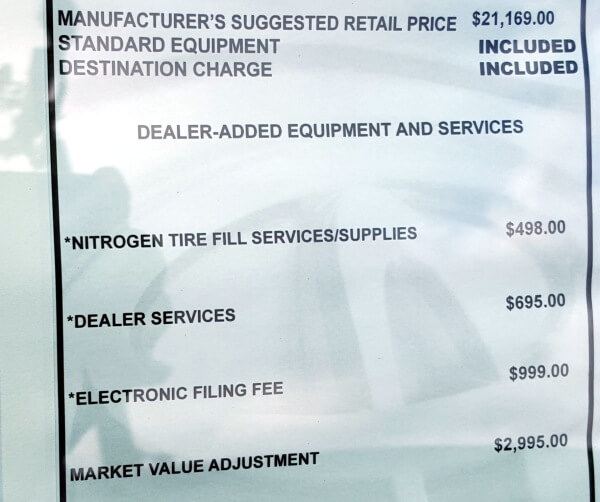 Accounting for Dealer Fees
A good resource to use to see pricing data is TrueCar. For ease of comparison, dealer fees are not included in the data. However, we believe that you should always consider the dealer fee as part of the price. The cost of dealer fees tend to range from zero (at no fee dealerships) to over $2,000 in the example above (which is why CarBuyingTips is here for you).
The data can show one person that paid $25,000 and one that paid $24,000. However, if the first one shopped at a no fee dealer but the second bought from a dealer charging $1,000 in fees, they actually paid the same amount. Or, if they bought from the dealership in our example above, they actually paid $1,000 more!
Why Do Fees Vary?
The variation in fees comes from the philosophy of a particular dealership. The "no fee" dealers want to be up front about the bottom line cost. The dealers that charge fees want to be able to impress you with a lower price. Just because a dealer is a no fee dealer does not mean that they aren't playing the cash flow shell game to give you a bad deal. The price is only one component of the deal so you must pay attention to everything.

The Best Strategy to Account for Fees
There is no way that you can find out what each person paid in dealer fees. Therefore, you can only use the data as a general guideline. We highly recommend that you use our buyer's offer spreadsheet to calculate a fair offer. You should consider dealer prep or any other mandatory dealer fees to be part of your price.
We've found that sometimes a dealer will negotiate their fees and sometimes they will not. Either way, whatever the final amount of fees ends up being, it should be considered part of the bottom line price.
To make sure you are getting a good price relative to the current market conditions, you must get competing quotes. Let's say you used our spreadsheet and came up with a fair price of $26,000 including fees and that this price represents a 3% dealer profit. In general, this would be a fantastic price.
However, maybe there are market conditions that you don't know about. What if, for whatever reason, the color you are looking for isn't selling well. The dealer might be willing to drop the price to $25,000 but, if you make an offer for $1,000 more, they aren't going to volunteer that information. That is why it is so important to use competition to your advantage.
You should get a guaranteed price certificate from TrueCar to start with. This certificate will disclose any dealer fees that are applicable so you'll know the bottom line price. However, when you are looking at the TrueCar Curve containing pricing data, dealer fees are not included in any of the prices.
Once you have that in hand, get additional quotes using RydeShopper, Edmunds and others that we recommend in our guide to online price quotes
Everything is free for you to do and has no obligation. If you follow the advice we outlined here you'll be able to take dealer fees out of the equation completely.

About The Author: Lyle Romer is a consumer advocate, Founding Contributor and Vice President of CarBuyingTips.com. A 20 years veteran of the auto industry with a high level of expertise, Lyle has been researching all aspects of the automotive sales industry.
Lyle's expertise and research played a vital role during the creation of CarBuyingTips.com in 1999 after years of industry research. He carefully observed every aspect of his own car buying experience as the internet began to take a foothold in the process. He also designed the site to make sure that consumers had easy access to the best consumer advocate education.
Lyle has been an auto industry insider since 1999. He also has worked with other automotive websites to help improve their offerings based upon feedback from CarBuyingTips.com users. He covers important industry events and gathers off the record sources while attending industry conventions.
Connect with the author via: Email