How to Get Lower Price Competing Extended Car Warranty Quotes

By Jeff Ostroff, Consumer Advocate, Editor-In-Chief
Published March 9, 2012 | Updated March 14, 2019
Let the extended warranty company do the shopping and price comparisons for you
Traditionally the way we buy extended warranties for our cars has been typically purchased at the car dealer or a trustworthy online warranty site. Hopefully, none of you foolishly bought an extended warranty via one of those junk mail postcards that were mailed to you. Hopefully, you have never bought a warranty via postcards designed to trick you into thinking they are official from Ford, Toyota, or Honda!
Our savvy visitors here on CarBuyingTips.com know that we have advised consumers for over 20 years that if you are going to purchase an extended warranty for your car, you should be dealing directly with established discount online warranty companies rather than car dealers.
Be sure to read our consumer guide on how to buy extended warranties and avoid scams. Read our complete Extended Warranty article. It gives you a lot more education on the inner workings of the warranties, and all the contract coverage pitfalls to avoid. Do not buy any extended warranty for your new or used car until you read that guide.
The reason to avoid the car dealers is that warranties provide them with a target-rich environment of possible ways to scam you, for example, read about our "Forced Warranty Scam" from our famous Top 10 Car Dealer Scams list that we have been reporting to the public since 1999. Sometimes the dealers lie to you and tell you they did not pad any extras into the deal, and people often find when they get home and look through their new car purchase paperwork, that the dealer sold them an extended warranty at a sizable profit.
You have 2 main benefits of dealing with online warranty companies directly. First, the online extended warranties are priced well below what you would pay at the car dealers, remember these are the same car dealerships who sell you a $5 can worth of Scotch Guard on your seats for $400.
The online warranty companies have no middle man holding their hand out and adding cost to the final product. Car dealers on the other hand, add huge markups to the cost of the extended warranty, and often times are selling you the same overpriced warranty, offered by the same companies we send you to.
But the main difference is the extended warranties are from car dealers are packaged under a different brand name than you would buy online. Warranty companies often have 2 branch divisions, one for direct consumer sales, and one for direct car dealer sales at the point of purchase. To keep dealers happy, they often don't mix the 2 brands together, but it is often administered by the same plan administrator.
This is why we tell you to deal directly with the extended warranty company, and avoid paying extra commissions to middlemen standing in the value chain with their hand out, who are not offering you any value added propositions, no intrinsic value to justify the increased over the top selling price for the car warranty. The salespeople are just in line for their icing on the cake without bringing anything to the table.
We know the top management at a number of warranty companies for example CARCHEX. We meet with them at NADA conferences, and research from them the pulse of the warranty claims market. Since we know them well and they have what our research shows are crucial and competitive upgrades to the buying process for online extended warranties. Let's analyze their twist on researching warranties.
We must first define what an Extended Warranty is
We loosely refer to these products as extended warranties but they are referred to differently by the companies who sell them and consumers who purchase them. Officially they are usually referred to by the car industry as Vehicle Service Agreements (VSA), or Vehicle Service Contracts (VSC), and even sometimes as Extended Vehicle Protection plans, as CARCHEX calls them.
You cannot legally call them extended warranties because, under Federal Trade Commission guidelines, only the original manufacturer of the vehicle can really offer you a warranty on your vehicle, or even an extended warranty.
These definitions above all refer to the same financial instrument. The warranty companies promise to pay for repairs to your car if it breaks down. This can be a lifesaver when your transmission dies on a road trip and the bill is $3,000 to repair it.
Here's the Twist that CARCHEX Brings to the Table
When you call CARCHEX for a quote, they don't just quote you one warranty product, they give you multiple competing quotes, and you choose the one that is best for you. They are similar to LendingTree, who rose to fame handing you loan offers from up to 4 banks. This has been adapted for buying a warranty and is a powerful way for us to instantly compare multiple warranties from different companies.
CARCHEX avoids the strong arm sales tactics and lies that car dealers often pull on you. There simply is no high pressure, no lying to you that your car loan lender requires you to buy this Vehicle Service Contract in order for you to be approved for financing on your car.
In fact, our Top 10 Car Dealer Scams list frequently has the Car Dealer Forced Warranty Scam, where dealers lie to you and say the bank requires you to buy the warranty to get the car loan. CARCHEX uses a gentle consumer advocate consultation approach using trained warranty experts, not uninformed car salespeople, to guide you to the protection plan tailored to your car, instead of what fills their wallet.
The CARCHEX marketplace has already researched the best of the extended car warranty companies who are competing for our business. We like the novel approach like it because it's very simple and quick, and we have been advising consumers for decades now about the importance of competing quotes. We apply this same strategy when buying a car, we let dealers compete against one another to offer the lowest selling price.
How the CARCHEX marketplace works in 3 steps
Step 1:
You are contacted over the phone by a CARCHEX Vehicle Protection Specialist who gets to know you, your vehicle, and your driving habits. Extended Vehicle Protection is not a one size fits all approach. You will be asked qualifying questions and your Vehicle Protection Specialist will help customize a plan that fits your driving needs and budget.
Step 2:
Next, your CARCHEX Vehicle Protection Specialist will help you choose a Warranty time and term and review coverage options with you. They have an innovative system called "CARCHEX Direct" that allows you to review their contract line by line while talking with their Vehicle Protection Specialist.
This is what you never get at the car dealer. The car salespeople themselves don't even understand the line by line contract points of an extended warranty. Price is always a factor in any purchase but it's important to identify the correct coverage options that fit your needs. Here's a sample screen shot: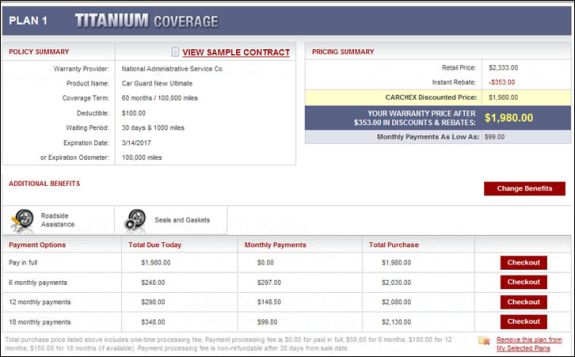 Step 3:
Once you identify the coverage you need, it is time to find a payment method that best suits your budget. CARCHEX allows for different payment options. You can choose to pay in full or take advantage of their 0% easy payment plans. You also get an opportunity to view the PDF file of the contract before you buy to to confirm what is covered and what the exclusions are.
The reason this crucial step is usually not possible at the car dealer, who typically tells you "don't worry you'll get your contract in the mail from the warranty company," is because the car dealer does not want you asking any questions, or reading the what is not covered list, then you might split town and they will lose a sale.
Your CARCHEX quotes might look something like this screen shot below. Notice the PDF sample contract is right there. See if the car dealer gives you that. The marketplace quoting system also indicates if your contract plan has roadside assistance, and what date and mileage the plan would end.

Always Get a $0 Deductible Plan with Wear & Tear Coverage
Since our inception over 20 years ago, our core advice related to new car extended warranties has always been that you get a $0 deductible plan, so you never have to pay deductibles when your car breaks down. We have seen consumers slapped upside the head by warrant claims departments when there is a deductible, when they have multiple failures being fixed at once.
Consumers often get charged a deductible for each item that is being repaired on that visit. That seems so unfair, but that's how some companies do it.
A $0 deductible extended warranty costs a bit more, but they are worth it. We recommend you always verify that you have wear and tear coverage enabled in your vehicle service contract. Many failures on older cars end up being wear & tear failures, and not a simple mechanical breakdown.
If your plan offers wear and tear coverage as an option, be sure you get it. This is the most important coverage on a car warranty, so make sure you have it at all costs.
Here are a few other features of CARCHEX to look for:
They sell some of the same car warranties you would buy at the dealer for 40% less or better
You don't have to pay a lump sum, you can spread out the payments over 6, 12, or 18 months
They are Rated A+ and they are accredited by the Better Business Bureau. Few companies have BBB accreditation
You choose your own licensed repair shop, and CARCHEX pays them directly, no out of pocket costs for you.
Many of their warranties include 24/7 roadside assistance
Their auto warranties are transferable to a second owner who buys your used car from you
CARCHEX offers a 30 Day Money Back Guarantee
You can use this CARCHEX service as one of your most empowering tools to help you save money during your car shopping. Now you can be as informed as the car salespeople are.
Happy shopping!

About The Author: Jeff Ostroff
A lifelong consumer advocate with over 20 years of unparalleled expertise, Jeff is the Founder, CEO and Editor-In-Chief of CarBuyingTips.com. As chief consumer advocate, he oversees a team of experts who cover all aspects of buying and selling new and used cars including leasing and financing.
For decades, Jeff has been the recognized authority on vehicle purchasing, sought out often by the media for his decades of experience and commentary, for live call-in business radio talk shows and is cited often by the press for his expertise in savvy car shopping methods and preventing consumer scams and online fraud. Jeff has been quoted in: CNN, MSNBC, Forbes, New York Times, Consumer Reports, Wall Street Journal and many more.
Jeff also has extensive experience and expertise in new car brokering and selling used cars for clients on eBay and Craigslist. Connect with Jeff via Email or on Twitter.