Competing Extended Car Warranty Quotes Model
Saves You Money
Traditionally the way we buy extended warranties for our cars has been typically purchased at the car dealer, or a trustworthy on-line warranty site, or maybe some of you foolishly bought via a junk mail postcard that was mailed to you. Hopefully you have never bought a warranty via postcards designed to trick you into thinking they are official from Ford, Toyota, or Honda! Our visitors here on CarBuyingTips.com know that I prefer dealing directly with established discount on-line warranty companies than car dealers, because the on-line companies have no middle man holding their hand out and adding cost to the final product. I know the top management who run CARCHEX pretty well and they have what I think is a crucial and competitive upgrade to the buying process for on-line extended warranties. Let's look at how their new twist on researching warranties works.
First, let's clarify just what an Extended Warranty is. They are referred to differently by companies and consumers. They are usually referred to by the car industry as Vehicle Service Agreements (VSA), or Vehicle Service Contracts (VSC), and even Extended Vehicle Protection plans, as CARCHEX calls them. They all mean the same thing. The companies promise to pay for repairs to your car if it breaks down. This can be a lifesaver when your transmission dies on a road trip and the bill is $3,000 to repair it.
Here's the Twist that CARCHEX Brings to the Table
When you call CARCHEX for a quote, they don't just quote you one product, they give you multiple competing quotes, and you choose the one that is best for you. They are similar to LendingTree, who gets you loan offers from up to 4 banks. This has been adapted for buying a warranty and is a powerful way for us to instantly compare multiple warranties from different companies. CARCHEX avoids the strong arm sales tactics and lies that car dealers often pull on you. There simply is no high pressure. In fact my Top 10 Car Dealer Scams list frequently has the Car Dealer Forced Warranty Scam, where dealers lie to you and say the bank requires you to buy the warranty to get the car loan. CARCHEX uses a gentle consumer advocate consultation approach using trained warranty experts, not uninformed car salespeople, to guide you to the protection plan that's right for you, instead of what fills their wallet.
The CARCHEX marketplace has already researched the best extended car warranty companies who are competing for our business. I like it because it's very simple and quick, and the quotes are speedy too. It works like this in 3 simple steps to the goal line:
Step 1:
You are contacted over the phone by a CARCHEX Vehicle Protection Specialist who gets to know you, your vehicle, and your driving habits. Extended Vehicle Protection is not a one size fits all approach. You will then be asked several qualifying questions and your Vehicle Protection Specialist will help customize a plan that fits your driving needs and budget.
Step 2:
Next, your CARCHEX Vehicle Protection Specialist will help you choose a Warranty time and term and review coverage options with you. They have an innovative system called "CARCHEX Direct" that allows you to review their contract line by line while talking with their Vehicle Protection Specialist. Price is always a factor in any purchase but it's important to identify the correct coverage options that fit your needs. Here's a sample screen shot: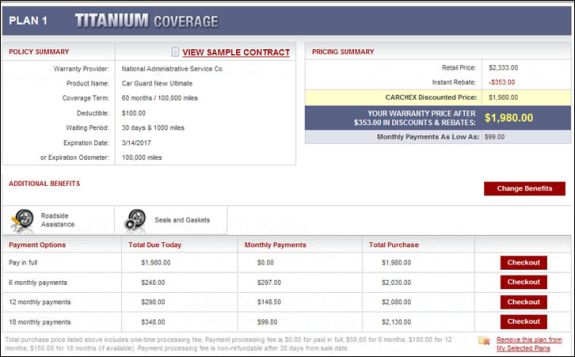 Step 3:
Once you identify the coverage you need, it is time to find a payment method that best suits your budget. CARCHEX features a variety of easy payment options. You can choose to pay in full or take advantage of their 0% easy payment plans. CARCHEX offers payment plans for every budget. You can also see the PDF file of the contract before you buy to to confirm what is covered and what the exclusions are. This crucial step is usually not possible at the car dealer, who typically tells you "don't worry you'll get your contract in the mail from the warranty company." Your CARCHEX quotes might look something like this screen shot below. Notice the PDF sample contract is right there. See if the car dealer gives you that. It also shows you if you have roadside assistance, and what date and mileage the plan would end.

Always Get a $0 Deductible Plan and Wear & Tear Coverage
I always recommend that you get a $0 deductible plan, so you never have to pay deductibles when your car breaks down. They cost a bit more, but they are worth it. Also, verify that you have wear and tear coverage in your contract. Many failures on older cars end up being wear & tear failures, and not a mechanical breakdown. If your plan offers wear and tear coverage as an option, be sure you get it. This is the most important coverage on a car warranty, so make sure you have it at all costs.
Here are a few more notable features of CARCHEX:
They sell some of the same car warranties you would buy at the dealer for 40% less or better
You don't have to pay a lump sum, you can spread out the payments over 6, 12, or 18 months
They are Rated A+ and they are accredited by the Better Business Bureau. Few companies have BBB accreditation
You choose your own licensed repair shop, and CARCHEX pays them directly, no out of pocket costs for you.
Many of their warranties include 24/7 roadside assistance
Their auto warranties are transferable to a second owner who buys your used car from you
CARCHEX offers a 30 Day Money Back Guarantee
I recommend using this service as one of your most empowering tools to have you money during your car shopping. Now you can be as informed as the car salespeople are.
Click here to read our complete Extended Warranty article.
Happy shopping!

About The Author: Jeff Ostroff is a consumer advocate, Founding Editor and CEO of CarBuyingTips.com overseeing a team of expert authors. For over 17 years, he's been the recognized authority on car buying, leasing, used cars and financing. He developed sophisticated spreadsheet tools to help consumers negotiate on a level playing field. He is a widely sought out guru, cited by the press for his expertise in savvy car buying and preventing consumer scams. Jeff has been quoted in CNN, Bloomberg, MSNBC, Wall street Journal, Consumer Reports, NY Times, Reader's Digest, and many live call in radio shows. He has covered the automotive space since 1997. Jeff also has extensive experience and expertise in selling used cars for clients on eBay and Craigslist. Connect with Jeff via Email, Twitter or on Google+.