Advantages Women Have Over Men When Buying Cars
This is not her father's Oldsmo-Deal

By Jeff Ostroff, Consumer Advocate, Editor-In-Chief
Published July 30, 2012 | Updated March 26, 2019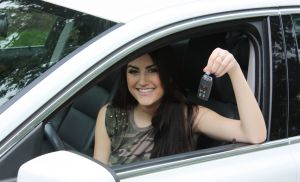 For years, buying cars was a man's game, mom and dad may have gone together to the car dealer to buy a new car, but dad did all the talking and dealing with the salespeople because he was the "smart one"... or so he thought. It was a good old boys club where only the men played because the women did not have enough experience in the lion's den. Turns out, neither did the men.
Women were considered secondary citizens, they needed to be protected from themselves and their lack of financial prowess, so the boyfriends and husbands would take charge to score the best deal on a new car, because the arrogant men "knew" how to play on a "level" playing field one on one against another man. Many husbands came home victorious like chivalrous knights with their triumphal entry, with the Holy Grail for their wives.
It is because of these car buying victims that our team of consumer advocates created CarBuyingTips.com to empower car buyers like you and prevent consumers from getting scammed by the morally challenged. Before you step foot in a car dealership, please educate yourself first with our consumer advocate advice guide on How to buy a new car and avoid dealer scams first.
The male car shoppers of decades past thought they got a great new car with a good deal after hubby spent 6 hours pounding the salesman into the ground. Or so they thought. We can tell you from decades of coaching and educating consumers, that most car shoppers, including the men, are raked over the coals on a regular basis, blissfully unaware they were scammed, yet still thinking they pummeled the salesperson into the ground.
It is time to face up to the reality that especially men with poor credit were even easier to scam by greedy car salesmen because people with poor credit are not exactly financially savvy shoppers. They are more likely to believe all the higher APR and forced warranty scams shoved down their throats at car dealerships.
Unless car shoppers visited us here at CarBuyingTips.com first, you can bet they left way too much money on the table. Be sure to read our Top 10 Car Dealer Scams page so you'll be better poised than any of the guys were in the last 40 years of car buying. So, what are the advantages that women have over men when it comes to buying cars?
We cover many of these details in our new section Car Buying Tips For Women Guide. Maybe you men out there should read it too and collect up a few additional tips that our female visitors are using every day to smartly buy cars themselves. Many of our lady visitors are reporting back to us that they have left their husbands and boyfriends at home and sailed off to buy the car themselves, shocking all the salespeople and finance managers with their knowledge and savvy in the process.
We can tell you our most successful visitors here report the best deals using most of the ideas and tools we provide in our women's buying section mentioned above.
Women car buyers have advantages over men, not the other way around
The old school car dealerships have become their own worst enemy by shooting themselves in the foot, still thinking they can outsmart women like taking candy from a baby. They have become complacent in their arrogance, and not fully adapting to the fast-changing online world and much more financially savvy and sophisticated women who know how to use the Internet to run circles around old school car salespeople.
Meanwhile, women have evolved in the Internet age into savvy Millennials, online educated shoppers who, thanks to sites like CarBuyingTips.com with our consumer advocate team, arm themselves with the best advice on buying cars. A woman's advantage among other things is the good old boy's network expects them to be uninformed. For all you ladies out there, the lion's den is not expecting you to be smarter than your dad was.
The dealer's guard is down, they will not expect any of you women out there to know as much as them using the powerful information we give you here on CarBuyingTips.com in our car buying tips guides. Women enter the dealership with "The Folder" as we advise them, containing their research and credit reports.
Some salespeople and finance managers are unprepared to deal with smart women of the 21st century, because we make the women aware of all their sales tricks, and all the bad financial decisions to avoid, and how to head off all the car salespeople scams at the pass. Today's modern woman has become a much better car buyer than her father or grandfather was.
This is not your father's Oldsmobile deal!
We have news for you folks, the way our dads and older brothers haggled for cars in the 1960s through the 1990s was an old school shoot from the hip method of trying to chisel away at the sticker price, which ignored other complicated areas of car financing and trade in vehicle scams. All car buyers were swimming in the dark and had no clue, blissfully unaware that they were duped into kamikaze financial deals that would end up leaving them in financial ruin later in time.
For decades many men have gone home pumping their chests over the "great deal" they pounded out of the salespeople, but we now know that most of them actually got scammed, suckered, had been slammed with high car loan interest rates, and they were forced to buy extended car warranties, credit life, and rust proofing, after falling hook line and sucker to an onslaught of other car dealer scams.
Many victims of scamming car dealership salespeople and finance managers don't even know they were victims. For you see, the men of old had only a few hours of car buying experience every 5 years or so compared to highly skilled tag teaming salespeople, trained in the art of selling, convincing and deceiving starry-eyed car shoppers, while still making their victims think they got a good deal.
The Internet has changed all this for both women and men who are shopping for cars. Today women have information that even our dads never had like Internet sites with buying advice, and car pricing tools, lists of rebates to help you determine how much other car shoppers paid for their cars and how to formulate your fair profit offer to the car dealer. Now you know for sure how much you should be paying for your new car. You father never had such valuable intelligence.
Additionally, if you plan to buy an extended warranty for your car, be sure to read our consumer guide on How to Buy Extended Warranties and Avoid Scams.
Having all these car buying guides and tips at their fingertips is another advantage women have over men. Now every man, women, and car salesperson are all on an equal level playing field, provided they all are armed with the same information. That's the advantage today's modern bride has, they are young, sophisticated, and they have all that information now at their fingertips. Maybe some salespeople may become victims and not know they are victims!
Women and men alike now know how much the dealer pays for new cars, and thanks to our consumer advocate team for the last 2 decades, car buyers also know how much to offer to car dealers for anew car, and they know how to obtain their credit score and their credit history, and they have financing pre-approval before entering the car dealer lots.
The 6-hour marathon buying sessions dad enjoyed in the past have been replaced by our savvy women shoppers with their short 30 minute out the door deals or a couple of emails back and forth. It's no longer just a man's game for buying new cars.
We here at CarbuyingTips.com have leveled the playing field for you since our early inception days of 1997 with unparalleled expertise and buying advice on the Internet that educates and empowers all car buyers, men and women alike to get the best deal. You will get your best new car buying deal using our proven successful techniques which were not available to your mom and dad when they were buying cars.
Read all of our guides mentioned above before heading out to buy a car. Ladies, start your engines!

About The Author: Jeff Ostroff
A lifelong consumer advocate with over 20 years of unparalleled expertise, Jeff is the Founder, CEO and Editor-In-Chief of CarBuyingTips.com. As chief consumer advocate, he oversees a team of experts who cover all aspects of buying and selling new and used cars including leasing and financing.
For decades, Jeff has been the recognized authority on vehicle purchasing, sought out often by the media for his decades of experience and commentary, for live call-in business radio talk shows and is cited often by the press for his expertise in savvy car shopping methods and preventing consumer scams and online fraud. Jeff has been quoted in: CNN, MSNBC, Forbes, New York Times, Consumer Reports, Wall Street Journal and many more.
Jeff also has extensive experience and expertise in new car brokering and selling used cars for clients on eBay and Craigslist. Connect with Jeff via Email or on Twitter.