Where Did All the Rebates Go?

By Lyle Romer, Consumer Advocate
Published November 8, 2016
As I sit here on election day, I think we can all breath a sigh of relief that we don't have to be bombarded with campaign ads anymore. Now we can get back to the pleasure of being bombarded by car and truck ads again. One thing that we noticed that were missing this election season are the ads for large rebates and incentives on new vehicles.
Doing some additional research, it is clear that all manufactures seem to have pulled back on their offers. There are more incentives available for 2017 models compared to 2016 which is a bit strange considering the new model year vehicles only appeared a short time ago in most cases.
Ads like this one were all over the place at this time last year but are like finding a needle in a haystack right now.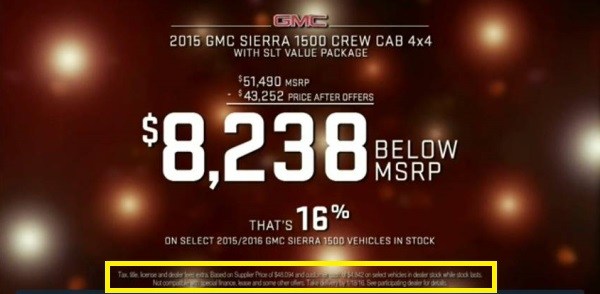 Another oddity is that with the softening of auto sales that has occurred in recent months, you would expect more incentives to be offered to try and spur a sales resurgence. Normally, when sales are slow the manufactures do everything they can to increase demand.
Possible Explanations
One possibility to explain this trend can be blamed on the election season. Political ads were taking up so many of the available ad slots that it made it difficult for auto manufactures to get their ads on the air and more expensive when they were able to buy slots.
They may also expect that with the constant bombardment of political ads, people have a negative impression of all advertising. They may be afraid that running ads side by side with the political ads will associate their brand with the negativity of the campaigns.
When a brand runs an incentive program, they want to make sure they can reach a lot of potential customers and get them headed over to dealerships. They need to make the offer a "limited time only" otherwise consumers won't have a sense of urgency to make a purchase. Therefore, if they can't get enough ads run in a certain time frame it becomes unprofitable to make the incentives available.
Also related to the election season, manufacturers may have decided that too many people would be paying attention to the election instead of shopping for a car. They may have thought that no matter what they offered, most people that would take advantage of the rebates were going to buy in this time frame anyway and it would just be a waste of money.
There could be other explanations as well. When sales began to soften, there were reports of many manufacturers reducing production on many models. It may be a case where they don't think there is enough inventory on dealer lots to make incentives necessary.
What Does this Trend Mean for Consumers?
If you are shopping for a car, you will have to work harder to get a great deal. Without rebates and incentives to offer, the dealer will need to charge you more to make the same profit. It becomes very important to really make sure to get the lowest price that the dealer is willing to give.
Luckily for you, you are here at CarBuyingTips.com. Our guide to buying a new car will teach you everything you need to know about the car buying process. You'll learn how to calculate a fair offer and be alerted to all of the tricks and scams that the dealer will try to pull over on you.
An important lesson is that the price is only one part of the deal. Due to the lack of incentives and rebates, price becomes an even more important aspect but you can't ignore anything else. You still need to pay attention to trade in value, interest rate and avoid overpriced extras and ridiculous fees. You can negotiate the best price that anybody has ever seen but still end up getting ripped off.
The first step we recommend when setting out to purchase a new car or truck is to visit TrueCar and see what other people in your area are paying for the vehicle you are looking at. It is completely free and anonymous and it sets the expectation for your negotiation. You can use the guaranteed price certificate that they offer as a baseline for your negotiating.
You should also use the power of competition and get more dealerships competing for your business. We recommend trustworthy sites like CarClearanceDeals and Edmunds make contact with additional reputable dealerships.

About The Author: Lyle Romer is a consumer advocate, Founding Contributor and Vice President of CarBuyingTips.com. A 20 years veteran of the auto industry with a high level of expertise, Lyle has been researching all aspects of the automotive sales industry.
Lyle's expertise and research played a vital role during the creation of CarBuyingTips.com in 1999 after years of industry research. He carefully observed every aspect of his own car buying experience as the internet began to take a foothold in the process. He also designed the site to make sure that consumers had easy access to the best consumer advocate education.
Lyle has been an auto industry insider since 1999. He also has worked with other automotive websites to help improve their offerings based upon feedback from CarBuyingTips.com users. He covers important industry events and gathers off the record sources while attending industry conventions.
Connect with the author via: Email