Volkswagen Announces New Recall / Service Campaign VIN Lookup Tool

By Jeff Ostroff, Consumer Advocate, Editor-In-Chief
Published October 16, 2015
VW owners can enter their VIN and it displays any recalls or service campaigns

Volkswagen announced today via their recently created web site vwdieselinfo.com a new online tool which is a VIN look up tool to find out if your 2.0L TDI vehicle is affected by and recalls or any service campaigns like the current emissions scandal issue.
Translation: It is a tool to see if your Volkswagen has that sneaky defeat device software that VW engineers wrote to scam the EPS emissions tests. You'll see our VIN test results below which we ran on VW's new tool with a known TDI diesel model that should be one of the affected vehicles.
What's the deal with VW? I keep hearing about a scandal in the news
In case you've been living under a rock throughout September and October, and I still find people every day who are unaware of this emissions scandal, Volkswagen admitted last month to writing special "defeat device" software and installing it in their 2009-2015 TDI diesel vehicles to specifically make their diesel engines put out lower emissions when the car detects that it is in EPA test mode.
This potentially affects about 500,000 VW vehicles here in the United States and millions more in Europe where diesel is much more popular, and a way of life.
It is a "Service Campaign" not a recall
It's important not to get the 2 terms here confused. A recall is when it is necessary for a car maker to call in all affected models for a safety issue. This is not a safety issue; VW spin doctors are simply calling it the "Volkswagen 2.0L 4-cylinder TDI Emissions Issue."
I prefer the more accurate description of DieselGate, which is more appropriate here for the VW Emissions Scandal. You can also call it EmissionsGate if you prefer. Either way this type of category from Volkswagen's standpoint is being called a Service Campaign, and not a recall.
How the VW Recall / Service Campaign Lookup tool works
VW made it pretty easy here for you to determine if your car is affected by this emissions issue. As the screen shot above shows, they give you a simple VIN entry box where you accurately enter your vehicle's VIN and after you hit the submit button it displays any known recalls and service campaigns known to exist for your car.
So I entered a VIN from a Volkswagen with a TDI engine, which I saw listed for sale on eBay Motors, knowing that this VIN will definitely trigger the results I was looking for. Here is the screen shot below: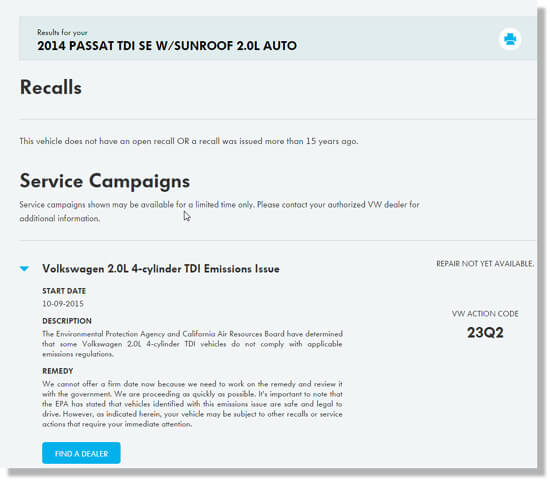 So of course you can see the very first thing VW comes back with on their results page is a statement saying "This vehicle does not have an open recall OR a recall was issued more than 15 years ago." It then goes on to display that there is a Service Campaign called the Volkswagen 2.0L 4-cylinder TDI Emissions Issue with a VW action code of 232Q.
In the description, it says "The Environmental Protection Agency and California Air Resources Board have determined that some Volkswagen 2.0L 4-cylinder TDI vehicles do not comply with applicable emissions regulations."
What is the remedy that VW is offering to us owners?
As of this writing, they are stating in their results screen "We cannot offer a firm date now because we need to work on the remedy and review it with the government." Well this could take many months, so don't expect a remedy any time soon. They have also noted that the EPA has stated that vehicles identified with this emissions issue are safe and legal to drive.
VW suggests you check the tool as your vehicle may be subject to other recalls or possibly other service actions that require your immediate attention.
Let us know what you find when you run your Volkswagen VIN through this new tool.

About The Author: Jeff Ostroff
A lifelong consumer advocate with over 20 years of unparalleled expertise, Jeff is the Founder, CEO and Editor-In-Chief of CarBuyingTips.com. As chief consumer advocate, he oversees a team of experts who cover all aspects of buying and selling new and used cars including leasing and financing.
For decades, Jeff has been the recognized authority on vehicle purchasing, sought out often by the media for his decades of experience and commentary, for live call-in business radio talk shows and is cited often by the press for his expertise in savvy car shopping methods and preventing consumer scams and online fraud. Jeff has been quoted in: CNN, MSNBC, Forbes, New York Times, Consumer Reports, Wall Street Journal and many more.
Jeff also has extensive experience and expertise in new car brokering and selling used cars for clients on eBay and Craigslist. Connect with Jeff via Email or on Twitter.