Warning Uber Drivers: You Just Voided Your Extended Warranty & Car Insurance

By Jeff Ostroff, Consumer Advocate, Editor-In-Chief
Published February 10, 2016 | Updated August 31, 2016
Most car insurance policies & extended warranties don't cover taxis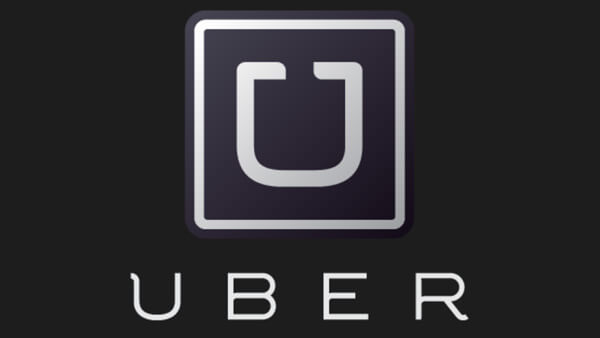 With the upsurge in popularity of alternate taxi services like Uber, Lyft, Sidecar and Curb in recent years, many people are realizing that there's gold in the hills by being a driver partner for these companies. The industry is attracting both riders and drivers in large numbers, many just wanting some part time flexible income, or college students looking to earn their way through college.
But we here at CarBuyingTips.com want to warn you that you just might find out your insurance company or extended warranty company will void any claims you submit, because many have exclusions in their contracts that void any claims for vehicles that are used for hire, as a taxi, a limo, black car, livery, or shuttle.
We will show you some examples of real warranty and insurance contracts below to show you how to identify if your policy contract has any conditions that exclude your car.
UPDATE: Extended Warranty for Uber Drivers Now Available
Carchex is providing an extended coverage plan specifically for Uber (and Lyft) drivers. PROTECTmyUBER has several levels of protection available to cover your vehicle that you use for rideshare services. As with the standard CARCHEX plans, you will be able to view the actual coverage contract before you make a purchase.
We have recommended their plans for standard use vehicles for years and we have a close relationship with their executives. If you have any issue that isn't resolved by their customer care team, you can contact us and we will help resolve it.
What is Uber? Is it a taxi or not?
Many of you have not used Uber are probably scratching your heads wondering, what is it? They probably don't want to be labeled as a taxi company, they would rather we call them something like a transportation technology company, but in essence what they are can be thought of as an instant on call taxi service, with much more high tech.
These technology software companies write software which pair up drivers with riders using a simple smartphone app that handles all the billing too. Instead of you calling a taxi company and waiting for a cab to arrive, with Uber both you and the driver have a smartphone app that uses GPS to show you visually on a map where Uber drivers near you are currently located.
With Uber you can select the type of ride you want, whether it's a lower end economy car, or maybe you want a more expensive ride in a premium car like a BMW or maybe even a Lexus SUV. They even have wheelchair accessible rides, and carpool rides, where you can get a reduced rate by allowing the driver to pick up other riders nearby, perhaps to share a ride to the airport.
I used Uber's fare calculator to quote a 4 mile trip from my house. It would be about $8 with a 4-seat car, $15 for a 6-seat SUV or minivan, $18 for a premium luxury car, and $33 for a luxury SUV.
Your freedom of vehicle choice and the smooth payment methods are what make these ride services better than a taxi. Many people swear by these ride services, my sister uses Uber whenever she travels to Boston, New York, San Francisco, and even the busy convention hotel corridor along International Drive in Orlando.
Some people are too scared to test the Uber waters, as they wonder how do you know you're not going to be kidnapped by Ted Bundy instead of being driven to the airport? A little paranoid perhaps.
Let's get our arms around the operation, so we can see why the warranty companies might be justified in denying claims from cars for hire. See the screen shot below I captured while on Las Olas Blvd in Ft. Lauderdale recently, it shows 3 Uber drivers all within blocks of my location.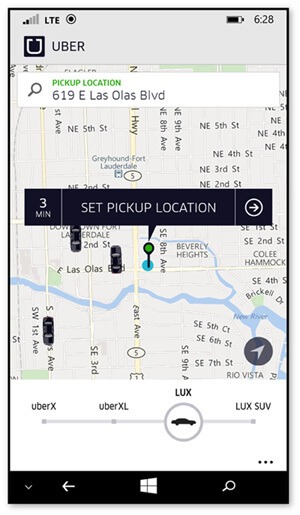 You never have the hassle of paying cash or tipping the drivers
They streamlined payment by charging everything to your credit card so you don't have to worry about paying cash, or tipping, you just tap the app for your ride, the driver shows up, takes you to your destination, and you get out without having to pay anything to the driver.
How much money does an Uber driver make?
It's a complex formula where one size does not fit all, and there are numerous factors that drive how much you can earn as an Uber driver, such as time of day and peak traffic demand times. Basically the better your car, the more money can be charged, and many part time drivers maximize their income by driving during the peak hours when the cost is higher.
Uber claims the average full time Uber driver can gross $90,000 per year. Press reports have shown the typical part time driver might gross about $700-$1000 per week if they can average about 30-40 rides, they can get $1200-$1800 per week if they drive full time. Uber handles the billing, and withholds a 20% commission plus taxes and other fees from the driver.
Savvy Uber drivers can take advantage of the surge pricing algorithm that works much like the paid express lanes on some turnpikes that increase the pricing as demand picks up throughout certain peak hours or busy holidays. Some drivers only activate themselves during these surge pricing time windows, like New Year's Day in New York City, try 7 times the normal Uber rate.
Legal problems Uber faces with many cities
Here in Ft. Lauderdale, Uber actually pulled out for a while as Broward County was trying to shut them down for being an unlicensed taxi service. Many other cities followed suit because these municipalities are missing out on what they believe should be taxes and licensing fee income from these firms, like normal taxi companies pay. Taxi companies everywhere are filing lawsuits and protesting the unfair advantage Uber has.
Uber argues that they are not a taxi company with employees; rather they are a technology company that pairs drivers with riders. Certainly the traditional taxi cabs would like to see them go away, they are eating into the taxi company profits.
Extended Warranty and Insurance policy contracts showing your Uber car is not covered
Here we will show you where to look in your policy coverage terms to see if your car is allowed or not. This will give you a pretty good idea of whether any claims you file will be rejected. "Even if you want to try to argue the futile case that your car is not a taxi, you are still using it for what they call commercial use or business use or "for hire" whether or not you want to call it a taxi. Here are some screen shots I made below to show you the verbiage of some major extended warranty companies and insurance companies have and how they use weasel clauses to get out of covering your car if you use it for hire.
You can see the vehicle service contract from this warranty company below shows a list of what they call "ineligible vehicles". On bullet item #5 on their contract, they show taxis as being an ineligible vehicle, and on item #12, they call out commercial vehicles, which your car could easily be argued to fit into one or both categories.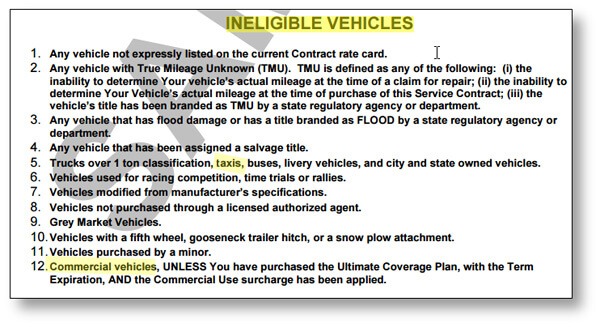 This next screen shot below from another warranty company shows the list of "Exclusions from Coverage". Section #5 of this list says this:
"FOR REPAIR COSTS OR EXPENSES IF THE VEHICLE HAS BEEN USED FOR THE FOLLOWING PURPOSES, REGARDLESS OF WHETHER THE BUSINESS USE OPTION WAS PURCHASED: POLICE OR LAW ENFORCEMENT SERVICES, FIRE, AMBULANCE OR EMERGENCY SERVICES, TAXI, LIMOUSINE OR SHUTTLE SERVICES, PICK-UP AND/OR DELIVERY OPERATIONS…
The bottom line on this contract shown below is that it is specifying an exclusion of coverage on any vehicles used as a taxi: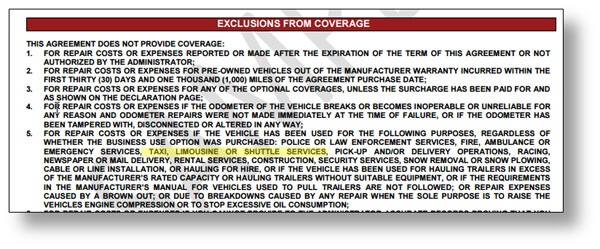 This next warranty contract below has a section in the verbiage on commercial vehicles. In line item #4 you can see where it specifically reads:
"VEHICLES used in any commercial manner not provided in G.2 above are not eligible for COVERAGE. Commercial uses not eligible for coverage include but are not limited to; taxi, limousine, shuttle…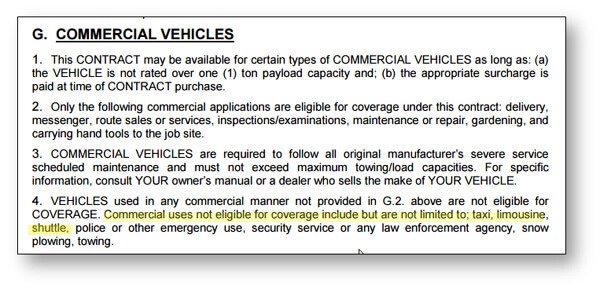 This final example of an extended warranty company not allowing your car to be a taxi shows 2 ways they reject you. The first sentence says your car "cannot be used for rental, emergency or for-hire purposes". Also in the screen shot look at bullet item M below on their exclusions list, where it states your car is excluded if it:
"IS USED FOR COMMERCIAL PURPOSES, INCLUDING, BUT NOT LIMITED TO, RENTAL, TAXI, LIMOUSINE, LIVERY OR SHUTTLE…"
You Need Specific Coverage to be Protected - Now Available
When this blog was written, we couldn't find any coverage for Uber or Lyft drivers. Carchex is now providing an extended coverage plan specifically for rideshare drivers. Visit PROTECTmyUBER and you will be able to choose from several coverage options for your vehicle.
Don't think you can fool your warranty company and just use standard coverage if something goes wrong. They are very likely to be able to find out and they will deny your claim. You must have a policy that specifies coverage for rideshare drivers in order to be protected.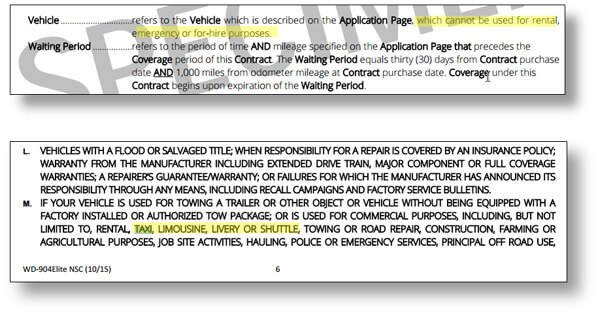 The next screen is from a Progressive Insurance auto policy booklet, and it shows the exclusions section, 1a, they state that their coverage will not apply to a car if it is used "to carry persons or property for compensation or a fee."
So Progressive completely sidesteps the argument over whether or not you're an official taxi, you are Jason Statham my friend! You are the Transporter! Rule Number 1: "Once the deal is made, it is final", so you really are an Uber driver. Rule Number 2: "No names", wait, you're a taxi. Rule Number 3: "Never open the package!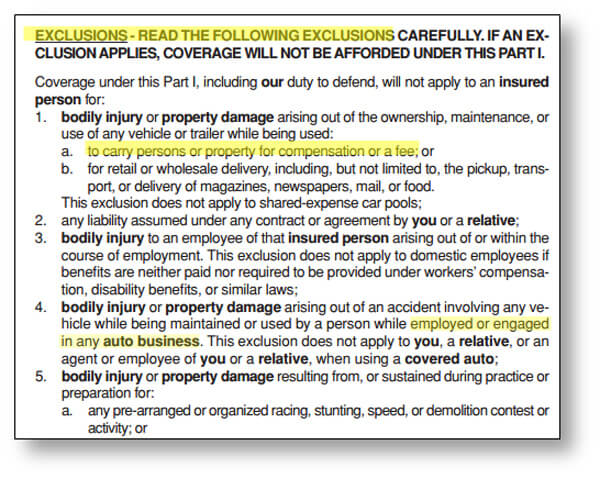 I'm an Uber driver, so what? Why does that void my warranty and car insurance?
You have to look at it from the actuary point of view. When you originally got quotes for your personal auto insurance or extended warranty, they usually ask you what you use your car for. Most people use it to drive to work and back every day, some use it to go to school, and they expect most cars to drive 12,000 to 15,000 miles per year under this normal use.
But if you become an Uber driver, suddenly you could be giving 50 to 75 rides per week, which translates into much higher mileage and accelerated wear and tear on your vehicle, which the insurer was not expecting to see. Knowing that your car is seeing abnormally high mileage and wear and tear, along with increased risk of passenger injury, death and lawsuits, they will simply disqualify your car from coverage.
The maintenance issues make insurers nervous
Think about real taxi cab companies, they have Tony Danza supervising all the drivers, and their cars undergo constant scheduled maintenance. How many private guys with their Honda Accord are going to maintain it properly to a new accelerated mileage schedule? None, you can be sure, and this is why insurers don't want to cover you.
How to get car insurance and warranty coverage for Uber drivers
You need to check with your auto insurance carrier to see if they have optional business or commercial coverage for taxi and limo vehicles, and you can expect it to cost a lot more. Not all insurance companies have this extra commercial coverage either, so you might be making a few calls until you can find adequate coverage.
Many of the warranty companies don't cover it, simply because of the excessive accelerated wear and tear of a taxi vehicle compared to a regular personal use vehicle. But some companies may be working on optional coverage, as so many people are becoming drivers for all these ride connection services.
This industry is still in its adolescence, still causing legal battles as society comes to grips with the unprecedented way of life. You must stay diligent, keep up with the latest news and legal requirements, and make sure you are not running afoul of the law, or your insurance companies.
Let us know what you find with your car insurance carrier.

About The Author: Jeff Ostroff
A lifelong consumer advocate with over 20 years of unparalleled expertise, Jeff is the Founder, CEO and Editor-In-Chief of CarBuyingTips.com. As chief consumer advocate, he oversees a team of experts who cover all aspects of buying and selling new and used cars including leasing and financing.
For decades, Jeff has been the recognized authority on vehicle purchasing, sought out often by the media for his decades of experience and commentary, for live call-in business radio talk shows and is cited often by the press for his expertise in savvy car shopping methods and preventing consumer scams and online fraud. Jeff has been quoted in: CNN, MSNBC, Forbes, New York Times, Consumer Reports, Wall Street Journal and many more.
Jeff also has extensive experience and expertise in new car brokering and selling used cars for clients on eBay and Craigslist. Connect with Jeff via Email or on Twitter.