Toyota Recalls Over 800,000 Vehicles for Water Leaks

By Jeff Ostroff, Consumer Advocate, Editor-In-Chief
Published October 17, 2013
Today Toyota announced it is voluntarily recalling over 800,000 vehicles, due to what Toyota calls a "air conditioning condenser unit housing." So what models are affected in this recall?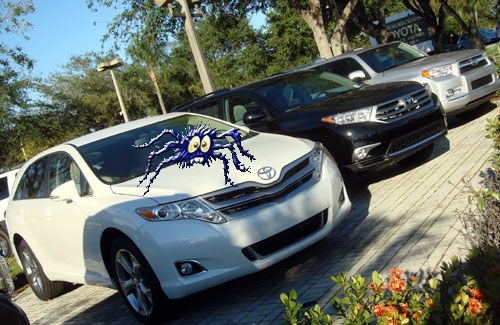 Recalled cars are from the model year 2012 and 2013:
Camry
Camry Hybrid
Avalon
Avalon Hybrid
Venza
The Root Cause of the Toyota Recall
The potential exists for a clog to occur in the condenser unit housing. Humorously, the problem can be caused by spiders building webs inside the housing. The timing of this recall just in time for Halloween makes me wonder if Toyota planned it this way all along. Of course, I'm joking about that.
According to Toyota, if a clog develops, water from the air conditioning condenser unit housing can leak onto your airbag control module. You can see where this is leading. This water can cause a short circuit in your air bag module, resulting in your airbag warning light going off.
In some instances your air bag could become disabled by the corroded electronics or your airbag might inadvertently deploy.
I'm not sure which would be worse. Do I want my airbag to fail and not do its job when I crash my car doing 50 MPH? Or, maybe I prefer to just have my airbag pop up in my face while I'm driving down the road at 50 MPH. Decisions...
But Wait... There's More!
Toyota also stated that the power steering assist function might stop working if a communication line in the airbag control module is damaged. If you get a loss of power steering you'll see what is was like for your great grandfather driving a Model-T.
Dripping water and corrosion are a bad combination for any electronics, copper wires, that sort of thing. Hard to believe that all of these problems can be caused by one teeny tiny little spider. Those critters sure know how to put the screws to us.
None of these scenarios sound good to me, so I recommend you call your Toyota dealer tomorrow, give them your VIN# and ask them if your model is covered by this recall. Or you can go to the Toyota Owner's Site and enter your VIN. If you end up bringing your car in, let us know what they did to it.

About The Author: Jeff Ostroff
A lifelong consumer advocate with over 20 years of unparalleled expertise, Jeff is the Founder, CEO and Editor-In-Chief of CarBuyingTips.com. As chief consumer advocate, he oversees a team of experts who cover all aspects of buying and selling new and used cars including leasing and financing.
For decades, Jeff has been the recognized authority on vehicle purchasing, sought out often by the media for his decades of experience and commentary, for live call-in business radio talk shows and is cited often by the press for his expertise in savvy car shopping methods and preventing consumer scams and online fraud. Jeff has been quoted in: CNN, MSNBC, Forbes, New York Times, Consumer Reports, Wall Street Journal and many more.
Jeff also has extensive experience and expertise in new car brokering and selling used cars for clients on eBay and Craigslist. Connect with Jeff via Email or on Twitter.