Top 10 Cars Sold at 2014 Barrett-Jackson Palm Beach Collector Car Auction

By Jeff Ostroff, Consumer Advocate, Editor-In-Chief
Published April 23, 2014
Barrett-Jackson runs their famous collector car auctions at 4 locations around the U.S. including Palm Beach, Las Vegas and Reno-Tahoe and Scottsdale, AZ. Last week, the company held their famous Palm Beach auction which seems to grow in size every year.
They announced that last week's auction was their biggest ever in Palm Beach, setting new records. Over 500 cars were sold totaling $25 million with an estimated 50,000 attendees present, including us.
We were present at the auction block shooting photos throughout the weekend and have picked out the highest grossing cars.
Here's our list of the top 10 sales from this auction
1) 2015 Chevrolet Corvette Z06 First Retail Production Unit ($1,000,000)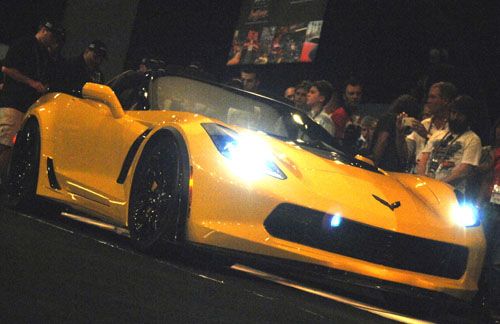 This was a sleek yellow Corvette which GM donated to benefit the Karmanos Cancer Institute in Michigan. This hospital gives access to over 100 cancer treatments that other hospitals don't have. The Corvette was the highest bid car at the auction, ending at $1 million. The winning bidder was Rick Hendrick, owner of Hendrick Motor Sports, a NASCAR Sprint Cup Series racing team featuring Dale Earnhardt Jr., Jimmie Johnson, Jeff Gordon and Kasey Kahne as drivers.
You can watch the thrill and excitement of this Corvette at the auction on the Speed Motors YouTube channel:
Mr. Hendrick also founded Hendrick Automotive Group, which has 100 franchised dealers with 7,000 employees across 12 states, so he had no problem picking up the tab. Barrett-Jackson charged no premiums on this auction.
2) First Retail Production 2015 Chevrolet Camaro Z/28 ($500,000)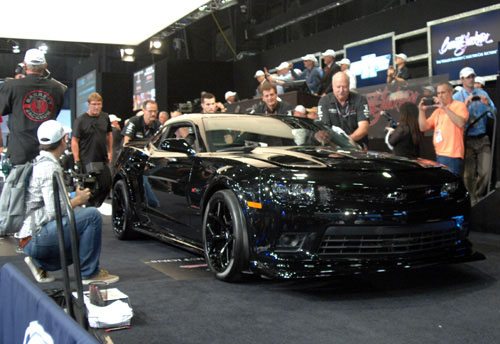 This black beauty is the very first retail production unit of the 2015 Camaro Z/28 to roll off the assembly line and it was also donated by GM for charity. This car bid up to a whopping $500,000, and will benefit the AARP Foundation, which created Drive to End Hunger, a nationwide campaign to raise awareness and to raise money to address the problem of hunger among people over 50 years of age.
Watch the Camaro bid up to $500,000:
The winning bidder was David Flynn, he owns the Flynn Auto Group, a business which includes a half dozen dealerships representing 8 manufacturers in eastern Ohio. He was a busy man during this auction, because he also bought the #4 car on our list further down, the famous Need For Speed Mustang. Barrett-Jackson charged no premiums on this auction since it was for charity.
3) 1935 Packard 1207 V12 Convertible Coupe ($300,000)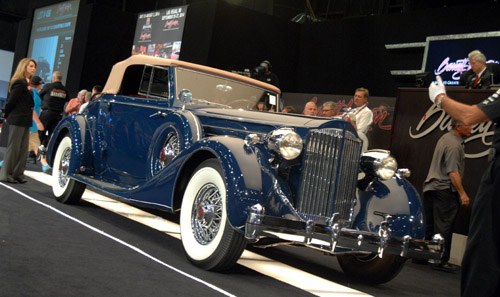 This was a stunning and well preserved example of an antique car. It was large, blue and beautiful. It was on display first in the Showcase Pavilion building, where all the higher end cars are kept prior to moving them to the auction block.
In the Pavilion there were so many people around it we could not even get a decent photo. We waited until it showed up on the auction block where we were standing in front of the stage taking the photo above, unobstructed because we had media credentials.
This car bid up to $300,000 but the 10% buyer's premium of $33,000 brought the total up to $330,000. Always keep in mind your buyer's premium when bidding!
4) 2013 Ford Mustang Fastback Used in the "Need For Speed" Movie ($300,000)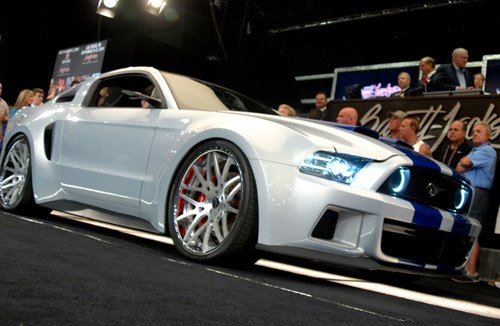 This car was sold as "Bill Of Sale" only without a title. Due to all of the changes that the production crew made to this car, you cannot legally drive it on the street. It's museum-bound now. David Flynn, the auto dealer who also bought the Camaro Z/28 mentioned above was the bidder for this car as well, walking away with 2 prized possessions.
This Mustang was donated by Ford. What makes it so collectible is the fact that this pony was used in the "Need For Speed" movie and was driven by actor Aaron Paul. You might remember he shot to fame with his critically acclaimed role as meth cook Jesse Pinkman in the AMC crime series "Breaking Bad."
This charity auction benefited Henry Ford Health System, a non-profit group founded by Henry Ford to improve the health and well-being of a diverse community.
In case you missed it, here is the excitement live as it happened so you can be there too. Here is the video from SPEED MOTORS on FOX's YouTube Channel:
5) 2005 Ford GT 2 Door Coupe ($220,000)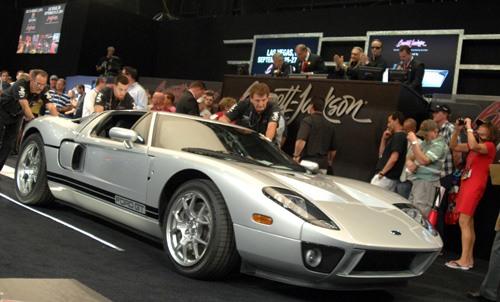 Now you're talking our kind of car. This car only had 929 original miles on the odometer. Most cars lose value over time, even exotics like Lamborghini and standard A-List cars like Bentley.
But there was something exciting and very different about these Ford GT vehicles when they were introduced in 2005. They were an instant collector's item, even before they hit the street.
With an original sticker price of $150,000 many early adopters paid $100,000 or more in premiums just to be able to say they were the first of their wealthy friends to own a car of which only about 4,000 would be produced. This car has only gone up in value.
This one bid up to $220,000 Saturday afternoon at Barrett-Jackson Palm Beach, but with the bidder's premium of $22,000, it brought the final price tag up to $242,000. All we can say is wow, one of the few cars to fetch more than the original selling price.
6) 1946 Ford Sportsman Convertible ($190,000)
We missed getting any photos of this award winning restoration. We had taken a break to catch our breath after watching the Corvette Z06 sell for $1 million.
What made this vehicle so interesting to the crowd was the fact that only 723 of these were built. How many of these do you think are still in existence?
This is also an award winning restoration; it won the 2012 Early Ford V8 Club Dearborn Award. When you get vehicles like this that win restoration awards, people take notice.
But still who would have guessed this vehicle would bid up so high? Even National Geographic, who was televising the car auction live, missed it. This car sold while they were off on a commercial break.
This was one of only a handful of cars at the auction that had a reserve price, but with fierce bidding, that reserve was quickly met and so the car sold at a final bid of $190,000. With the 10% buyer's premium, that increases the total paid to $209,000.
7) 1979 Oldsmobile Cutlass Hurst Coupe ($200,000)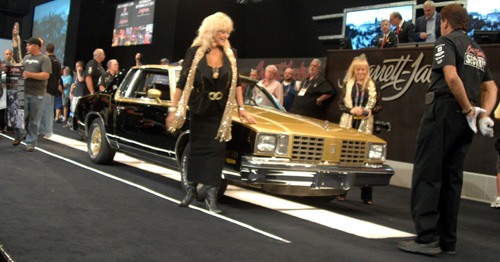 This car was owned by Linda Vaughn, the famous Georgia peach model who shot to fame as the Hurst Performance Company's "Miss Hurst Golden Shifter." She used to parade around the track on the Hurst Oldsmobile 442 cars, holding onto the giant shifter built on the back of the car.
A Hall Of Fame inductee, she is known as the First Lady of Motorsports. This Hurst Oldsmobile was created in 1968 by Jack "Doc" Watson and the Hurst Shifter Corporation, whose shifters have been used by every major auto manufacturer and many have referred to Hurst as the best shifter in the business.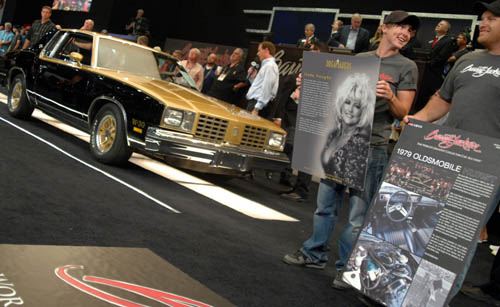 This car was given to Linda Vaughn as a gift from Hurst and was her every day driver. Now she presented this car to auction off for charity and the proceeds were donated to The Cancer Research Fund at TGEN in memory of Russ and Brian Jackson. They were father and brother to Barrett-Jackson CEO Craig Jackson and both Russ and Brian had died from colon cancer.
Because of this, you will see this theme of raising funds to support cancer charities throughout Barrett-Jackson auctions.
This is the second time that this car was sold at the auction, having been previously sold at Scottsdale in January for $270,000 and re-donated back for the cause once again. This car has also passed through Palm Beach previously at the 2012 auction, going for $45,100 back then. This time it bid up to $200,000 and this car has been truly the gift that keeps on giving.
8) 1969 Oldsmobile 442 Convertible ($200,000)
We were not at the auction block when this car was sold, but you can see a photo of it here on the Barrett-Jackson site: 1969 Oldsmobile 442 Convertible.
This car was another one auctioned off for charity and presented by Linda Vaughn. The car is a replica of the Oldsmobile 442 that Hurst Shifters had used to showcase its products. Linda Vaughn, Miss Golden Shifter, used to parade around races and shows on the back of Oldsmobile 442 convertibles like this one. The proceeds of this auction benefited the Darrell Gwynn Foundation.
He was a Top Fuel racer and hall of fame inductee who suffered a horrific crash at an exhibition in 1990 at the Santa Pod Raceway. His dragster broke apart and crashed into the retaining wall at about 240 MPH, leaving him paralyzed and he lost his left arm.
9) 2010 Lamborghini Gallardo LP560-4 Spyder ($165,000)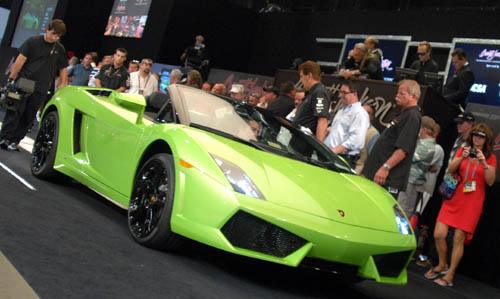 Another of my favorite cars, a Lamborghini, hits the auction block. This Gallardo is one of only 247 Spyders (convertible top) which Lamborghini made in 2010. Who knows how many were made in this bright lime green color, which is known as Verde Ithaca. This is a 10 cylinder 5.2 liter engine with automatic transmission.
Lambo does not make too many manual transmission vehicles anymore. In fact if a customer ever specifies manual transmission, the factory does a double check with the dealer and customer to confirm. The seller of this car claimed it has been in a climate controlled garage since new and has only 853 original miles.
Pricing on Gallardo Spyder models in 2010 began at $221,000 and you can bet there were some expensive options added on top of that.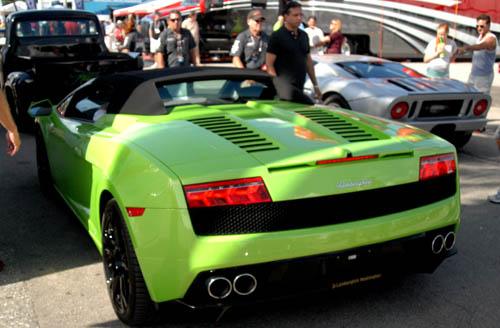 The owner selling this Gallardo is the same seller who sold the 2005 Ford GT mentioned above. He brought in some serious coin at this auction and for the last few years he got to own 2 very desirable cars.
The final bid price on this Gallardo was $165,000 and with the 10% bidder premium, the final sale amount was $181,500.
10) 1968 Shelby GT500 Convertible ($150,000)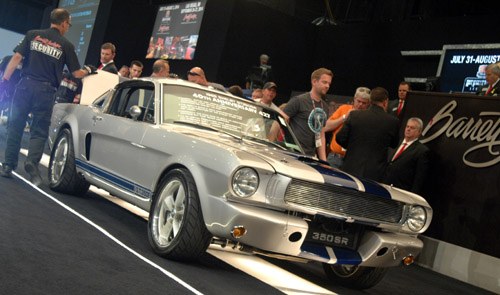 One thing we noticed at Barrett-Jackson Palm Beach this year was that anything with the name Mustang, Camaro or Corvette from the 1960s did very well. If it had the Shelby name on it, the sky is the limit.
This one was a gorgeous silver convertible and there were only 402 convertibles built in 1968. This Mustang came with a full Marti Report and is listed in the Shelby Registry which adds to the authenticity and value. There are a lot of Shelby fakes and recreations out there. You really have to know your stuff to sift through the weeds.
Marti is a licensee to Ford's entire production database for the 1967-1993 model years. They provide a data report for a particular serial number of car from those Ford databases. They can tell you everything about the car.
The car does have the name G.T.350SR on the side. It is a special 40th Anniversary edition of which only 4 units were made. It was created from the 1968 GT500 model.
In 2006, this car went through a complete restoration and was made into this 40th Anniversary 427 that was auctioned off. This Mustang sold for a whopping $150,000 bringing shame to many 10 year old Bentleys and a Maybach that sold for half this price.
With the buyer's premium of $15,000 it brought the total sale of this Shelby GT500 up to $165,000.
That's a wrap
Many other cars came close to these 10 vehicles in price and you can expect many more to sell like this the next time Barrett-Jackson rolls into town.
What a wild and entertaining weekend it was. If we can't own these cars, we can at least dream about them and witness first hand as someone else's dreams come true. We can live vicariously through others at auctions like this.

About The Author: Jeff Ostroff
A lifelong consumer advocate with over 20 years of unparalleled expertise, Jeff is the Founder, CEO and Editor-In-Chief of CarBuyingTips.com. As chief consumer advocate, he oversees a team of experts who cover all aspects of buying and selling new and used cars including leasing and financing.
For decades, Jeff has been the recognized authority on vehicle purchasing, sought out often by the media for his decades of experience and commentary, for live call-in business radio talk shows and is cited often by the press for his expertise in savvy car shopping methods and preventing consumer scams and online fraud. Jeff has been quoted in: CNN, MSNBC, Forbes, New York Times, Consumer Reports, Wall Street Journal and many more.
Jeff also has extensive experience and expertise in new car brokering and selling used cars for clients on eBay and Craigslist. Connect with Jeff via Email or on Twitter.