Tis the Season for Steep Year End New Car Discounts

By Jeff Ostroff, Consumer Advocate, Editor-In-Chief
Published November 19, 2013
Maximize savings when buying a new car at the end of the year
Every year in the late fall is when our site visitors get busy shopping for new cars. There is a real art and science to buying cars during this critical time period and maximizing your savings at the end of the month. Historically CarBuyingTips.com visitors have reported massive savings off sticker price during the last week of December. But what is so sacred about that week and how do you use that to save the most money?
You'll see other car buying "experts" rehashing each other's advice and tell you December is the best time to buy, but they don't tell you why. We'll show you how and why. Understanding is crucial to your savings. We'll take a sneak peak into the world of dealer rebates, incentives and other cash programs. You'll be surprised at some of the discounts we mention here that you would never have guessed existed. Overlook one potential cash bonus and you could leave thousands on the table. Now it's time to get your own gift while the rest of the country is focused on Christmas shopping.
Why the last week of December is the best time to buy a new car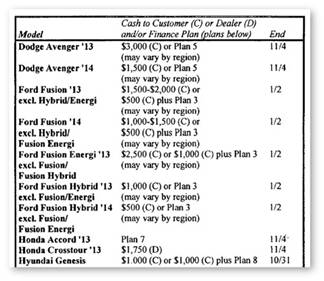 To understand the logistics of what is going on at dealerships, let's look at the overlapping model years that car dealers are faced with. Here we are in November and most of the new vehicle models for next year have arrived, but some of the current model year vehicles are still in stock. A few dealerships might even be stuck with a few stragglers from 2 model years back.
As the end of December approaches this presents a logistical inventory issue for car dealers that, if not managed correctly, could spell disaster. For example, by January 1, 2014 they don't want any 2013 models on their lot because they will be last year's models. These cars become the kiss of death for a dealer when everyone is focused on the next model year with the latest greatest options.
To reduce this inventory floor plan problem, the manufacturers give the dealers what we call secret factory to dealer incentives. These incentives provide extra marketing cash to help them reduce the selling price of the current year models before the end of December. Often these incentives are thousands of dollars and go unnoticed by consumers who are focused on the customer rebates they see on TV. As a smart shopper, you are now aware of this and can reap huge savings. Also, if you buy the tail end of a model year, this puts you at an advantage later on when you sell your car because theoretically you'll have 12,000 miles less than another seller who bought the same car 12 months earlier.
The super secret bonuses that only the dealer knows
Let's say the manufacturer has a sales goal setup for a dealership and they only need to sell 1 more car to qualify for a huge bonus or a much better allotment of a new model that everyone wants. The dealer will be begging you to take this huge discounted price so they can move the car off the lot and secure their bonus. These bonuses are back door deals that you cannot lookup anywhere but you can be sure they exist. The only way to flush these out in the open is to put several dealers in play using sites like TrueCar, RydeShopper and Cars.com. Ask them all for their lowest price. You'll find out quickly which dealer is close to a bonus when one quote comes in lower than all the others. Cha-Ching!
It's crucial to know what incentives are and how to claim them
These are crazy Jeff's extreme coupon days. Finding all the incentives and rebates is like hunting for coupons. Some of them are stackable to magnify your savings too. There are a lot of blurred lines and confusion here, so let's go over the common incentives we are seeing lately:
Consumer Rebate - Paid by factories to consumers, deducted from the selling price
Factory to dealer incentives - Marketing dollars paid by the manufacturer to the dealer to sell certain models
Military Bonus Cash - Usually $500 to $1,000 for active military members
USAA Members Bonus Cash - Some car makers give up to $1,000 if you are a member of USAA
Future Farmers of America - Who would have thought it, usually about $500
Student/Recent College graduate - Typically $500
Police officer discount - Usually $500
Loyalty discount - Some car makers give an extra $1,000 for repeat buyers
Low APR financing, Usually between 0% and 3% APR, but only to well qualified buyers, instead of the rebate
Early lease termination - Some manufacturers will let you out of your lease months early to buy a new car
Competitive conquest - This is offered sometimes up to $1,000 to entice you from a competitor
Aged Inventory Dealer Cash - Paid by the factory to help sell leftovers from 2 model years ago
Wow, that's a boat load of savings. I bet you were only thinking of the consumer rebate and possibly missing out on a lot of these others. So right now, I'm wishing I was a recent college grad cop, who is also a part time military member of USAA rounding out my savings by going for a repeat customer discount stacked on top. Keep in mind with some incentives the manufacturer requires you to finance through them. For example, GM may require you to finance through Ally Bank. Ford might require you to get your car financing through Ford Credit.
How to find what rebates and secret factory incentives are available
There are two sites we use to search both rebate and incentive information and also the important new car dealer invoice and MSRP pricing information. FightingChance is one who sells a useful market intelligence package updated bi-weekly giving you all the rebates, incentives and pricing numbers for all trim levels of the vehicle you are considering. FightingChance also gives you a lot of useful advice in their package and they give you powerful intelligence on recent selling prices reported around the country for your vehicle and current inventory levels to help you swoop in for the kill. The better things in life you have to pay for and this in one that is worth every penny.
As backup we also like to use the rebate lookup tool at Edmunds. You should be using a combination of these two tools because they are different. You will then make note of all these rebates and incentives and load them into our Buyers Offer Spreadsheet from our free download area. Our spreadsheet helps you see through all the smokescreens and tells you how much you should be paying for your new car.
Quick sample of current rebate and incentives
We just took a quick glance at the offerings from many manufacturers and here is a short view across the landscape:
Chevrolet Volt has a $7,000 consumer rebate
Cadillac CTS Coupe is $5,000
Ford Expedition $3,750 consumer rebate, $1,000 competitive Conquest Bonus, $500 Student/College Grad
Lexus LS460 has a secret factory to dealer cash incentive of $4,000 and a $750 Military Bonus
Chevrolet Impala has a $4,000 rebate
Ford Taurus $3,250 to consumer
Dodge Journey $1,000 USAA Bonus Cash, $500 Military Bonus Cash, $500 Future Farmers of America
Honda Civic has an Aged Inventory Dealer Cash of $1,000 on some older models still in stock
Ram 2500 has a $500 Military Bonus Cash, $500 Future Farmers of America
Many manufacturers also have low financing offers in lieu of rebates
Some brands like Honda and Toyota don't like to give rebates but do offer low APR financing
Some dealers still try to scam you with rebates
Some dealers love to play shell games with the pricing. Suppose the factory is giving you $3,000 customer cash. You might be looking at a new car with a window sticker price of $25,000. Due to the rebate the selling price is reduced to $22,000 and you think the dealer is discounting the car by $3,000 for you. Oh, but wait, there's a flag on the play. One important point for you to remember is that rebates come from the manufacturer, not from the dealer. So they are really selling you that car at full MSRP. Do you see the scheme unfolding? Many "no haggle" dealerships like to play this card.
Of course the salespeople will often try the old fake crying on your shoulder line saying "we are giving you $3,000 off this car, we can't go lower." Sure they can go lower! They are not giving you $3,000 off the car, it is the manufacturer who is giving you the discount which means it's time to ask the dealer to start contributing to the deal. This is why it's so important for you to use our spreadsheet to do all that thinking for you. It helps you see through their cash flow shell games and guides you to the price you should be paying.
All incentives should be subtracted after you have already haggled the selling price down, not before, to make sure that both the factory and the dealer have participated in the discounts.
Research wisely, use the information you've learned here and turn over every rock to find all the savings you can. Squeeze all the blood out of that stone. Read our new car buying tips and keep in mind that anyone who has been educated by CarBuyingTips.com can save money any time of the year. The end of December potentially provides more savings because you are leveraging customer rebates with factory to dealer incentives, along with super-secret bonuses.
Be sure to let us know how well you did after you buy your new car. Please leave comments or ask questions below.

About The Author: Jeff Ostroff
A lifelong consumer advocate with over 20 years of unparalleled expertise, Jeff is the Founder, CEO and Editor-In-Chief of CarBuyingTips.com. As chief consumer advocate, he oversees a team of experts who cover all aspects of buying and selling new and used cars including leasing and financing.
For decades, Jeff has been the recognized authority on vehicle purchasing, sought out often by the media for his decades of experience and commentary, for live call-in business radio talk shows and is cited often by the press for his expertise in savvy car shopping methods and preventing consumer scams and online fraud. Jeff has been quoted in: CNN, MSNBC, Forbes, New York Times, Consumer Reports, Wall Street Journal and many more.
Jeff also has extensive experience and expertise in new car brokering and selling used cars for clients on eBay and Craigslist. Connect with Jeff via Email or on Twitter.