Should You Use Your Tax Refund to Buy a Car?

By Lyle Romer, Consumer Advocate
Published April 15, 2016
It's everybody's favorite time of the year again! Tax season is upon us and hopefully you will either file your taxes today or apply for an extension. We don't want anybody paying penalties.
Of course, nobody except accountants likes tax season but there is a silver lining for most working people. After going through the stress and expense of filing your taxes, most people get a refund.
Remember that this refund isn't a gift from the government. It is your money that you overpaid that they are returning to you. A pet peeve of mine is when somebody tells me what they are going to do with their "income tax." The check you get back is your refund, your income tax is what you had to pay and was taken out of your paycheck.
Is Using Your Tax Refund Towards a Car a Good Idea?
The reason that most people get refunds is because the government forces your employer to withhold more taxes than you will end up owing because of deductions. They are afraid that if you end up owing taxes, you won't have the money to pay.
A good way to think about your refund is that it was a forced savings account that you don't earn any interest on. The government gets an interest free loan from you and you get to spend time and money filing paperwork to get them to pay you back.
When you are deciding if you should use your refund towards the purchase of a new car, you should treat the money as if you had saved it up in a bank account. If you are in the market for a car, you'll have a lump sum of cash available to you which can make a nice dent in your down payment. Depending on how much you spend, it could be the entire down payment or more.
Beware of Dealer Promotions
You have probably seen promotional advertising from dealerships during tax season that revolve around the theme of them doubling your tax refund. These offer sound great but, as with everything in life, if it sounds too good to be true then it probably is.
Even the more legitimate promotions will have restrictions. They will limit the amount of the "doubling" they credit you with. The limit is usually around $1,500. Most of the ads say to "see dealer for details" so you know there will be other restrictions when you get there.
Sometimes they will restrict the promotion to only certain specific vehicles and they may only have two or three of these on the lot. Sometimes the maximum amount they credit you will vary based on the particular model.
One thing I will guarantee you is that they are never actually going to really give you anything. The best they will do is just use your refund check amount to lower the price to the level that they would have negotiated anyway.
Lets say you were buying a $30,000 car and bring them a $1,000 tax refund check. In the negotiation, they agree to lower the price to $28,000. Now they will give you a $1,000 credit towards your down payment. What they didn't tell you is that they would have been willing to sell you the car for $27,000 so you didn't really get anything extra.
Egregious Tax Refund Promotion Scam
Now you will see an example of an unscrupulous dealer that is running an ad that I consider to be a complete scam. The image below is an actual screen shot from their commercial where they offer to "double your tax refund up to $9,000" so that you can see the fine print.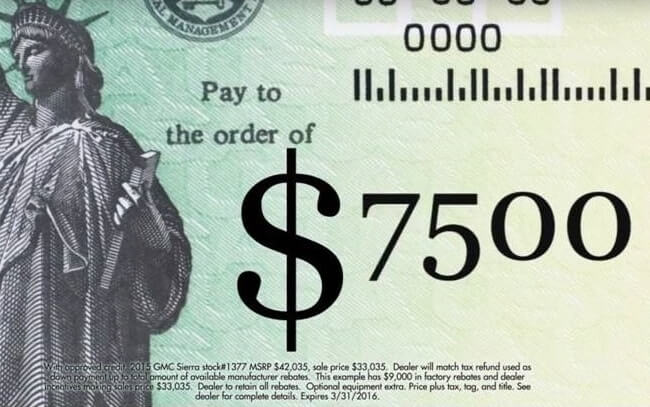 It states that "dealer will match tax refund used as down payment up to total amounts of available manufacturer rebates." Read that again so that you can let it sink in.
This Dealer Is Literally Giving You Nothing
I've seen a lot of B.S. in dealer advertising over the years but this takes the cake. They are running a completely fake promotion. They aren't doing anything based on your tax refund. They aren't giving you a dime.
All they are doing is passing along the manufacturer rebates that you would get anyway. That's not all, the ad entices you by saying that they will double your refund up to $9,000. The only way that the manufacturer rebates are going to get that high is when there is a model that is not selling well that they really need to move.
The worst part is that they are using this fake promotion to set you up to be ripped off. When you try to negotiate the price they will explain that they are giving you so much money by matching your refund that they can't take any more of a loss. They might not use that exact wording but the idea will be the same. Don't fall for this dirty trick.
Use the Promotions to Your Advantage
The dealerships are using these promotions to their advantage to make you think you are getting something from them while they are actually ripping you off. We want you to flip the script on them. Do not mention that you have a tax refund. Negotiate the deal as we recommend in our new car buying guide.
Use TrueCar to get a baseline price for your negotiation. Get additional price quotes from sites like CarClearanceDeals and Edmunds because you always want to use the power of competition.
Only after you have negotiated the best deal, should you break out your tax refund and ask them to match it on your down payment. There's a good chance that they will bring out the legalese to show that your deal doesn't qualify for the promotion. Make them justify their position by showing you the terms and conditions.
Even if their lawyers have protected them from having to give you an additional rebate, which they likely have, you will still be getting a good deal because you did your homework. Plus, you made good use of the savings that the government was nice enough to force you to put away.

About The Author: Lyle Romer is a consumer advocate, Founding Contributor and Vice President of CarBuyingTips.com. A 20 years veteran of the auto industry with a high level of expertise, Lyle has been researching all aspects of the automotive sales industry.
Lyle's expertise and research played a vital role during the creation of CarBuyingTips.com in 1999 after years of industry research. He carefully observed every aspect of his own car buying experience as the internet began to take a foothold in the process. He also designed the site to make sure that consumers had easy access to the best consumer advocate education.
Lyle has been an auto industry insider since 1999. He also has worked with other automotive websites to help improve their offerings based upon feedback from CarBuyingTips.com users. He covers important industry events and gathers off the record sources while attending industry conventions.
Connect with the author via: Email