Porsche Targets Tesla Model S with New Mission E

By Jeff Ostroff, Consumer Advocate, Editor-In-Chief
Published September 16, 2015
Porsche boasts of 600 horsepower, 310 mile driving range and 15 minutes charging time to 80% power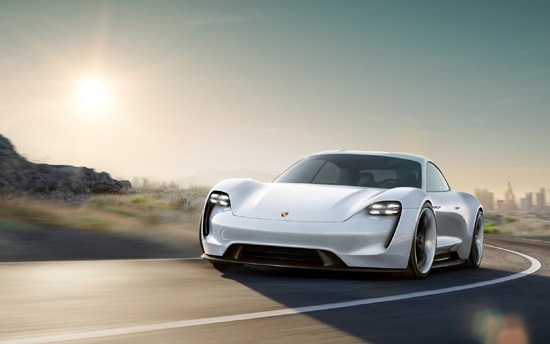 At the Frankfurt Motor Show this week Porsche set their target right at Tesla by announcing a new concept electric car called the Mission E. The main hype which Porsche is dishing out on their new electric car is that it can be charged up to 80% in just 15 minutes, a very impressive selling point.
No production schedule has even been announced yet, but Porsche seems to be firmly committed to this platform, now that Tesla has tested the market for them, proven the market for them and paved the way with a blaze of glory and a $250 stock price.
Tesla Model S charging is much slower compared to the Mission E
Compare Porsche's 15 minute charging time to the Tesla Model S, even using Tesla's best home dual chargers doubling the charging capacity to 20 kW, Tesla still only gets 58 miles of driving range per hour of charge. That is slow! But, if you can find a Tesla Supercharger station along the turnpike, it recharges a Model S to 80% in 30 minutes, giving them 175 miles of driving range. Porsche accomplishes the faster charging time by using an 800 volt charging system, unlike the 240-400 volt range charging system used in conventional public charging stations.
Porsche Mission E has no schedule for production yet
Before you start salivating and whipping out your checkbook, remember that this is just a concept car and production could be years away, although some media folks are writing like this is spelling the end for Tesla.
Main specifications of the Mission E:
Power: 600 hp (440 kW)
0-62 MPH (100 km/h) < 3.5 seconds
0-124 MPH (200 km/h) < 12 seconds
Top speed > 155 MPH (250 km/h)
Range > 310 Miles (500 km)
System Voltage: 800 volts
Wireless Inductive Charging, no cables needed
Porsche's Mission E car is designed to be charged wirelessly via inductive charging. Unlike Tesla's Model S which you have to plug into your garage charging system at home, Porsche has the option to charge in your garage via inductive charging by just parking your Mission E over a coil embedded in your garage floor.
This coil in your floor underneath a plate then transfers energy with no cables to a coil on your Porsche's underbody. Inductive charging of your battery then begins automatically as soon as you drive over the plate. I hope it does not become a dancing game where you have to keep adjusting the car's parked position to make sure you're directly over the plate.
This method of inductive charging is exciting and is a first for electric cars. I already love this feature on my new Samsung Galaxy S6 Edge phone, where I just lay it on the wireless charger and my phone charges quickly and easily, with no more aggravating USB cable connection issues.
Inductive charging is the way of the future. The only issue might be the logistics and challenges of chiseling away that concrete slab in your garage to embed the coil and route the power to it.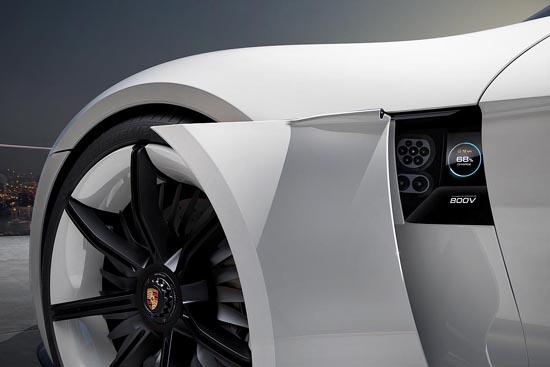 You can also plug in the Mission E electric car to charge it
There is a charging port hidden inside of the front left fender in front of the driver's door and the fender slides forward to give you access to the "Porsche Turbo Charging" system charging port. Porsche claims that via this 800-volt port, the battery can be charged to 80% in 15 minutes, which is a record time for electric vehicles.
What if you can't find a Porsche charging station?
My only hang-up about this 800-volt charging system is where will you find any charging stations for Porsche? It's already a challenge to find stations for the Tesla Model S. For example, here in Florida, there are only 3 Tesla Supercharger stations between Ft. Lauderdale and Disney World in Orlando, 200 miles away.
Porsche thought of that too. Their Mission E can be connected to a conventional 400-volt charging station, i.e. Tesla, but it will take quite a bit longer to charge. If you are able to connect to a Porsche 800 volts charging system, a quick top it off 4 minute charging time can increase your mileage range by 62 miles.
Exterior features of the Mission E car
As you look at the front of the car, you can see hints of the Porsche 918 Spyder super sports car and also the 911 with that low sweeping bonnet (hood). One feature jumping right out at you is the Matrix LED headlight units with sensors for the assistance systems. This car looks like an animal huffing and puffing.
How do you have exterior mirrors without mirrors?
Porsche included these virtual exterior mirrors which are not really mirrors; they are instead cameras buried into the side of the car whose images are then projected above your dashboard in the lower windshield corners. Porsche claims this gives you a better view and augmented safety information can be actively projected there as well.
This Porsche has 4 doors and 4 seats
If you glance too quickly at the side of this car, you might not notice that this is a 4-door car. Your brain might trick you into thinking it is only 2 doors. These are counter-opening doors giving you easy entry (think Honda Pilot and Saturn) and when both doors are open on one side, they give you a wide unobstructed view of the entire interior of the car.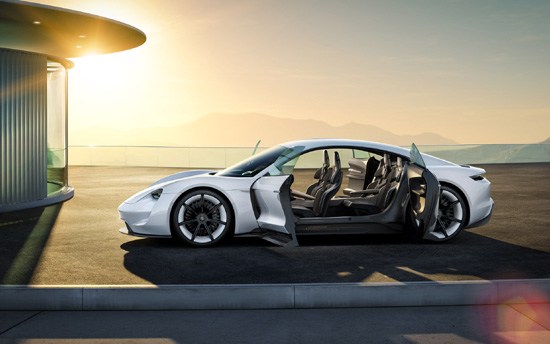 Interior features of the Porsche Mission E
First you'll notice there is no transmission hump. The absence of a transmission tunnel makes your cabin space look larger and gives you the feeling of more space. The lithium-ion battery runs the full length between front and rear axles.
Come on in, pull up a seat
Instead of bench seating in the rear like most cars, Porsche has four individual bucket-type racing seats; two in the front row and two in the rear, saving even more weight. This really gives the impression of a lot more space in this vehicle.
Porsche's new PMSM high performance motor
The Mission E design includes two permanent magnet synchronous motors (PMSM) based on tested and proven technology that Porsche used in this year's Le Mans winning vehicle, the 919 hybrid. These two motors produce 600 hp, propel the Mission E to a speed of 62 mph in less than 3.5 seconds and to 104 mph about twelve seconds. This car has got some pep.
Both motors are assigned to an axle and control acceleration of the Mission E. The Mission E recovers braking energy like many existing hybrid vehicle designs. Porsche can brag about this proven technology with a 1-2 finish at Le Mans.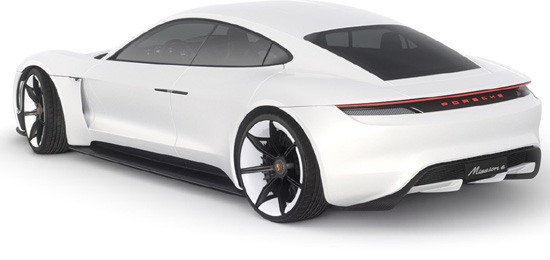 The instrument cluster uses OLED (organic light-emitting diodes) technology. They included an eye-tracking system whose camera detects which instrument you are viewing and you can then activate the menu of the instrument by pushing a steering wheel button and navigate in it with eye-tracking and manual activation.
The display also moves along with you as you adjust your seat position and height. As you move around, the 3D display moves with you. This prevents, for example, the steering wheel blocking your driver's view of the instruments.
A holographic display with apps
This Porsche has a holographic display showing apps which you or your passenger can use hands free to control media, navigation, climate control, contacts and vehicle operations. Each app is activated by your gestures which are then detected by sensors.
Well, this car seems like it is years away from production. I am attracted to this inductive charging feature. It is really groundbreaking, literally, since you have to dig a hole in your garage!
We will be anxiously awaiting a production schedule and pricing. Does this spell the end for Tesla? It's doubtful, but Tesla should be looking over their shoulder closely in the coming years. Whenever a first mover becomes king of the hill and grabs the pie, everyone else wants a slice of their pie and it is all downhill from there.

About The Author: Jeff Ostroff
A lifelong consumer advocate with over 20 years of unparalleled expertise, Jeff is the Founder, CEO and Editor-In-Chief of CarBuyingTips.com. As chief consumer advocate, he oversees a team of experts who cover all aspects of buying and selling new and used cars including leasing and financing.
For decades, Jeff has been the recognized authority on vehicle purchasing, sought out often by the media for his decades of experience and commentary, for live call-in business radio talk shows and is cited often by the press for his expertise in savvy car shopping methods and preventing consumer scams and online fraud. Jeff has been quoted in: CNN, MSNBC, Forbes, New York Times, Consumer Reports, Wall Street Journal and many more.
Jeff also has extensive experience and expertise in new car brokering and selling used cars for clients on eBay and Craigslist. Connect with Jeff via Email or on Twitter.