New Car Deal of the Month: New Lincoln MKZ Hybrid

By Jeff Ostroff, Consumer Advocate, Editor-In-Chief
Published June 5, 2014
How we saved one of our visitors $5,230 off the window sticker price of this new car
From time to time we will give you detailed analysis on selected spotlight deals which we helped our visitors get. This white paper analysis is a great view into the anatomy of a successful new car purchase that went quite well for the buyer.
As part of our concierge new car negotiating service, customers sign up and tell us what car they want and list the options they want and how far they are willing to drive to a dealer with the winning bid for their business.
When one of our visitors approached us to secure a new 2014 Lincoln MKZ Hybrid car for us, we got busy. The MKZ gets 45 MPG and is actually based on the Ford Fusion, and is Lincoln's effort to produce a higher class luxury car synonymous with their name.
The buyer had requested a 2.0L 4-cyl. Hybrid CVT Automatic engine, which has a base sticker price of $36,190 before adding any options. These were the desired options on this vehicle:
Reserve Equipment Group 202A ($3,195)
Technology Package ($2,250)
Power Moonroof ($1,200)
The buyer was in San Fransisco, and luckily for him there was a "CA Special Edition Discount" going on at the time for $2,250 by the manufacturer which just so happened to equal the mount of the Technology Package option, so this effectively gives him the technology package for free.
There was also a $1,000 factory rebate in effect at that time, and our backs were against the wall, time was ticking because there were only a few days until the end of the month when the rebate would expire, and the buyer would have to pay $1,000 more for his brand new Lincoln MKZ.
Keep in mind that Lincoln no longer uses holdback payments from the factory to the dealer on their cars, so invoice price usually is their cost unless there is a secret factory to dealer incentive involved, or other marketing support dollars.
With all the options and including the CA Special Edition Discount mentioned above, the total MSRP window sticker price for this car was $41,480. Remember this Lincoln is really worth $43,730 in the sticker price of this car, but that CA discount lowers the price.
See our screen shot below of our offer spreadsheet from our free tool download section which shows you all the numbers for this deal: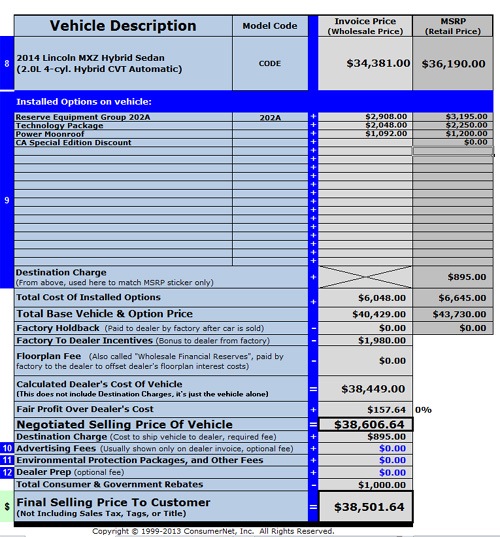 We began asking the local dealers for competitive bids and received quotes that were all over the map. We were expecting offers to be somewhere around $40,000. One local Ford Lincoln dealer actually came in with a low price of $38,500.
Based on the numbers from the dealer, it appears that this particular dealer took a profit of about $150 on the car.
We assume the remaining $1,980 was a factory to dealer incentive, because there is no other way they could sell the car at a loss for $38,500 without some other secret incentive, or marketing support dollars to subsidize this lower price.
Either way this is why we love the end of the month during a rebate and dealers want to unload another vehicle from inventory.
It's a good thing the customer bought the car when he did, because 2 days later the rebate and the CA Special edition discount disappeared. That was a close one.
As our spreadsheet above shows, we saved our visitor $3,000 off the reduced MSRP price, and a total of $5,230 off the original window sticker price.

About The Author: Jeff Ostroff
A lifelong consumer advocate with over 20 years of unparalleled expertise, Jeff is the Founder, CEO and Editor-In-Chief of CarBuyingTips.com. As chief consumer advocate, he oversees a team of experts who cover all aspects of buying and selling new and used cars including leasing and financing.
For decades, Jeff has been the recognized authority on vehicle purchasing, sought out often by the media for his decades of experience and commentary, for live call-in business radio talk shows and is cited often by the press for his expertise in savvy car shopping methods and preventing consumer scams and online fraud. Jeff has been quoted in: CNN, MSNBC, Forbes, New York Times, Consumer Reports, Wall Street Journal and many more.
Jeff also has extensive experience and expertise in new car brokering and selling used cars for clients on eBay and Craigslist. Connect with Jeff via Email or on Twitter.