Mysteries of New Car Window Stickers Unveiled

By Jeff Ostroff, Consumer Advocate, Editor-In-Chief
Published January 14, 2014
Drive onto any new car dealer lot and you'll see rows of cars with that big white sticker in the window. This simple sticker seems to cause a quite a bit of confusion and many people ask us "Why didn't I get one when I bought my car? Is this window sticker required by law? What is supposed to be on the sticker?" Let's look deeper into this.
So sit back as we guide you through the data. There are some new features added to window stickers in the last couple of years and we'll take a quick tour of this sticker and tell you what's on it. We'll also cover the laws and what it all means to you and me. You'll never get stuck on this sticker business again.
The white sticker on the window in question is usually referred to by insiders in the industry as the Monroney Sticker. This nickname is in homage to Senator Almer Stillwell "Mike" Monroney, from Oklahoma, who in 1958 sponsored the Automobile Information Disclosure Act, approved by Congress into law, which mandated disclosure of certain information related to all new automobiles.
Many people also call it the "MSRP Sticker" or simply the "Window Sticker." When you hear people say "What's the sticker price?", this is where the terminology came from. That final price on the window is like the Bible, so people compare everything to that rock solid number.
The Automobile Information Disclosure Act is our friend
This law was enacted to keep car dealers accountable and honest, not that it was needed because all car dealers are honest right? Yeah right. Something tells me they must have had a huge problem back in the day with dealers lying about pricing and what is included on the car or else good old Mike wouldn't have had to sponsor legislation to address it.
Not to be outdone, and wanting to get their hands in the pot too, the U.S. Environmental Protection Agency (EPA) now also mandates fuel economy, greenhouse and smog emissions data, fuel costs and other tidbits of information.
Yes the Monroney Sticker is required by law
This most certainly is law, it is taken seriously and if a dealer is caught selling you a car without this sticker it's a very serious offense. Each count is $1,000 fine, or one year in jail, or if the court is generous, both jail and a fine.
The law is written so that if you get caught doing it to 10 cars for example, it is treated as 10 separate crimes, punishable consecutively, up to $10,000 and 10 years. The more stickers a dealer removes in violation of this law, the more years they get in jail. These laws are in place for a reason, to protect the consumers from unscrupulous salespeople.
Only the end customer should remove the Monroney Sticker, or alternatively the dealer can remove it and give it to you while signing papers, but don't ever in a million years drive off the lot in your new car without that sticker.
We have had people complain to us over the years about not getting their window sticker. Don't be a victim. If the dealer does not produce the sticker and tells you they are "waiting for the sticker", and please come back later for it, they have already broken the law, because they should not have removed the sticker in the first place. They should not should not have to "look for it"; that's a scam. This is why the law states that it must be affixed to the window until you take ownership.
For those of you playing along at home and you're really bored or you're a law student, here is the actual statute and description of the law behind the Monroney Sticker.
15 U.S.C. CHAPTER 28 - DISCLOSURE OF AUTOMOBILE INFORMATION, Sec. 1232 - Label and entry requirements:
Which states the following: "Every manufacturer of new automobiles distributed in commerce shall, prior to the delivery of any new automobile to any dealer, or at or prior to the introduction date of new models delivered to a dealer prior to such introduction date, securely affix to the windshield, or side window of such automobile a label on which such manufacturer shall endorse clearly, distinctly and legibly true and correct entries disclosing the following information concerning such automobile—"
I simplified the talking points of what this law requires on the sticker:
Make, model and serial or identification number or numbers (VIN#)
Final assembly point (Where the car was manufactured)
The name and the location of the dealer to whom it is to be delivered
The name of the city or town at which it is to be delivered to such dealer
The method of transportation used in making delivery of such automobile
The retail price of such automobile suggested by the manufacturer (MSRP)
Retail price suggested by manufacturer for each accessory or item of optional equipment
The amount charged for the transportation of such automobile (Destination Charges)
The total of the amount for everything on the car
Government 5-Star Safety Ratings if available for the car
Results of frontal, side and rollover crash tests if available
Additional vehicle safety resources, http://www.safecar.gov web site and phone number
If there is no crash data, it should state "Not Rated" or equivalent
Those Destination Charges cause so much confusion
On the list of items above, people always ask us what is the Destination Charge and do we have to pay it, and does it really cost that much? The answer is yes, we all pay it because the dealer pays it too. Destination charge is the cost for the factory to deliver the car to the destination point at the car dealer.
Destination Charge is a fancy confusing name for Shipping Charge. Maybe one day Amazon will deliver your car directly to your house with a drone.
It can cost about $900 or more these days to transport a car across the country, as we have sold quite a few used cars on eBay Motors for people, so we know from experience. We shipped a used Jeep from Ft. Lauderdale, FL to St. Louis and it cost $800. Of course with the volume of vehicles which the factories transport, I'm convinced there is some icing on the cake built into that price for the factory, as they surely must get preferential volume pricing.
Let's take a look at some examples of stickers. Below are 2 sample window stickers, one from an Infiniti QX60, the other from a Toyota Camry. Click both photos for high resolution views: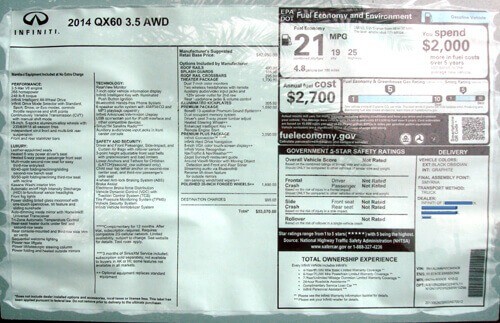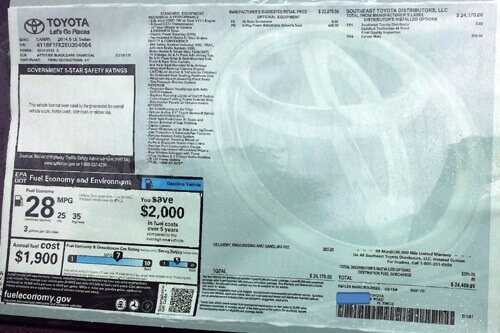 Now we also have a Smartphone QR code on the window sticker
The QR code is there so you can scan any window sticker with your phone and it will open a browser window on your phone and take you to FuelEconomy.gov, where it gives you a bunch of fuel and cost related data about your car.
You can also compare the fuel economy of your car to just about any other car brand and model going back to 1984. Is that insane or what? Compare it to your current car and see what it says.
This photo below shows a close-up of the EPA section of the window sticker and the QR code that you scan using your phone.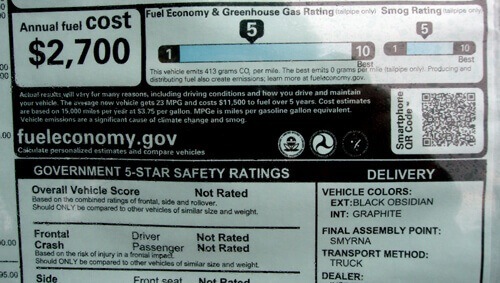 This screen shot below from my Samsung Galaxy S4 shows what it looks like as soon as you scan in the QR Code on the window sticker.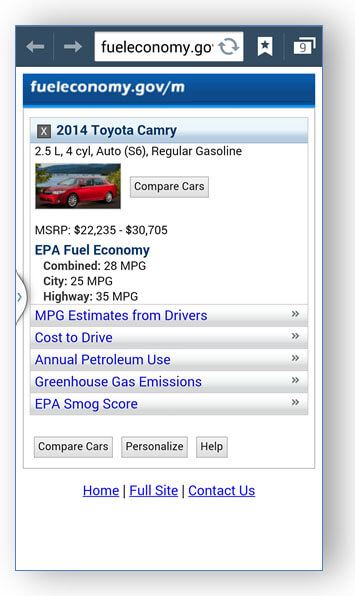 Does this law apply to used cars as well?
No this law does not cover used cars. This law only applies to new cars, and besides, the Monroney Sticker was already delivered for this used car years ago when it was new and installed options could have been added or removed from the car since then.
The law does require dealers to post the Buyer's Guide form on the window which requires them to tell you whether the car is being sold "As Is" without a warranty, or if it has a warranty and how long the warranty term is. Read our Used Car Buying Guide for more info and a sample of the required Buyer's Guide form.
For used cars, it's left wide open to the dealer as to what features they want to include on the Buyer's Guide sticker, so go through it line by line and verify everything they list is on the car if you are buying used.
Once you drive off you have no recourse, and good luck getting a lawyer to take your case or getting courts to rule in your favor. Dealers are notorious for having rock solid legalese written into their sales contracts that practically blames you for everything that could wrong in a deal.
I live in Canada, what are the rules here? Is the sticker required?
Canada is very late to the game and they don't have any explicit rules for a window sticker. Although if you are Canadian living near the border and can buy your car in the United States and ship it over, you will be guaranteed to have a window sticker. Just look into what any import fees might be.
In Ontario, you have the Ontario Motor Vehicle Industry Council (OMVIC) who administers the Motor Vehicle Dealers Act, 2002 (MVDA) through the Ministry of Consumer Services (MCS). They maintain a fair and informed marketplace in Ontario by protecting your rights, ensuring fair, honest and open competition for registered car dealers.
OMVIC has a list of required disclosures that car dealers must give you. Here is link to their web site: https://www.omvic.on.ca/portal/Consumers/ConsumerProtection/MandatoryDisclosures.aspx
They don't require a window sticker but they do require that this information be given to you in your paperwork, so don't leave the dealer without it.
If a car dealer refuses to give it to you then they are not a legitimate dealer and you should leave. Any honest business would want you, the customer to know what you are buying and should be happy to put it in writing, otherwise you should be happy to show them your heels on your way out the door.
This should give you a good comfortable understanding of this federally mandated window sticker. Next week we'll cover the infamous Additional Dealer Markup (ADM) stickers that we sometimes see on windshields as dealers slap on certain high demand cars, grabbing more cash from your wallet.
Please add your questions and comments below.

About The Author: Jeff Ostroff
A lifelong consumer advocate with over 20 years of unparalleled expertise, Jeff is the Founder, CEO and Editor-In-Chief of CarBuyingTips.com. As chief consumer advocate, he oversees a team of experts who cover all aspects of buying and selling new and used cars including leasing and financing.
For decades, Jeff has been the recognized authority on vehicle purchasing, sought out often by the media for his decades of experience and commentary, for live call-in business radio talk shows and is cited often by the press for his expertise in savvy car shopping methods and preventing consumer scams and online fraud. Jeff has been quoted in: CNN, MSNBC, Forbes, New York Times, Consumer Reports, Wall Street Journal and many more.
Jeff also has extensive experience and expertise in new car brokering and selling used cars for clients on eBay and Craigslist. Connect with Jeff via Email or on Twitter.