List of Best New Car Rebates For End of December

By Jeff Ostroff, Consumer Advocate, Editor-In-Chief
Published December 24, 2015
Over $5,000 in incentives on certain Chrysler models
Since 2015 is on pace to be a record year for car sales since 2004, you know that manufacturers don't need to offer lots of incentives like the $5,000 to $8,000 we would see in years past during December. To give you this list we researched closely with our friends at TrueCar and with James Bragg, CEO of Fightingchance.com, who provides you with car pricing, rebates and market intelligence info packages on new cars.
Most incentives in the auto industry go through 1/4/16. In most cases you either get the rebate or the low APR interest rate new car financing, and you cannot combine the two. You either get cash or a low interest rate car loan.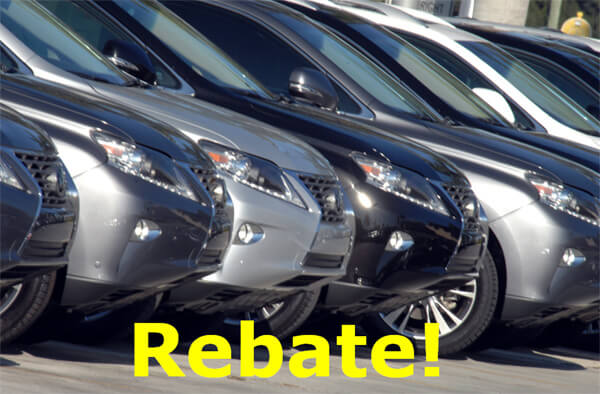 Don't forget to look for the additional regional rebates
You will also see that some vehicles will have additional regional cash offers. This means that in some areas where sales are soft, they are upping the ante and giving you more cash. Manufacturers have gotten smarter about how to target where and when to give steeper rebates, to avoid paying huge amounts in areas where the sales are already robust and huge discounts are not needed. They don't need to give you a $5,000 rebate in California or New York when a $1,500 rebate will do the trick. But in Kansas, they might need to give you $5,000 to make a car sell. You never know what region is soft, so always ask about them.
If you are in the military ask for military rebates
Lastly don't forget to check for military rebates that can give another $500 or more to members of the military, and ask them if there are any loyalty rebates for returning customers, or conquest rebates for buyers jumping ship from competitor vehicles.
The best incentives may be the ones we don't know about
We can only report to you the known rebates. But often times there are those hidden factory to dealer incentives that we don't see, which give bonuses to dealers who meet certain sales goals. As the end of the months approaches, the dealers could also be willing to let cars out the door at even lower prices as they try to beat sales goals.
Use this to your advantage, letting several dealers offer up their best competitive quotes without spending hours at each car dealership haggling over the price. Let each dealership know you are getting competing quotes, and ask for their lowest no nonsense pricing, with full detailed itemization showing all incentives and discounts, and extras on the car.
How to get the best new car discounts on top of rebates
How much will you save of the window sticker price of your new car? We don't know, no one knows how low they are willing to go until the minute you submit your new car price request to the dealer. The sales manager there is the one person who knows how much discount on top of the published rebates they are willing to give you. They know how well sales are going or not going, and will adjust their discount pricing off the window sticker accordingly.
Our best advice for you is to first get the FightinChance.com market intel package for your car so that you will know exactly how much you should be paying for it. Then start getting your competing quotes from car dealers using TrueCar's pricing and referral service which guides you to internet managers that you need to be dealing with to get the lowest selling price.
Instead of haggling for hours in person, you should use your quotes obtained through TrueCar, just sit back and wait for them to arrive from your local dealers. Make sure you get all the rebates in the quote, and here is your most important point; make sure that the selling price is much less than the sticker price with the rebate applied, and that it includes additional concessions in price by the car dealer.
Verify the selling price includes dealer discounts on top of rebates
For example, with a $20,000 car and a $2,000 rebate the price should not be quoted as $18,000, because it means the dealer did not also contribute to your savings and offer any discounts from the window sticker MSRP. Your quote from the dealer needs to include price cuts by both the dealer in addition to the rebates which are provided by the factory not the dealer.
Many new car incentives these days are low interest rate car loans
According to James Bragg, cut-rate financing is the most-used incentive today because most folks are more concerned with keeping their monthly payments down than saving $1,000 on the price of the car.
Here is our listing of the best new car rebates and incentives for 2015:
Acura: They don't seem to be big on rebates, but they do have 0% APR financing up to 36 months, and 2.9% up to 60 months. Now remember that we always warn you not to take out loans longer than 48 months to prevent getting upside down on your car loan. Besides, do you really want to be paying off your car loan for 6 or 7 years?
The 2016 Acura MDX also has no cash rebates, but if you're planning on leasing one, they have a zero down and zero security deposit at lease signing. This can save you 2 months of payments worth of cash down, but it's a $500 per month lease payment.
I am always suspicious of these types of zero down leases, because we don't know if they are just playing cash flow shell games and rolling that security deposit and first month payment into the lease.
BMW: Yeah, right, you really expected a rebate from BMW? But here are a few bones for you, they are offering 0.9% APR for up to 72 months depending on the model.
Chevrolet: The 2015 Camaro has a $1,500 rebate or 0% financing similar for many other Chevy models.
Chrysler: They have an all you can eat buffet of cash and incentives on many models and the 2016 Chrysler 300 have $1,500 rebates, plus regional customer bonus cash of $1,500. A Huge $5500 in regional IDL cash is available towards a lease, but it must be through an alternative leasing company, not through Chrysler Capital. That requirement was puzzling to us. They are also offering 0% financing for up to 48 months. The 2015 Chrysler Town and Country minivans offer a $2,000 cash rebate or 0% financing.
Dodge: There are a few different incentives; the 2015 Dodge Charger has $1,500 in cash rebates, plus an additional regional rebate of $1,000 in some regional areas where sales are soft.
Ford: According to TrueCar, Ford is offering qualified buyers 0% APR for up to 72 months on certain 2015 and 2016 models or 0% APR for up to 60 months with $1,000 holiday bonus cash, plus no payments for 90 days. This differs from what Edmunds shows, so you'll need to confirm with your local dealer as to what incentives are in place. For cash rebates they are offering up to $1,000 in owner loyalty and competitive bonus programs, as well as military and NAPO law enforcement appreciation discounts.
Honda: James Bragg from FightingChance.com also advised me that Honda's truck business is strong this month. The new 2016 Pilot has been around for months, and he has not heard a single below-invoice deal yet. He is advising that buyers should probably wait another 2 or 3 months. Before buying a new Honda, get the car pricing and market intelligence info package on your car from FightingChance.
The Honda Accord is their flagship car, the second bestselling midsize car in the market. But its sales were down 10.2% thru November. Honda is one of the few companies that use vehicle-specific dealer cash regularly. There's $1,500 dealer cash plus 0.9% to 1.9% financing on 2015 models, $500 plus the financing on 2016 Accords.
Honda Civic sales are up just 0.6%, but the 2016 Civic is a redesign and supply will trail demand for 2 or 3 months. There are probably still many 2015 models out there, and those will be a piece of cake to deal on. They've got $1,000 to $1,250 dealer cash, depending on the model, plus the new car loan financing.
Jeep: We spotted rebates up to $2,000 on the 2016 Jeep Renegade and 2016 Jeep Compass. For financing they are offering 0.9% APR up to 48 months. Remember don't borrow more than 48 months. Check for your favorite model.
Lexus: Like BMW, you won't see any cash from Lexus, but they are offering APRs as low as 0.9% for up to 36 months. For leases they are offering 36-month lease deals with complimentary first month payment and no security deposit on select Lexus models depending on your region.
Toyota: Toyota sales were up 4.7% through November. But sales of the number one midsize seller Toyota Camry were down 1.2%. The offers on the 2016 Camry models are a $1,250 rebate or a $1,000 rebate plus 0.0% to 2.9% financing. The 2015 Toyota 4Runner and the Highlander both have a military bonus of $1,000, but not for the rest of us.
The above list is just a tiny sampler of all the rebates out there, so do your homework using the resources we mentioned to find out if your car has a rebate. Also, as with all leases, you need to make sure they are not selling you the car at MSRP, you need to confirm they haggle down the Gross Cap Cost, which is your selling price, so that a lower selling price is entered onto the contract for the lease.
When they list full MSRP as the selling price on a lease, you'll pay the highest amount in monthly payment, don't fall for any Jedi mind tricks on this. But if the sales price is negotiated lower, your monthly payments will be lower.
Good luck out there, and be sure to report back here how well you did. I expect nothing less than greatness from all of you.

About The Author: Jeff Ostroff
A lifelong consumer advocate with over 20 years of unparalleled expertise, Jeff is the Founder, CEO and Editor-In-Chief of CarBuyingTips.com. As chief consumer advocate, he oversees a team of experts who cover all aspects of buying and selling new and used cars including leasing and financing.
For decades, Jeff has been the recognized authority on vehicle purchasing, sought out often by the media for his decades of experience and commentary, for live call-in business radio talk shows and is cited often by the press for his expertise in savvy car shopping methods and preventing consumer scams and online fraud. Jeff has been quoted in: CNN, MSNBC, Forbes, New York Times, Consumer Reports, Wall Street Journal and many more.
Jeff also has extensive experience and expertise in new car brokering and selling used cars for clients on eBay and Craigslist. Connect with Jeff via Email or on Twitter.