Lamborghini Aventador Roadster on South Beach

By Jeff Ostroff, Consumer Advocate, Editor-In-Chief
Published June 8, 2013
While enjoying the nightlife in Miami's South Beach district we happened upon a very rare site. Sparkling in the downpour of rain in the early evening our breath was taken away by a brand new white 2013 Lamborghini Aventador LP 700-4 Roadster. That's quite a mouthful to describe Lamborghini's latest model, introduced in 2011 as a top of the line replacement for the Murcielago, and one of the fastest production cars on earth. This model was introduced here in South Beach in January to huge fanfare, with a photo shoot on the Miami International Airport Runway.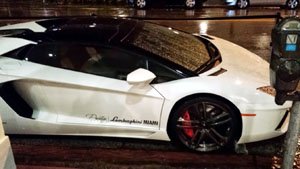 A car that will stop traffic
In Miami's South Beach, Lamborghinis are a dime a dozen, you'll see Murciealagos and Gallardos cruising the strip all the time. So what does another white Lambo mean to you and me? That's what my friends said. But I knew differently. What we stumbled upon was a rare diamond in the rough. This roadster is quite a site to see in person, these pictures I took do not do it justice at all, and you will gasp when you see one of these on the road, as I did.
One thing is for sure, as the owner of this hot car, you will turn heads wherever you go. The roadster has some differences in design that you don't see on the coupe, most noticeably the hood (or trunk, depending on how you look at it) has these 2 polygon shaped windows looking into the engine compartment. Also the removable 2 piece roof actually adds stability to the design, which is needed from all that torque produced by the V12 engine.
The business end of the Aventador Roadster
Standing next to this Aventador looking downward at those long dramatic sweeping lines of the hood from above, it invokes images of the Stealth Fighter. The shell of the Aventador is a carbon fiber monocoque with aluminum front and rear frames. It has a 7 speed 4-wheel drive transmission. The V-12 engine has a whopping 700 horsepower and about 500 lb-ft of torque which Lamborghini claims will go from 0 to 62 MPH in a lightning fast 3 seconds, with a top speed of 217 MPH.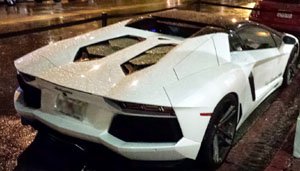 You had better have a lot of respect for this kind of power and torque. I've seen many YouTube videos of Lambo owners failing, spinning out, and crashing their car just by simply pulling away from the traffic light. It's hilarious to watch, but it's also a reminder of what happens when you mix inexperience, ego and lack of respect with power rarely seen in a car. Don't mess with the bull son, you'll get the horns. You sure don't want to end up in another YouTube Lamborghini crash video, with millions of viewers leaving comments on what an idiot you are.
How much for that little car in the window?
Now that you've decided to buy this Lamborghini, as I have without even taking a test drive, I bet you're wondering how much this little gem of a hot car costs. Why don't we just step into the finance office and crunch some numbers, I'm sure you'll be pleasantly surprised. Yeah, right.
The base coupe version of the Aventador sells for around $380,000 depending on where you get the pricing from. This LP 700-4 Roadster adds about $70,000 over the cost of the coupe version, bringing your total to around $440,000 based consensus pricing we have seen. I don't think that includes continental breakfast either, that's extra.
I doubt that any of our advice here on CarBuyingTips.com will help you get a discount on this car; they are sold out through the end of next year. Then again, if you can afford the price tag without asking "how much," you probably are not concerned with getting a discount. In fact for most people with the means to buy vehicles such as this, it seems paying more is a rite of passage, bragging rights for its owner at the watering holes along South Beach.
Expect to wait a long time to get one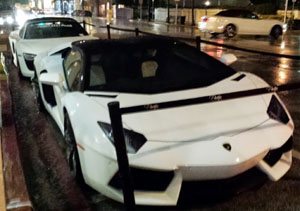 We hear the wait is about 18 months for this car. We don't know how many of these roadsters are going to be produced, but we do know that in 2011 they only produced about 500 total Aventador models. In 2012 they only produced a total of about 1,000, but how many of these units were the roadster model is not clear. What we do know is they are sold out for the foreseeable future. It's got to be a long hard wait in that line to get yours; I would be going out of my mind. I've got girls to impress!
Don't forget the taxes and fees
I hate to put a damper on your parade since I know all of you are rushing out to buy one tomorrow. We were so focused on that $440,000 price tag that I almost forgot to mention the Aventador only gets 11 MPG in the city and 18 MPG on the highway so you'll get smacked with the $3,700 gas-guzzler tax.
Then if that wasn't enough overhead for you, the 6% sales tax here in Florida will set you back another $26,400 too! Don't even get me started on insurance. By the time you add other options and fees from the car dealer, you'll be looking at about $500,000 to drive this bull home.

About The Author: Jeff Ostroff
A lifelong consumer advocate with over 20 years of unparalleled expertise, Jeff is the Founder, CEO and Editor-In-Chief of CarBuyingTips.com. As chief consumer advocate, he oversees a team of experts who cover all aspects of buying and selling new and used cars including leasing and financing.
For decades, Jeff has been the recognized authority on vehicle purchasing, sought out often by the media for his decades of experience and commentary, for live call-in business radio talk shows and is cited often by the press for his expertise in savvy car shopping methods and preventing consumer scams and online fraud. Jeff has been quoted in: CNN, MSNBC, Forbes, New York Times, Consumer Reports, Wall Street Journal and many more.
Jeff also has extensive experience and expertise in new car brokering and selling used cars for clients on eBay and Craigslist. Connect with Jeff via Email or on Twitter.