Jaguar Announces F-PACE First Edition SUV
Yesterday, at the 2015 Frankfurt Motor Show, Jaguar Land Rover officially announced a special edition of its first SUV ever. It will be called the Jaguar F-PACE First Edition, created after much demand from their consumers.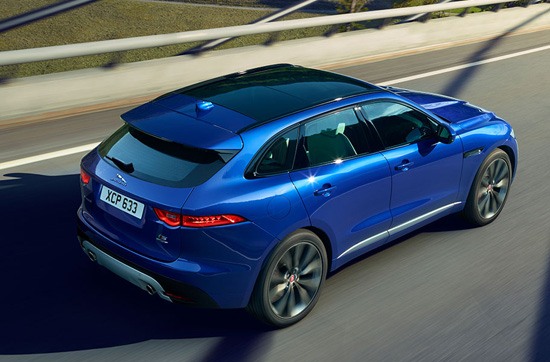 This First Edition model is an exclusive special edition version of the new F-PACE crossover. It has specially chosen options and is limited to just 2,000 vehicles globally, which will probably sell out pretty quickly. There are of course, other trim levels of this model, but this is their top of the line dream machine.
The F-PACE looks more on the sportier side, with a bulge on the front hood and the obvious rear haunches that we normally see on sports cars. It also has a rear window spoiler like we see on the Lexus RX350 SUV.
Jaguar customers had been begging for a new SUV for years
Gerd Mauser, Chief Marketing Officer for Jaguar Land Rover, stated: "Two years ago, Jaguar revealed the C-X17 right here in Frankfurt. Since that time we have been inundated with people asking us to make it and it was this growing interest that inspired us to create the F-PACE First Edition - a Special Edition to celebrate the C-X17 concept.
So this is living proof that the Jaguar F-PACE Crossover First Edition is based on the C-X17. This is the new top of the line model of the F-PACE series, with the best and favorite technology options that were hand-picked by Jaguar's design engineers.
Some options in the top of the line limited F-PACE First Edition model:
Wi-Fi hotspot allowing eight devices to connect at once
Special 22-inch Double Helix Alloy Wheels
Adaptive Dynamics performance technology
Houndstooth embossed Windsor Leather Sports seats
Infotainment system - InControl Touch Pro
Contemporary graphics
10" tablet style touch screen
Numerous apps for the touch screen
Heads Up Display and Activity Key
Red brake calipers
LED headlights, LED 'J' blade Daytime Running Lights (DRL)
Sliding panoramic roof (love this!)
Illuminated metal tread plates
Configurable interior mood
We really like the stunning Caesium Blue color of the F-PACE seen in the photos here. I can tell you my daughters would want me to buy this car just based on the Wi-FI hot spot feature alone. Who cares about anything else?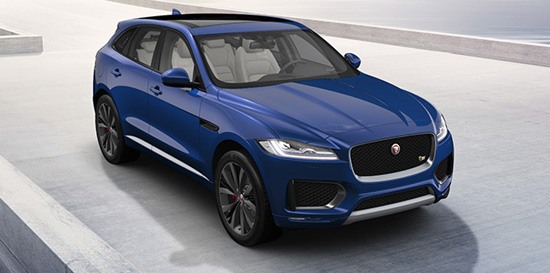 I must admit though, I wonder what the folks at Jaguar's sister company Land Rover must think about this, since Land Rover is the SUV manufacturer, while Jaguar has always made just cars until now. Is there going to be warring of the sibling tribes? Remember, Tata owns both Jaguar and Land Rover under an umbrella. Maybe Jaguar hopes to fill a void not quite filled by Land Rover at this time.
Engines in the new Jaguar F-PACE Crossover SUV
The F-PACE First Edition sports a 3.0-litre V6 300PS Diesel or the 3.0-liter V6 380PS Supercharged gas engines, both with 8-speed automatic transmissions and All-Wheel Drive.
This is an "aluminum-intensive" Jaguar which will be manufactured in Solihull, UK, and will be available in the spring of 2016. We are starting to see other vehicles debut in aluminum now that the Ford F-150 pickup truck has tested those waters and proven they can make an aluminum vehicle sell like hot cakes.
I'm sure Jaguar will find plenty of driveways to park this new SUV in.

About The Author: Jeff Ostroff is a consumer advocate, Founding Editor and CEO of CarBuyingTips.com overseeing a team of expert authors. For over 17 years, he's been the recognized authority on car buying, leasing, used cars and financing. He developed sophisticated spreadsheet tools to help consumers negotiate on a level playing field. He is a widely sought out guru, cited by the press for his expertise in savvy car buying and preventing consumer scams. Jeff has been quoted in CNN, Bloomberg, MSNBC, Wall street Journal, Consumer Reports, NY Times, Reader's Digest, and many live call in radio shows. He has covered the automotive space since 1997. Jeff also has extensive experience and expertise in selling used cars for clients on eBay and Craigslist. Connect with Jeff via Email, Twitter or on Google+.