Infiniti IPL G37 Chrome Wrap is Turning Heads

By Jeff Ostroff, Consumer Advocate, Editor-In-Chief
Published May 27, 2013
We noticed this one of a kind Chrome Infiniti G37 proudly sitting front and center at our local Infiniti dealer that is turning heads, and causing passersby to get out of their cars for a look. This beautiful car invokes images of the Silver Surfer or even from Terminator 2 when the terminator would morph into that liquid chrome and you can see the scenery around him reflecting off the metal. It's a breathtaking site to see all the cars around it reflect off this smooth mirror coating that looks like something out of the comic books. So what is the story behind this hot new car and what is the paint technology behind this awesome mirror look?
The story on this Silver Surfer car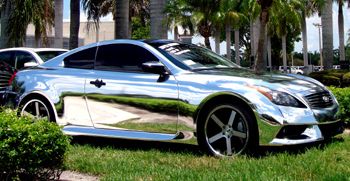 So what's the deal with this car? It is produced by the Infiniti Performance Line, or IPL, which burst on the scene back in 2010. This particular gem is simply referred to on the window sticker as the 2013 IPL G Coupe, based on the stunning G37 model has a window sticker price of $53,835, including the $900 destination charge. This car is supposed to compete with model lines such as the Mercedes AMG series, the BMW M series and the Lexus F Series. It also has a few luxury features and logos not found on the regular Infiniti models.
This IPL comes with a rear view monitor, LED tail lights, and a USB interface for Apple iPod, iPhone, cell phones and other tablet devices. It also has a 7 speed automatic transmission with magnesium paddle shifters, similar to the shifters used by Ferrari. The interior is Graphite, with red IPL trim thread on the leather seats. The car was shipped as a Malbec Black exterior color, but you can see the dealer had something very rare and chrome added to the exterior that will have you "reflecting" on how they did it, and they added a supercharger to the engine, all of this increases the price an additional $32,000 to a whopping $85,734, putting it just out of reach to most of us middle class common folk.
Horse power or horse pucky?
Talk about a powerhouse, this one comes with a custom IPL-Tuned 3.7 LTR DOHC 24 Valve VVEL V6 engine. The stock IPL-tuned engine normally shipped with this car typically has 348 horsepower, but the dealership had some local wow factor customization added to this car and is claiming over 500 HP with the after market Stillen Super Charger that they had commissioned to bump up the performance.
However, keep in mind that over the decades manufacturers and dealers have misled us about horsepower. Just like with motorcycles, when they claim 500 horsepower, you don't really get 500 horsepower, like a gallon of paint never really covers 250 sq. feet, and smart phone batteries don't last 18 hours. In the game of specsmanship, there is horsepower at the engine which is greatly reduced to horsepower that you actually get where the rubber meets the road, usually called "horsepower at the wheels."
On the windshield is a Dyno chart printout of the power curves as measured by the company who installed the supercharger, and it shows the actual horsepower at the wheels to be about 400 HP maximum. But of course the dealer has huge letters on the windshield bragging about 500 HP. The rear wheel drive gives you 276 lb-ft of torque, but the super charger adds about 15 extra lb-ft of torque some to this equation, bringing you up to about 292.
Other features of this Chrome Infiniti IPL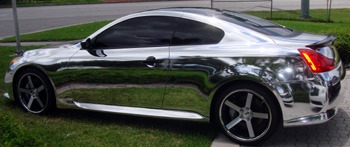 Standard in this series is the Custom IPL-tuned suspension.Just as the IPL is more car than a standard G37, this particular one of kind after market customized vehicle is more than a standard IPL. It also has a high flow dual exhaust with chrome finishers. There is also the chrome front grill and aluminum kick plate aerodynamic effects package.
How did they do that chrome paint?
Now here is the surprising part about the paint job on this car: We thought it was some high end custom paint job on this Silver Surfer, using some new esoteric paint which no one has ever seen before. You'll be surprised to learn that the chrome wrap on this car is a vinyl film made by 3M. Standing in front of it, you cannot tell, it looks like a high end paint job. What is awesome about this product is that it allows for 100% reversibility. You can change the color of your vehicle simply by having the vinyl removed and wrapped with a new color. There is a 3 year manufacturer warranty from 3M for any failure of the vinyl.
Is the chrome and supercharger upgrade worth the extra $32,000?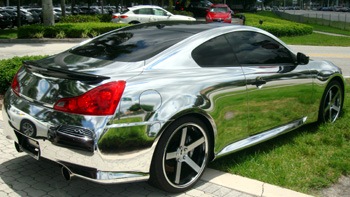 I set out to perform my standard CarBuyingTips.com analysis to determine how much this custom chrome and supercharger kit should add to the price of the car. I looked at the Stillen web site and the supercharger for an Infiniti G37 is only about $6,500. I figure maybe $1,000 at most for the install of the Stillen. The guys at Superior Auto Design who added the chrome wrap onto this car tell me it costs $7,000, still much less than a $15,000 to $20,000 paint job. After that add the luxury wheel hubs, the XOs are about $500 each online so add $2,000 at the most. So my estimate of the value of the addendum that Infiniti is charging for all these high end extras over and above the IPL pricing is about $15,000 at the most.
Well, you know car dealers; they do like to charge quite a bit of profit on some of their extras. According to my estimates, the dealer more than doubled the price of my total costs for these extras. Also you can add some hyped value to this head-turner of a new car, because it is the only one like this in North America at the moment.
So why isn't the car sold yet?
Infiniti has been sitting on this hot car since January, still unsold. This tells me the potential buyers this car is targeted for are buying elsewhere, or like me, did the analysis and have a hard time justifying the steep cost addendum on this car. An awesome car like this should normally have huge waiting lists, like the new Corvette, or just about every Ferrari model.The Corvette has 455 HP and a gigantic 460 lb-ft of torque and the Stingray is an awesome car selling for only $52,000 so maybe buyers are looking in that direction instead to get bang for the buck.
In fact, analysts in the past have stated that the IPL series standard horsepower and torque levels are such a small increment over the standard G37, they wonder whether an IPL version is worth spending all the extra money. Then you add $32,000 in extras on top, making a tough sell for the dealer.
I will say this much: I could stand in front of this car staring all day long. In fact while I was there shooting these photos, almost a dozen other people showed up to take pictures of it as well. Its a real show stopper along the main road, with cars pulling over, and people getting out drooling at the site of this gorgeous car, and you would do the same. Happy car buying!

About The Author: Jeff Ostroff
A lifelong consumer advocate with over 20 years of unparalleled expertise, Jeff is the Founder, CEO and Editor-In-Chief of CarBuyingTips.com. As chief consumer advocate, he oversees a team of experts who cover all aspects of buying and selling new and used cars including leasing and financing.
For decades, Jeff has been the recognized authority on vehicle purchasing, sought out often by the media for his decades of experience and commentary, for live call-in business radio talk shows and is cited often by the press for his expertise in savvy car shopping methods and preventing consumer scams and online fraud. Jeff has been quoted in: CNN, MSNBC, Forbes, New York Times, Consumer Reports, Wall Street Journal and many more.
Jeff also has extensive experience and expertise in new car brokering and selling used cars for clients on eBay and Craigslist. Connect with Jeff via Email or on Twitter.