How to Tell if a Car Title is Clean or has Liens

By Jeff Ostroff, Consumer Advocate, Editor-In-Chief
Published October 1, 2013
Many people in the process of buying a used car become anxious when it comes to the paperwork and dealing with the vehicle title. They are often concerned about whether there are any unpaid loans or liens on the car. The cautious buyer educated by us here at CarBuyingTips.com knows to check for these issues. But how do you tell if you have a clean title? How can you be completely confident you won't get scammed?
What is the Difference Between a Car Title and a Car Registration?
People often get confused about the difference between a car title and a car registration. A car title deals with the ownership aspect of your car and tells the state who the owner is and what liens are on the vehicle, just like a warranty deed or mortgage filing with your county for your home. A car title looks like a warranty certificate. But your vehicle registration on the other hand is linked with the license plates on your car. The registration provides revenue for your state and a valid non-expired plate is evidence that you are current on your registration fees. These fees are usually collected and managed by your state DMV (Division of Motor Vehicles) or tax collector.
Your registration card shows the unique 17 digit VIN# of your car, along with the license plate number. Your title also shows the VIN, but is unrelated to your license plates, since it deals only with ownership of the vehicle. So your title typically will not contain your license plate number. It's a good idea to keep your vehicle title stored away in a safe spot where you can find it quickly when you sell your car. Your vehicle registration should be kept in the car at all times in the glove box. You can bet that you cannot sell your car with just the registration card; you must assume that you need to have possession of the title to transfer ownership.
A Used Car History Report can Answer Many Questions
A used car history report can uncover liens as well as many other problems that a car might have. Is the car you are looking at a lemon? Has it been flooded, in an accident, or worse, totaled and salvaged? Has the odometer been rolled back? If you are considering buying a used car we very seriously recommend that you have a certified mechanic inspect the car on a lift and purchase a Vehicle History Report.
There are millions of car wrecks every year. We get emails all the time where our visitors have found "certified" cars that have been in accidents or have other serious issues. Be careful and protect yourself from the bad ones out there, and good luck finding the right car for you!

Don't Lien on Me
When you buy a new or used car from a dealer and finance it, the dealer informs the state about it and your lender becomes what is known as a Lienholder. The word lien has a meaning of restraint or bond as in bond servant. This means a lender has your ownership tied up using the vehicle as collateral. You still own the car, your name is on the title, but you sort of don't quite own it yet. This is the mechanism that a lender uses to hold your car hostage until you pay off the loan, preventing you from legally selling it.
Of course some unscrupulous sellers, unable to pay off their loan, try to sell their car anyway, promising you the title is on the way, when it really isn't. Now you can be in trouble, trying to transfer ownership into your name without the title. The DMV will be like a brick wall.
To show that there is indeed a lien on the title and that you owe the lender money, the title will have either one or two lines for Lienholder #1 and for Lienholder #2. Usually they keep the title until you pay off the loan, but there could be instances where you have the title in your possession. Sometimes there could be a second lender involved, or worse, maybe the IRS might slap a lien on your car until you pay your back taxes. We've even seen where repair shops put liens on vehicles after failing to be paid for repair bills.
All of these liens could theoretically prevent you from selling your car, although many vehicle auctions get away with stating the "title is in transit" when a car rolls up to the auction block. This causes some bidders to scatter. Unfortunately we hear from many of our visitors who bought used cars where their dealer promised them the title will be here any day, and months later they are still waiting. This is the risk you take when you buy a used car from a dealer and you don't confirm they have the title in hand first. If the dealer really does own that used car they should have the title, end of story, no excuses.
How Your Title Indicates if the Car Loan has been Paid Off
Typically, lenders don't keep a paper copy of your title on hand, they store it electronically. Then when you pay off the loan on your car, the lender has your title printed and you get it in the mail usually about a week later, signed or stamped to indicate the lien is satisfied. There are 2 examples below of vehicle titles where the loan was paid off.
This title below shows space on the front for 2 lienholders. The 1st lienholder was Motorola Credit Union and there was no 2nd lienholder, as indicated by the word none. When the loan was paid off, the credit union stamped on the front of the title "lien satisfied." They also signed the Lien Release section on the upper right and checked off the 1st lien box to indicate which lien was satisfied. A buyer of your car might still be a bit concerned because they still see someone listed as a lienholder on this title, but they can rest assured the title is clean.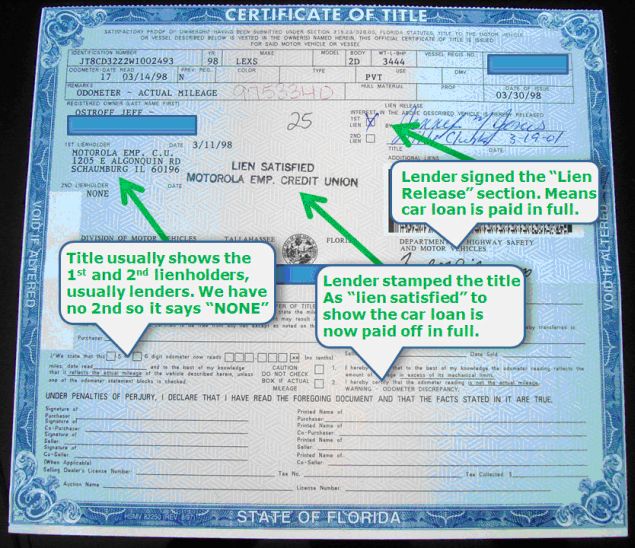 This example above means you now hold a clear title and can quickly and easily sell your car to a buyer. You can see on the bottom of the title where you would sign ownership over to the buyer and record the current mileage. They can then take this to the DMV and get a new title issued in their name. The buyer's newly issued title will be totally free and clear of liens and will indicate NONE for 1st lienholder.
Below is another example of a title with a satisfied lien. I prefer this type better than the first one above, because it seems cleaner to me with no ambiguity about whether or not there's any encumbrances on it. It actually shows "none" for first lienholder. There are no stamps or signatures, or any lienholders shown even if the loan was satisfied. So now there is nothing to cause conflict or concern in the mind of a buyer. It also indicates "previous electronic title" which is a good tell-tale sign that there had been a loan and thus a lienholder on this vehicle at one time.
How do I Check the Title of a Car Online with the DMV?
You might wonder how to confirm if there are any liens on the title before you buy a used car, particularly from a private person. Even though they show you a clean title. There could have been a mechanic's lien put on the car a few days ago from a repair shop. So is there a way to look it up online? Yes there is, most state DMV web sites have a title check feature. You can see below two examples where I ran one car on Florida's DMV web site and another on New York's DMV site. The Florida car title lookup shows the DMV confirming a clean title with the statement "there is no lien on this vehicle." It also shows the title is active, indicating that there's no issues or suspensions on it.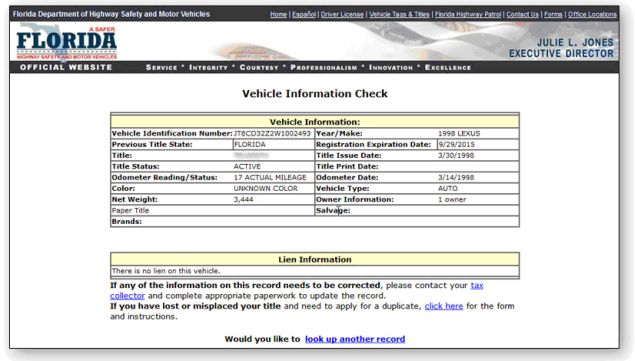 Now below look at what we see on the New York DMV site. They have a function called "Check the Status of a Title Certificate or Lien." Look at the title issue date; notice how it says "Title Not Yet Issued." This is because they are still waiting for the old loan to be paid off, get a clear title and then apply the new lender as 1st lienholder. This buyer is really mad right now because he has been waiting and nothing is getting done. You can see it shows the number of liens is one and it shows who the new lender will be. It's also "Pending," waiting for all the dust to settle.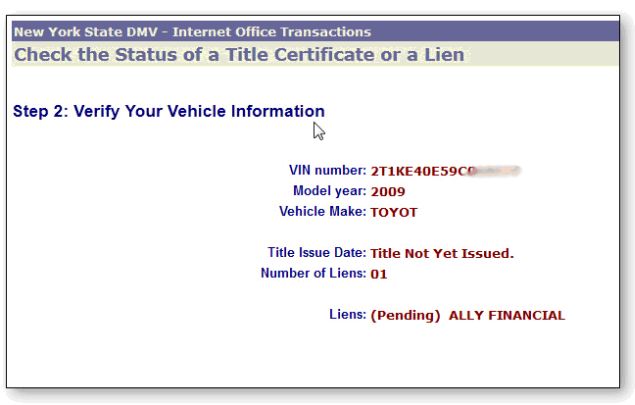 Get Lien and Other Information with a Vehicle History Report
Another great resource for up to date information about liens is to get an instant Vehicle History Report. You will find the most recent information about any liens. Most importantly, the report will include a lot of other information that you need to see before you buy any used car.
Now you are prepared to buy a used car with confidence. I recommend you take a few minutes on your state's DMV web site and quickly check the title to confirm the status of any liens before you buy. You can do it right there at the dealer or at the seller's house to keep them honest. All you need is the title number or the VIN#. Let us know how you did and as usual, contact us with any questions.

About The Author: Jeff Ostroff
A lifelong consumer advocate with over 20 years of unparalleled expertise, Jeff is the Founder, CEO and Editor-In-Chief of CarBuyingTips.com. As chief consumer advocate, he oversees a team of experts who cover all aspects of buying and selling new and used cars including leasing and financing.
For decades, Jeff has been the recognized authority on vehicle purchasing, sought out often by the media for his decades of experience and commentary, for live call-in business radio talk shows and is cited often by the press for his expertise in savvy car shopping methods and preventing consumer scams and online fraud. Jeff has been quoted in: CNN, MSNBC, Forbes, New York Times, Consumer Reports, Wall Street Journal and many more.
Jeff also has extensive experience and expertise in new car brokering and selling used cars for clients on eBay and Craigslist. Connect with Jeff via Email or on Twitter.