How to Decipher the TrueCar Curve

By Lyle Romer, Consumer Advocate
Published January 18, 2016
We have gotten several emails and comments from visitors that are having trouble understanding how to take advantage of the data on the TrueCar curve. The data that you can get off of this chart can be very valuable in planning your new car purchase and negotiating the price. The main thing that differentiates their data is that, in addition to MSRP and invoice price, you can also see what people in your area have actually paid recently.
Local Prices From Recent Sales
The data on the curve is customized for your local area based upon the zip code you enter. You will see the average price paid as well as individual prices paid. The curve is divided into sections for exceptional, great, good and above market prices. The screen shot below shows the curve for a 2016 Ford F-150.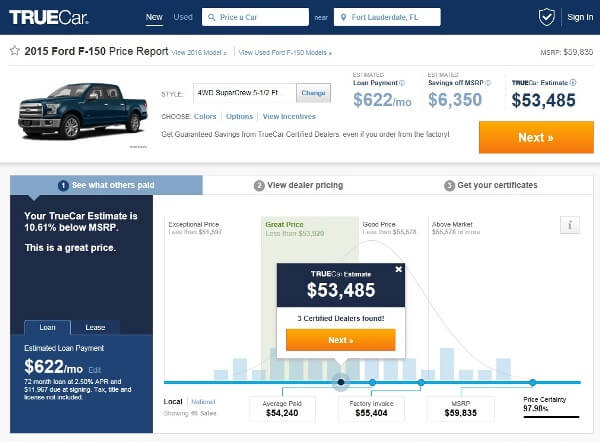 You will easily notice the main data points such as the MSRP, invoice price, average paid and TrueCar estimate. What you may not immediately notice is how you can see prices paid for individual deals. This data is contained in the light blue bars. The screen shot below shows what happens when you mouse over one of these bars (or click on a bar using a tablet). The bar will turn dark blue and the left side of the screen will give you more information.
Unfortunately, this does not work on a small screen smart phone so you will have to use a desktop, laptop or tablet to see this information. In this example, you can see that 2 people paid between $50,865 and $51,315 recently. These people and several others in the area got a great price.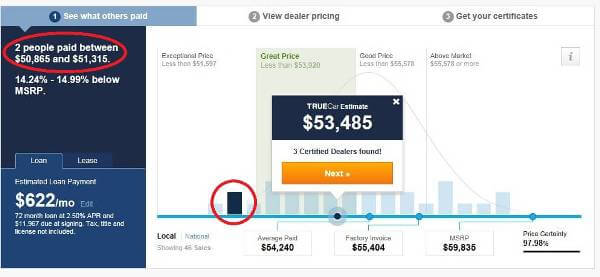 This information is very useful in your negotiations because you can see how low local dealers are willing to go. You should always start by using the TrueCar website to get a guaranteed price certificate. It may be a good enough price to start with so that you don't have to go through an uncomfortable negotiation.
There is more useful information on their website as well. Once you are looking at the TrueCar curve, you'll just need to scroll down a little bit. The next screen shot shows the price trend for your area. If it is going down, that is an advantage to you. Depending on how the last few months look, you might decide that you can save a bunch of money by waiting another month or two.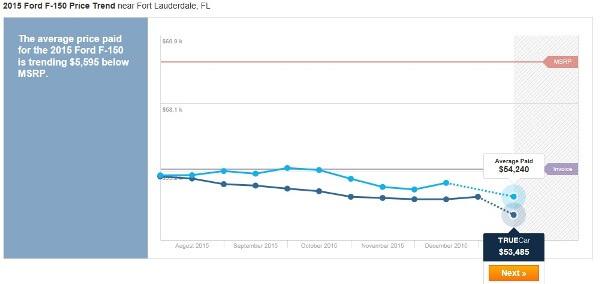 The last piece of information that I want to point out is the chart that breaks the price down into the base model, options, fees and incentives. This data helps you to understand how they arrive at the final price. You can see that percentage wise, the options are discounted more off of MSRP.
The one line you should pay attention to is the customer incentives. This money is "owed" to you and should not be considered part of negotiating on the part of the dealer. The dealer has nothing to do with the $1,000 in this example so that savings should be in addition to the price you negotiate.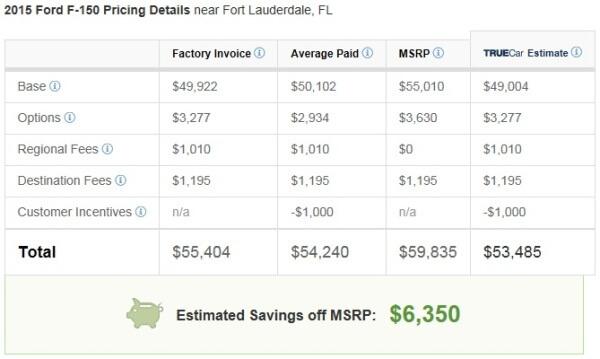 We always recommend getting multiple price quotes. In addition to TrueCar, you should use CarClearanceDeals and Edmunds to get more quotes and maximize your negotiating power.
If you follow our blog, you can probably predict how I will end it. Don't forget that the price is only one part of your new car deal. Make sure to read our new car buying guide so that you understand the whole deal. You don't want to negotiate a great price but then get taken on something else.

About The Author: Lyle Romer is a consumer advocate, Founding Contributor and Vice President of CarBuyingTips.com. A 20 years veteran of the auto industry with a high level of expertise, Lyle has been researching all aspects of the automotive sales industry.
Lyle's expertise and research played a vital role during the creation of CarBuyingTips.com in 1999 after years of industry research. He carefully observed every aspect of his own car buying experience as the internet began to take a foothold in the process. He also designed the site to make sure that consumers had easy access to the best consumer advocate education.
Lyle has been an auto industry insider since 1999. He also has worked with other automotive websites to help improve their offerings based upon feedback from CarBuyingTips.com users. He covers important industry events and gathers off the record sources while attending industry conventions.
Connect with the author via: Email