Herbie Volkswagen sells for $115,000 at Barrett-Jackson Auction

By Jeff Ostroff, Consumer Advocate, Editor-In-Chief
Published April 22, 2015
Sets world record for VW Beetle
Do you remember what this car is just by seeing the picture? If you saw that number 53 on the door of this VW Beetle and suddenly blurted out the word Herbie, then you are officially an old person! It's hard to believe that it was 1968 when we first saw Herbie, a 1963 Volkswagen Beetle with a mind of his own, starring in Disney's The Love Bug movie series.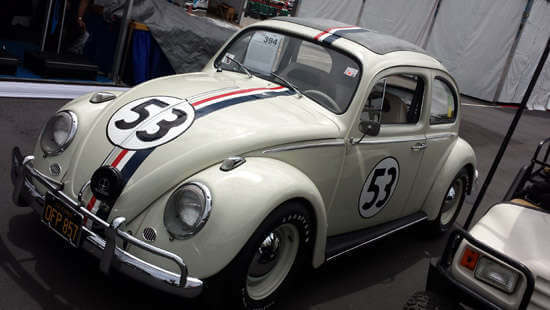 Hollywood magic was recreated right here in West Palm Beach, Florida on Saturday April 20, 2015, when the famous Herbie Volkswagen Beetle was auctioned off in a tense bidding war to the delight of an energized crowd, yours truly included.
Herbie went on to star in 6 total movies, ending with Lindsay Lohan in 2005 in the movie Herbie: Fully Loaded. This particular Herbie however was last used in the 1977 movie Herbie Goes to Monte Carlo, and was one of the few Herbie stunt cars used that could actually be driven, and it squirted oil too in that movie.
This car comes with a 1972 vehicle title listing "Walt Disney Productions" as the owner. It also comes with photos and previous owner history documentation.
Some photos of Herbie
I arrived the day before the Barrett-Jackson auction started, and the public was nowhere to be seen yet, so the auction grounds were pretty empty. I located Herbie under guard along auction lane and was able to get some exclusive shots below, showing Herbie both inside and out.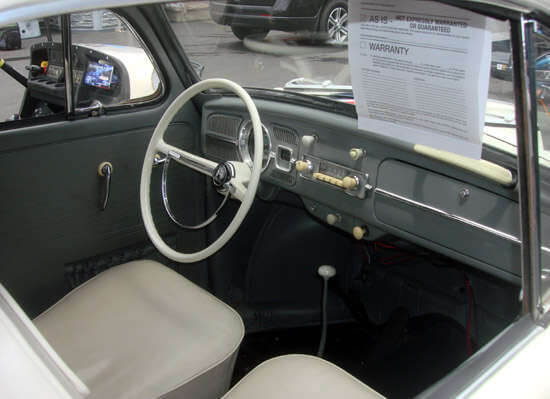 Moments later, they moved Herbie into the auction block bidder seating area, where they were dressing the room for the opening gala that night. Herbie was brought in as a centerpiece for the party, and elevated up on a lift to help set the mood for the collector car auctions starting the next day.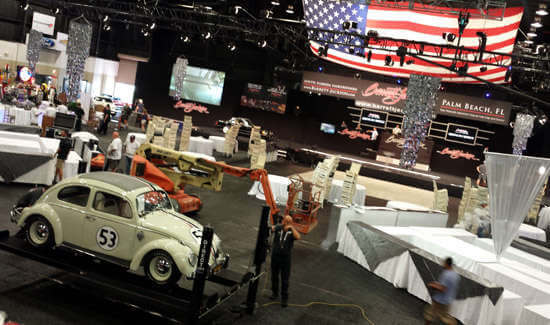 The little VW that could electrifies the Barrett-Jackson auction block
We know this 1963 Beetle as Herbie, but officially to the folks at Barrett-Jackson, he was known as "Lot #394 1963 Volkswagen Beatle Sunroof Custom." This car was also fully restored by a VW expert.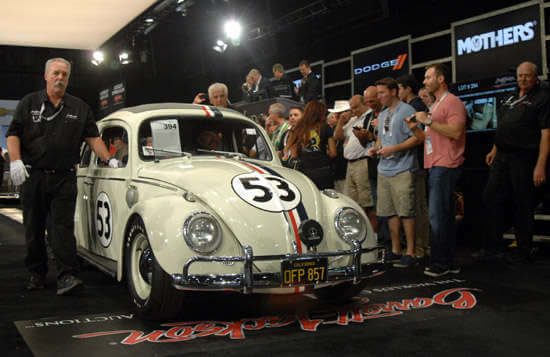 You could feel the thrill in the air as the entire auction block area was filled to capacity, crowds everywhere, not an empty seat anywhere and the ushers were struggling to get people to clear the walking paths so people could walk by. As soon as Herbie rolled up onto the auction block, everyone took notice, and the bidding started.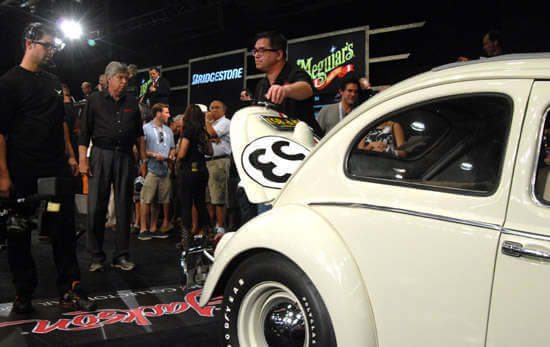 The bidding was fierce, taking barely 3 minutes to complete. We all know from the Disney Love Bug movies that Herbie can drive himself, and did he ever this past Saturday. Herbie drove himself right into the record books selling for an eye popping $115,000 to well-known millionaire car dealer and collector John Staluppi.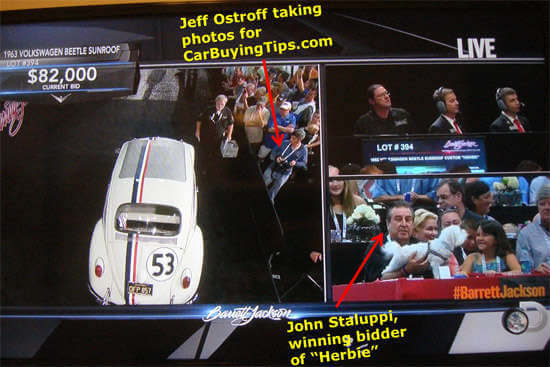 This set a new world record for the highest price paid for a Volkswagen Beetle
Barrett-Jackson charges buyer fees and seller fees of 10%, so they collected an additional 10% or $11,500, making Mr. Staluppi's final cost $126,500. This was not the only car he bought this weekend; he must have spent a million bucks while he was there. That's OK, he's not hurting.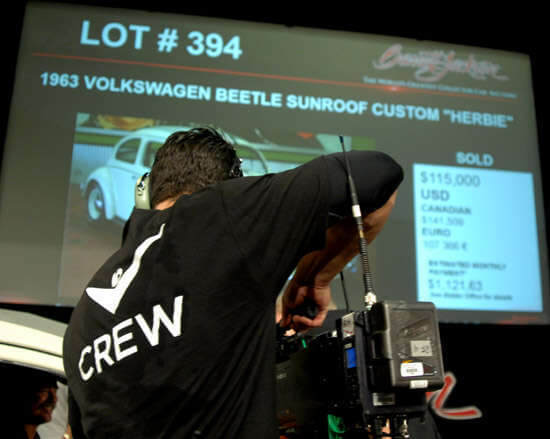 About Herbie's new owner
Staluppi began his career running a few Sunoco stations. He is now the President & CEO of Atlantic Auto Group in New York, which he founded in 1972. It is one of the largest dealership networks in the country.
Then in the early 1970's he took a chance on a small car company new to the United States, you might have heard of them, called Honda. He later took that same chance on another small company you might have heard of in your travels called Hyundai and the rest is history.
He also has owned numerous megayachts with James Bond movie names on them, like Thunderball and Octopussy and Diamonds Are Forever. He is a constant fixture at the Barrett-Jackson Auctions; they frequently show him on screen during the live coverage as he makes many high profile collectible car purchases to add to his collection.
Presumably Mr. Staluppi will store Herbie in his Cars of Dreams Museum, home of some highly prized and very rare collector cars located in North Palm beach, FL. It is a collection of cars that would make anyone drool, from Corvettes, to Firebirds, Trans Ams, Superbirds, muscle cars and older classic cars.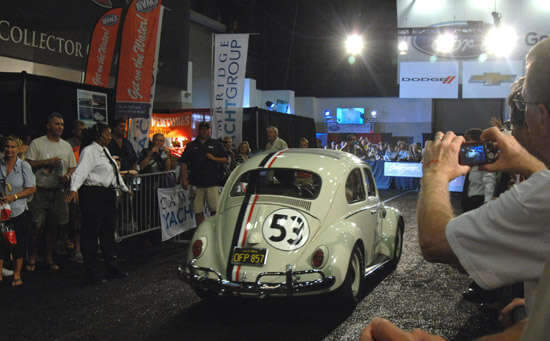 If he stores Herbie in the museum that would be just fine by us, since we are located not too far down the road here in Ft. Lauderdale. His museum even had the original TV series Batmobile in there.
So there goes Herbie, riding off into the sunset for his retirement in a new home for many more years, as a chapter closes in the continuing story for Volkswagen owners and fans everywhere.

About The Author: Jeff Ostroff
A lifelong consumer advocate with over 20 years of unparalleled expertise, Jeff is the Founder, CEO and Editor-In-Chief of CarBuyingTips.com. As chief consumer advocate, he oversees a team of experts who cover all aspects of buying and selling new and used cars including leasing and financing.
For decades, Jeff has been the recognized authority on vehicle purchasing, sought out often by the media for his decades of experience and commentary, for live call-in business radio talk shows and is cited often by the press for his expertise in savvy car shopping methods and preventing consumer scams and online fraud. Jeff has been quoted in: CNN, MSNBC, Forbes, New York Times, Consumer Reports, Wall Street Journal and many more.
Jeff also has extensive experience and expertise in new car brokering and selling used cars for clients on eBay and Craigslist. Connect with Jeff via Email or on Twitter.