Guide to the Barrett-Jackson Auctions for Bidders, Buyers and Visitors

By Jeff Ostroff, Consumer Advocate, Editor-In-Chief
Published April 17, 2014
We just returned from Barrett-Jackson's Palm Beach auction. They gave us one action packed weekend with plenty of excitement to go around.
This was their twelfth auto auction in Palm Beach, and set a record there for $25 million in sales of 509 vehicles.
This in-depth guide will help all you first time Barrett Jackson bidders, sellers, and public visitors make the most out of your experience, with advice that applies to all 4 of their auction locations.
You might be wondering, what's the big deal about this auction, and why should I go? Who is Barrett-Jackson anyway?
About Barrett-Jackson Collector Car Auctions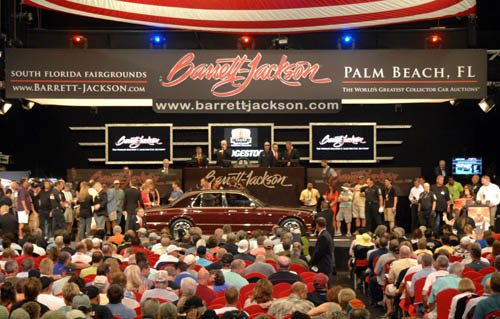 The company might be unknown to some of you, but it's well-known and respected in the automotive world, formed in 1971 in Scottsdale, AZ by Russ and Nellie Jackson, who were active in the Classic Car Club of America.
They teamed up with their friend Tom Barrett to auction off several classic collector cars and after the immediate success of their first auction, word spread and their events and reputation grew. They became known as the place to find the best and rarest vehicles.
Now in recent years, muscle cars have become a big percentage of the cars sold and what started out as a classic car auction has morphed into a blend of exotic racers, antiques, and one of a kind vehicles not seen anywhere outside this auction. This is what helps it draw 50,000 to 70,000 people when it rolls into town.
Craig Jackson is a son of the founders and is now CEO and he has grown the business to 4 locations including Palm Beach, Las Vegas and Reno-Tahoe in addition to Scottsdale.
One other auction company that is equally known is RM Auctions (Rob Myers), formed by 3 Canadian auto industry experts, who run very high end auctions all over the world. Their auctions often contain high profile cars like the one of a kind 1967 Lamborghini Marzal prototype that sold for a staggering $2 million.
Many of the cars which RM Auctions sells end up in private collections of some unbelievably wealthy international clients whose names are not revealed, and many end up in car museums. In 2011 they sold the famous 1970 Lancia Stratos HF Zero wedge shaped supercar for $1,086,361. That should give you an idea of the cars they sell.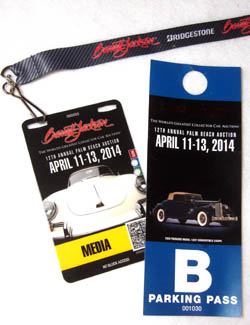 Barrett-Jackson has broken from the pack of other auctions since 2005, being the first to run "No Reserve" auctions, which has led to dramatically increased sales; serious bidders will not bid on a car with a reserve. If they do bid they give up early thinking they will not meet the seller's secret reserve price.
We have a lot of experience dealing with this issue of reserve pricing on eBay Motors where we have sold numerous cars over the years for our clients. The way it works is a seller is worried how little their car might sell for. So they set a reserve price, and if the bidding does not meet that minimum reserve price, the seller reserves the right to walk away without selling.
I can tell you personally, that most fixed price sellers and reserve sellers on eBay are asking too much, and I never bid on any item that has a reserve price. This is why Barrett-Jackson wants you to consign your car as no reserve, because let's face it, every car they drive over the auction block will sell. It's just a matter of how much, and bidders set that price, not sellers.
There will be a small number of vehicles listed at their auction that have a reserve, they allow a few reserve priced cars, with an increased 12% commission. The auctioneer announces that it has a reserve price and the word "Reserve" appears on the screen at the auction block.
Once bidding reaches the secret reserve price, the word drops off and now the car will sell. Your car must have a value of over $150,000 for them to allow a reserve price. They allow this on high value cars to prevent a $1 million car from selling for $20,000.
If you want to get pictures of cars in the tents, arrive early before the crowds, otherwise there's too many car admirers walking in front of you taking your photos. Or you can wait until after 5 PM, when the midway is deserted.
How they get paid
Barrett-Jackson earns their money via an 8% seller's premium charged to the seller (consignor) when their car is sold. They also collect a 10% bidder's premium from the buyer once the car sells and 15% on automobilia sales. There are also ticket sales for the public to enter the fairgrounds, merchandising, food, advertisers and more.
If you are a regular person who paid admission to the auction, you are not getting a seat you can only stand off to the side of the auction area roped off from bidders who have reserved seats. The picnic area on the midway has some seating and a giant screen showing live auctions.
Tips for bidders at Barrett Jackson
If you want to bid on a car you have to be registered as a buyer first with some financial requirements attached. Also keep in mind while bidding, your 10% buyer's premium on top of your final bid. Do not overstretch your budgeted bid, know when to walk away.
To sign up as a bidder in Palm Beach for example, you pay $200 to register. If you pay before one month from the auction, they discount it to $150. They want copies of your driver's license and proof of insurance and a recent photo to put on your bidder's paddle. You are responsible for how your bidder's paddle is used so the contract states if someone uses it to bid without your knowledge on a $300,000 Lamborghini, congratulations on your purchase!
Any additional guests you bring are $100 each and must be registered, everyone must be named and credentialed, in order to get seats reserved on the bidding floor. VIP bidders can get the elevated "sky boxes," a glorified raised platform with tables, and servers get you food and drinks.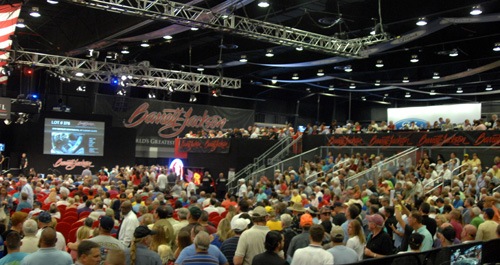 Then you have financial requirements to be able to bid. These folks are smart and there's a lot of losers out there who will get buyer's remorse and try to pull a fast one by leaving without paying. You have to give a guarantee that you'll pay, one method is to put up a "Bid Limit Deposit" of $9,000 via cash or certified check, (no personal checks), representing a $90,000 minimum bid limit. This is like paying 10% of the bond to bail someone out of jail.
A bank letter of guarantee, or a wire guarantee are other methods of payment, issued on bank letterhead stating that the bank will guarantee a check written by you, stating your account number and the dollar value of the guarantee. The letter must also state that no stop payments will be issued. The bank will state the guarantee is to be used for the Barrett-Jackson auction on the date of the auction.
All the above payment methods are standard practice for many auctions. It's the best way to make certain a bidder pays.
You can also arrange to be pre-approved through Barrett-Jackson's recommended finance company. As the cars are auctioned off in the sales area, the jumbo screens show you the selling price, and what your monthly payment would be, updated as the price bids higher.
If you default as a bid limit bidder and don't go through with the transaction, you lose your $9,000. Any other method, they take the money from your bank. Only an idiot would be this foolish. This is very serious business for serious buyers only, you bid, and if you win, you buy.
On top of that, if they have to come after you in court to complete the deal, you'll pay attorney's fees and even diminished value fees if they are forced to sell the vehicle at a lower price to another buyer.
You should be searching through Barrett-Jackson's online listings a month or 2 before the auction to see which cars you want. Then spend time on used car sites to get a feel for what sellers are asking and check for "Completed Items" on eBay Motors to see if there were any that sold recently.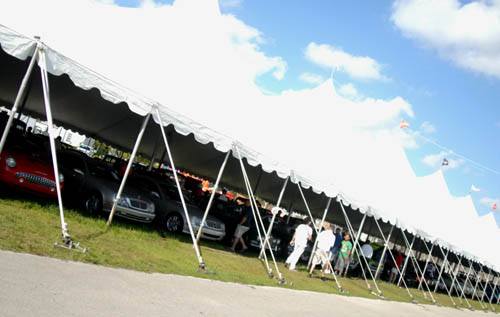 It's like Disney world, you need your strategy planned out ahead of time, and not the day you arrive. At Disney we book our restaurant reservations 2 weeks in advance.
Here are a few other points to keep in mind, the ugly side of auctions but as long as you hold up your end of the bargain you'll do just fine. We've warned auction buyers for years that you are buying the car "As Is" with no warranty, no recourse, nothing. Many extended warranties won't even cover old or customized cars like these anyway.
Also like many auction house contracts, this one very clearly states that Barrett-Jackson has no liability whatsoever; their job is merely to run the car through the auction and transfer the titles. They make no warranties of any kind, and can only tell you what the sellers tell them. It's very one-sided in that the contract says you can't sue them for anything, but they can sue you. Who said life was fair?
If there's any non-disclosed damage on the seller's part you have to sue the seller not the auction house. The contract states the issue is between you and the seller only. They wash their hands of the matter.
There was a case in 2012, Castle v. Barrett-Jackson, where a buyer bought a 1957 Thunderbird, found something he did not like and sued for fraud. He lost the suit and had to pay Barrett-Jackson's legal fees, court costs and attorney's fees. These payments are prescribed in the contract because the auctioneers don't make promises about the cars, they are just facilitating the sale. Regardless, he did not prove that he relied on any promises anyway. The house always wins.
Don't let all this scare you off though; more than 500 bidders buy a car at every Barrett-Jackson auction without incident.
The contract will practically blame you the bidder for everything that goes wrong. It's almost comical, the contract actually says that statements in any catalogs or advertisements pertaining to the sale of the car are provided by the seller, and they are not to be relied upon by you the buyer as fact!
That's a deeply hidden clause of monumental importance, because many people will treat the bidder's catalog as a bible and expect everything to be true. It states it is up to you conduct your own inspections on Preview Day and conduct all examinations necessary to satisfy yourself that the car is good before you bid.
That is pretty hard to do on a car you can't take out for a test drive. One thing that really puts us buyers at a disadvantage at auctions, is you can't put the car up on a lift or hook up computers to it. Maybe you can start the engine and check the fluids, and look for leaks.
Also cars older than 1981 have no VIN so you can't run a vehicle history report. Sometimes on cars after 1981 with a VIN, they will announce that a car has a good Carfax report.
So as a buyer you better be real knowledgeable, and equipped to deal with any issues. You have to be your own consumer advocate, judge, mechanic, and restoration expert all in one to make sure you're not buying a lemon.
Drill the seller with every question possible, have them start up the car, see how easy it starts and whether there is smoke. Check all the fluids and make sure they are good. Ask about maintenance records, prior accidents; get a list of what is not working.
Some cars for sale there are barely able to limp up to the auction block. We see cars all the time connected to chargers inside the staging lanes tent just outside the auction block, and many of these cars put out some real bad exhaust. You'll have to make sure the car can pass inspection in your state.
No one gets into the auction floor seating without credentials, and you cannot substitute anyone, they are real strict about this, everyone's name must match their credential. They will not let you into the seating area in front of the auction block without your bidder credential, also referred to as your bidder's paddle.
As a credentialed media person shooting pictures near the stage, I watch them turn away someone every 30 seconds all day. With your bidder paddle you can go up on the stage of the auction block to bid too.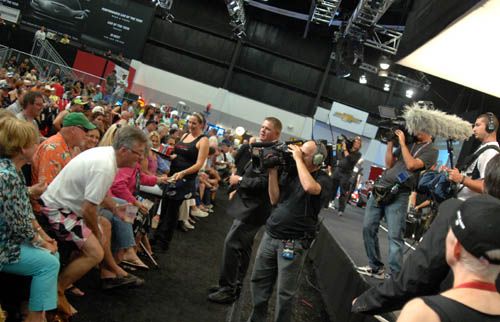 Don't be a foolish bidder
When bidding, don't jump all over the place showing your paddle. The best way to handle this is to let the "ringmen" or women, also called "Sales Assistants" do this for you. Funny how they call them ringmen it's like a 3 ring circus and some of them make the weirdest noises too when they yell to the auctioneer to up the bid. Beware of the beautiful women sales assistants, don't get caught up into bidding higher to show off to them.
Once sales assistants see you bidding, one will stay close by you. If you want to keep bidding, maintain eye contact, and give a gentle nod to up the bid, but wait until you think the gavel is about to crash down. Then pray nobody comes in after you before the hammer hits.
Don't get caught up in a bidding war, treat it like eBay, be patient and wait before submitting your bid until the bids have slowed to a stop. You might also wait until just about the end of the auction, which lasts about 3 minutes or so, maybe a bit longer if bids keep coming in, but it can't sit there all day collecting bids. They have to get through typically 500 cars in Palm Beach and 1,000 cars in Scottsdale.
This way you avoid a bidding war with little time left for one. On eBay I have won many auctions by not engaging other bidders, so the price stays low, then I come in with my sniped bid at the last few seconds where there's no time for bidders to react. On eBay Motors, the smart bidders do all their damage in the last 20 seconds of the auction.
What happens once you win the auction
Remember that financing stuff we went over earlier and you put down a deposit or a letter of guarantee? That sort of means you paid already. So when the gavel comes down on your auction, you are now the owner of that vehicle, you just need to sign the paperwork.
If you've ever watched the Barrett-Jackson auction on TV, you'll see one of the ring men comes over with a clipboard within 30 seconds of the bidder winning and makes them sign the paperwork. You have to go to the cashier in the auction office and settle everything and pay cash or write your check or wire funds by the end of the day.
Then they give you the keys and any other associated documentation from the property room. Don't forget your car has to be out of there in 3 days. You can use the on-site transport companies or have a deal prearranged through a transport broker. At Palm Beach we asked the on-site Canadian transport how much it would cost to transport to Quebec and he quoted $2,000.
If you want to sell your car at the auction
You can sign up your car for what the folks at Barrett-Jackson call consigning service where they list your car for sale at the auction and charge 8% commission plus an entry fee. You send them some photos and description of your car, and photocopies of your license and title. Then they assign you a salesperson who gets the ball rolling.
The earlier you sign up the better, because they also market your car on their web site for months leading up to the event, and so the maximum number of potential buyers will see your car listing on line. After the auction has ended, you get paid in about 3 to 4 weeks. This allows time for all the dust to settle, checks to clear the banks and Barrett-Jackson to complete the escrow.
It is up to you to get your own car to the site of the auction. They have a couple of recommended and trusted transport companies that can transport the car for you.
Preview day is when they recommend all sellers be present at your cars, because all the bidders are coming around to kick the tires. They will be asking questions, grilling you about everything and you'd better be able to answer.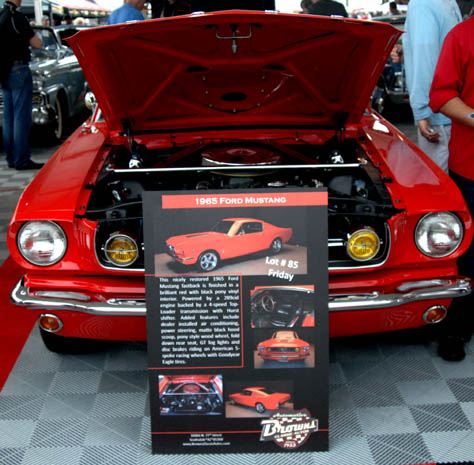 We suggest you have a handout sheet with photos of your car and all the details of it. If anything is damaged or not working, include it on a list of disclosure items. People will still buy your car, they need to know what issues they face.
Make a professional sign like the photo above shows, with your best selling points on it. Make sure your car is everything you say it is, and convey that message to buyers with something they can take with them or take a picture of.
We recommend filming a good high definition video inside and out of your car, post it on YouTube, and put the link to it on your handout sheet so bidders can look it over in their hotel room before coming back to bid on your car. Better still, get their email so you can send them your marketing sheets and links to your professional grade photos directly.
It's really a week-long auction extravaganza
The event is really much more than just an auction. It's a week long series of auto related activities blending cars, people, fun, and extravaganzas, culminating the week with the sale of hundreds of exotic, muscle cars, one of a kind and other custom automobiles from around the world.
Preview Day Thursday
In Palm Beach, which is only a 40 minute drive for us, the gig usually starts the Saturday before the actual auction with the Barrett-Jackson Cruise-In, where officials judge local vehicles of all types, with food and drinks at a local car dealer. Then Thursday before the auction is Preview Day, open to credentialed guests only, like those of us with media passes, the sellers, and the bidders.
It's a lot quieter and much more intimate, because there are usually less than 1,000 bidders, not all of them show up, and there's no general public allowed in on Preview Day.
There are several long tents setup on the fairground, each holding probably 100 cars. Every car has its own assigned preview spot and car card that gives the details about lot number and a description of the vehicle.
Then usually Thursday night is the Opening Night Gala, a big party held in the auction block room with special guests. For example one Gala in Palm Beach featured Soul Survivors, with a special appearance by Robert Van Winkle aka "Vanilla Ice," star of The Vanilla Ice Project on DIY Network.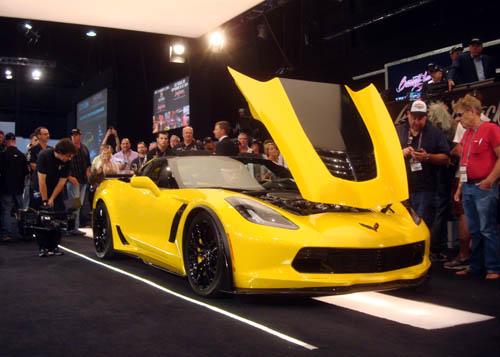 Thank God it's Friday
Friday arrives and we get busy. Remember in Scottsdale they have over 1,000 cars so they get busy earlier in the week; make sure you have a schedule of events, and pick up daily lot lists at the auction block. The auctions run all day up until about 9PM. Watch the schedule for the special lots for charity, like the first production 2015 Corvette that bid up to $1 million.
The charity auction vehicles are a great experience to see heated bidding wars. On the Daily Car list, they will appear at the top of the list, usually with a different lot number series, and their auction time will be mentioned and you don't want to miss them.
Charity cars are done at a specific time, so they stop the flow of cars momentarily and insert the charity car into the staging area lanes to get it up to the auction block by the appointed time.
Meanwhile outside, you'll want to take frequent breaks to get food, drinks, and peruse all the hundreds of cars on display in the tents. Don't forget to check out the auction office area where sometimes they have some "one of a kind" cars on display that are not for sale, but are really cool like the hidden gem known as the Pininfarina X single prototype that we saw, the only one in existence.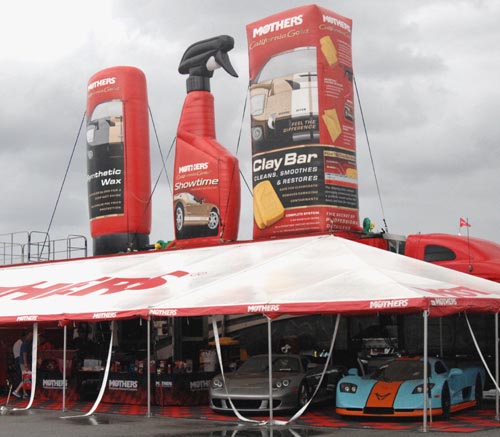 The vendors often bring rare cars with them to their huge booths. Meguiars had a Shelby Cobra and Mothers had a Porsche Carrera GT, (same model that actor Paul Walker died in), a customized McLaren race car and upgraded Corvettes. Meguiar's and Mothers both have really cool products there that you never see in the stores. This is a great time to pick some up of these hard to find items, as well as talk to their company experts about car care.
Be sure to also check out the Showcase Pavilion building, where the higher end ultra-expensive cars are kept prior to moving them to the auction block. The vendor pavilion inside the auction block building has high end exotics from local exotic auto stores and new cars from Ford and Chevrolet, Barrett Jackson merchandise, booths with all sorts of pop culture memorabilia for sale, jewelry watches, art and clothing. There's even a VIP Ladies Lounge.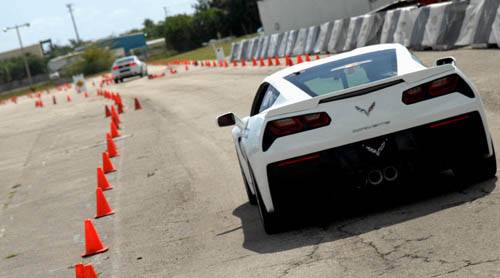 Other fun things to do are the Ford and GM Ride 'N Drive, and you can test drive many models. Forget about getting behind the wheel of a Corvette or a Mustang, or any car with power. They have professional drivers from the Ron Fellows Performance Driving School who drive you in the Corvette and Mustang at very high speed around a quick track.
The ride is over in 30 seconds and you have to test drive 2 or 3 lesser cars first before they take you out in a Corvette. The cool thing is when you get out of the car, there is a video of you in the car during the race around the track that you can get emailed to you.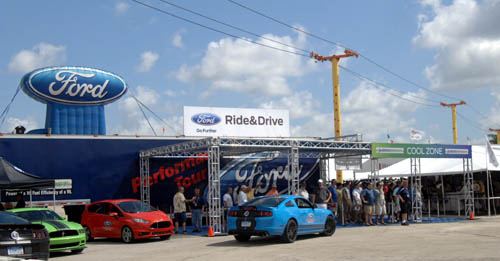 Saturday is the same as Friday but usually the most high profile cars are done late afternoon to early evening on Saturday. Make sure you set your DVRs to record the entire auction so you can check it out when you get home. Sunday also has the last of the cars and other automobilia auctions.
Our last bit of advice is don't go with anyone who will be bored with cars, because you will be there all day. So have a great time when you go and ask us any questions in the comments below.

About The Author: Jeff Ostroff
A lifelong consumer advocate with over 20 years of unparalleled expertise, Jeff is the Founder, CEO and Editor-In-Chief of CarBuyingTips.com. As chief consumer advocate, he oversees a team of experts who cover all aspects of buying and selling new and used cars including leasing and financing.
For decades, Jeff has been the recognized authority on vehicle purchasing, sought out often by the media for his decades of experience and commentary, for live call-in business radio talk shows and is cited often by the press for his expertise in savvy car shopping methods and preventing consumer scams and online fraud. Jeff has been quoted in: CNN, MSNBC, Forbes, New York Times, Consumer Reports, Wall Street Journal and many more.
Jeff also has extensive experience and expertise in new car brokering and selling used cars for clients on eBay and Craigslist. Connect with Jeff via Email or on Twitter.