Legal Action Against Dealers For Deceptive Advertising

By Jeff Ostroff, Consumer Advocate, Editor-In-Chief
Published January 22, 2014
Ten dealerships served with complaints for violating federal laws
Just days ago the Federal Trade Commission (FTC) announced a nationwide sweep against car dealers called Operation Steer Clear, to fight deceptive advertising from car dealers. There were some surprising major brand franchises charged, and many of the usual tricks were used in the deceptive ads. Here's what the FTC alleged.
The FTC alleged violations of the FTC Act, the Consumer Leasing Act (CLA), the Truth in Lending Act (TILA) and Regulation Z, which is a set of rules for car leasing. Most of the dealers violated more than one of the regulations.
Categories of the alleged FTC violations
Some of the dealers committed the same alleged violations as other dealers, and the deceptions fall into these 4 categories:
Deceptive ads stating we could buy new cars at low prices when, in fact, the price was $5,000 higher. Nice huh?
Advertising $0 up-front to lease a car, but ads left out many high lease fees (Violates the CLA & Reg Z.)
Stated you could finance with low monthly payments, but they were teaser rates leading to huge balloon payments
Some car dealers sent mailers deceptively claiming consumers won sweepstakes prize, when, in fact, no one had won
Item 3 above is really insulting, one dealer reeled you in with low monthly payments, but had a final balloon payment of $10,000. Seriously is this for real? Who does this anymore? Only someone with the highest amount of selfish greed would leave a buyer with a $10,000 balloon payment in the end, just to sell a car. There are plenty of honest car dealers out there, but there's enough bad apples spoiling it for everyone.
We endure a lot of criticism of our web site by industry insiders who claim the tricks that we reveal have not been done in years, and that we don't know what we're talking about. Salespeople whine and tell us we are just trying to scare people, but here we are in 2014, and the same old same old is still going on, as the FTC discovered. So the scams we mention are still going on. Did I mention the scams are against the law?
Big named franchised car dealers do it all the time. We can open up a newspaper any given Sunday and find scams all over the car dealer ads. They have been skirting the law for years. I'm not so sure the FTC is being as thorough here as it can be, because there's still a lot of deceptive advertising going on by many more than 10 dealers. They also need more powerful laws that have teeth.
In fact, we have been warning consumers here on CarBuyingTips.com for many years about these deceptive ads, and they are not going away. Dealers will always think of new ways around the FTC rules to mislead you.
You will never be able to buy a car at the price listed in any dealer's ad
We've been saying it for years, you're more likely to get struck by lightning, then drive off the dealer lot with a new car at the advertised price, and just try to prove us wrong. The bigger and bolder the text they use in their ad, the bolder the deception is.
As an example we found of deceptive advertising, look at this picture below from our guide on Misleading Car Dealer Ads: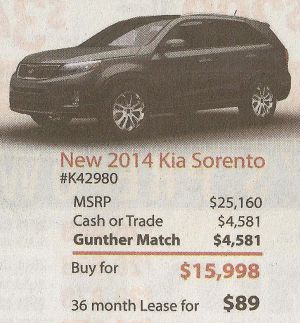 In the ad above which was the first ad that we saw and clipped out of our local newspaper on any given Sunday, there are actually multiple tricks going on. First, there is only one car at the dealership at this "low" price, as indicated by that stock # in the ad. So they are touting huge savings to hundreds of thousands of people reading that paper, but the savings is for only one car. You then head down to buy that car, that stock # you see in the ad. Gosh darn, wouldn't you know it, you we just sold that car an hour ago, you just missed it.
Then the dealer in the ad above makes their selling price look artificially lower, by assuming you have a $4581 trade in or a large cash down payment, which most people don't have. Their matching funds most likely are the rebate and factory to dealer marketing support cash to sell the car, according to the fine print at the bottom of the newspaper ad. Oh yeah, almost forgot, not responsible for typographical errors.

So you can see all we did was open the paper, and the first ad we looked at was deceptive, just like nearly all of the car dealers with their asterisks. Where would car dealers be without their asterisks?
So the FTC really has a lot more work to do. In a few months everyone will have forgotten about the 10 dealers with their slaps on the wrist, and the scams will keep on going. In my opinion, car dealers should not be allowed to use the "stock number" trick. If they have a car "on sale" at a lower price, let them clearly state it's only one car, with a link to the dealer's web site inventory page so you can verify if the car in the ad is still in stock.
The FTC should also eliminate the asterisk "*" and any other special characters used to redirect the consumer's attention, or use those symbols to change the meaning of a dealer's prices, claims and offers.
The administrative complaints that the FTC filed against the 10 dealers amount to basically a scare tactic letter that says something to the effect of "we know what you're up to, and you are not going to get away with it, and we are going to file formal charges against you in federal court for violations of this Act, and the other Act". All the dealers settled, because they know the FTC will file court charges.
The FTC did not specify what exactly the settlements were, but I'm sure it amounted to a slap on the wrist for all the people they scammed from 10 different car dealerships. Who knows how long they were doing it.
We don't want you to develop a false sense of warm and fuzzy security here thinking that the FTC got rid of all the bad apples, so now we are safe. All they did was make a public spectacle out of 10 dealers from around the country.
You think you are safe from deceptive advertisement? You are far from it folks. Also many suckers incorrectly think that the big name car dealers don't rip you off; they think it's only little sleazy buy here pay here lots on the bad side of town. Let's put any doubt on that subject to rest now, by taking a look at the list of the car brands which the FTC sent complaints to with this national sweep.
Major brand name car dealers who were part of the FTC complaint:
Infiniti
Ford
Honda
Nissan
Kia
The above list proves you are not safe anywhere from deceptive advertising or from anyone, and we have always told consumers for the most part to ignore car dealership advertisements and just deal sensibly with the dealers. Education is the best weapon against tactics like this, and this is how we have been leveling the playing field for you in the deceptive shell game of car buying. Read all of our guides and you'll be just fine.

About The Author: Jeff Ostroff
A lifelong consumer advocate with over 20 years of unparalleled expertise, Jeff is the Founder, CEO and Editor-In-Chief of CarBuyingTips.com. As chief consumer advocate, he oversees a team of experts who cover all aspects of buying and selling new and used cars including leasing and financing.
For decades, Jeff has been the recognized authority on vehicle purchasing, sought out often by the media for his decades of experience and commentary, for live call-in business radio talk shows and is cited often by the press for his expertise in savvy car shopping methods and preventing consumer scams and online fraud. Jeff has been quoted in: CNN, MSNBC, Forbes, New York Times, Consumer Reports, Wall Street Journal and many more.
Jeff also has extensive experience and expertise in new car brokering and selling used cars for clients on eBay and Craigslist. Connect with Jeff via Email or on Twitter.