First 2015 Chevrolet Camaro Z/28 Production Car Sells at Barrett-Jackson Auction for $500,000

By Jeff Ostroff, Consumer Advocate, Editor-In-Chief
Published April 12, 2014
The Barrett-Jackson auctions typically sell millions of dollars worth of cars when they roll into town. People will show up from all over the world, hoping to score a collectible car, or realize a dream from their youth.
It's good to see that Barrett-Jackson also provides the means to raise quite a bit of money for charities during these auctions, setting aside a few cars for this purpose. These are usually highly sought after cars too. We attended their 2014 Palm Beach Collector Car Auction today and they were raising funds with the very first production unit of the 2015 Chevrolet Camaro Z/28 2-door coupe.
GM had donated this special car, and who wouldn't want to get their hands on the very first production unit to roll off the line for the 2015 model year? GM is smart and they know it would raise a lot of money during this event. Maybe all car makers should take note of this and do the same with their first units off the assembly line.
The Camaro auction raised money for a good charity
Enter Lot #3002 at the predetermined time of 5:30 PM, a nice shiny black Camaro Z/28, VIN 0001. The normal auctions that were running through for the last 5 hours were put on hold momentarily as this car was brought up to the auction block.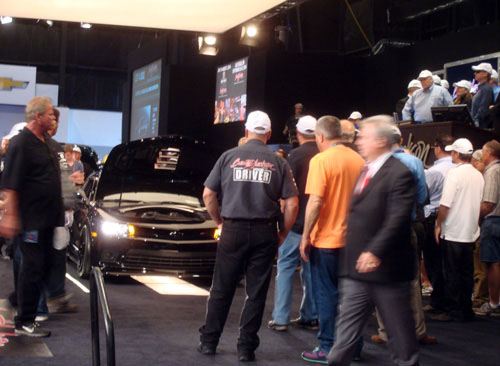 Where the funds raised were going
The auction for this Camaro was to benefit the AARP's Drive to End Hunger program. The bidding started off and moved up rapidly, the way I wish many of my eBay auctions would go, reaching over $100,000. There were a few pauses while the auctioneers mentioned some of the benefits of owning this serial number 1 vehicle. After that the bidding then started to pick up and intensify.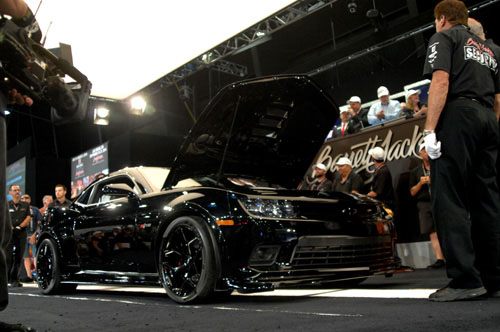 Let's sweeten the deal a bit shall we?
Then the auctioneers just happened to mention, by the way, the winner will get their car delivered by racing legend Jeff Gordon. Hey, see if he will take you on a wild test drive like he did with that "car salesman" in the Pepsi commercial. Now that would be a day to remember. I'd pay to see that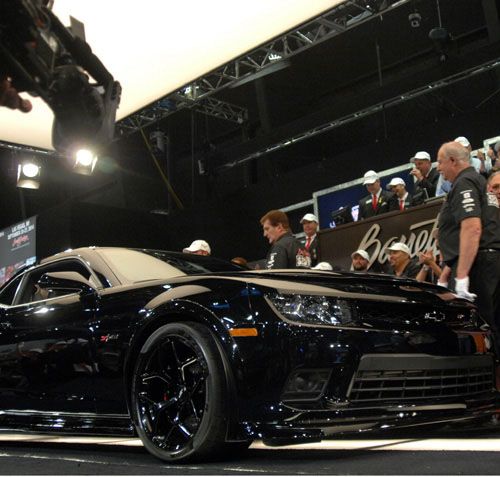 This is where being in the room at the auction block is much more powerful than watching it on TV, you feel the rush of the crowd. As the excitement built, the bidding really fired up.
This is a very powerful car. The new 2015 Camaro uses the same LS7 engine that's used in the Corvette Z06, so you know this is a power plant that rocks the house and dominates the streets.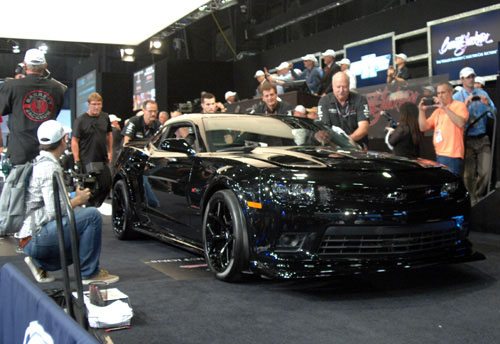 By time the hammer came down, the winning bid had shot up to $500,000 as you can see in the image below. Seeing in on DVR later was nothing compared to being there, standing right at the edge of the ramp on the auction block, watching the bidding unfold.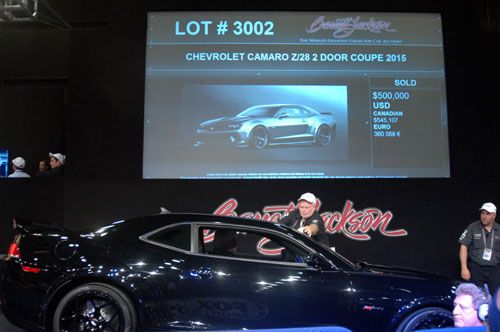 A bit about the charity who benefited by this auction
Many of you might not be aware that the over 50 age group in America has many people in this demographic struggling to put food on their table. I have seen this first hand myself. Many grandparents who are barely making it on a fixed income retirement can barely keep up and some end up with custody of their grandchildren, making finances even harder.
You might also be unaware that many elderly will not ask for help from their family because they are too proud, don't want to impose and came from a generation where were people didn't want to burden others with their problems. Many of them sit at home making do with little food and Social Security benefits in the $800 range that fail to cover expenses.
To address the issue of elderly poverty the AARP Foundation created Drive to End Hunger, a nationwide campaign to raise awareness and to raise money to address the problem of hunger among people over 50 years of age. They are developing solutions to the hunger problem in America.
Who says this needs to just be the work of GM or Barrett-Jackson or the AARP? Are you doing anything to help? Here's a useful tip for you, when you buy groceries and there's a buy one get one, give up all the free items to a local food pantry.
On day 2 of Barrett-Jackson's 2014 Palm Beach Auction they plan to do this all over again with the very first production 2015 Chevrolet Corvette Z06 2-door coupe, to be auctioned off late in the day. You know I'll be there for that one! Alas, not as a bidder, but as a salivating spectator taking photos and reporting.
Hey GM, any chance of me getting VIN #0002? Just thought I'd ask in case it wasn't already spoken for.

About The Author: Jeff Ostroff
A lifelong consumer advocate with over 20 years of unparalleled expertise, Jeff is the Founder, CEO and Editor-In-Chief of CarBuyingTips.com. As chief consumer advocate, he oversees a team of experts who cover all aspects of buying and selling new and used cars including leasing and financing.
For decades, Jeff has been the recognized authority on vehicle purchasing, sought out often by the media for his decades of experience and commentary, for live call-in business radio talk shows and is cited often by the press for his expertise in savvy car shopping methods and preventing consumer scams and online fraud. Jeff has been quoted in: CNN, MSNBC, Forbes, New York Times, Consumer Reports, Wall Street Journal and many more.
Jeff also has extensive experience and expertise in new car brokering and selling used cars for clients on eBay and Craigslist. Connect with Jeff via Email or on Twitter.