EPA expands VW DieselGate Probe, Accuses Porsche and Audi of Software Defeat Devices

By Jeff Ostroff, Consumer Advocate, Editor-In-Chief
Published November 2, 2015
Alleged models emit up to 9 times the EPA's standard for emissions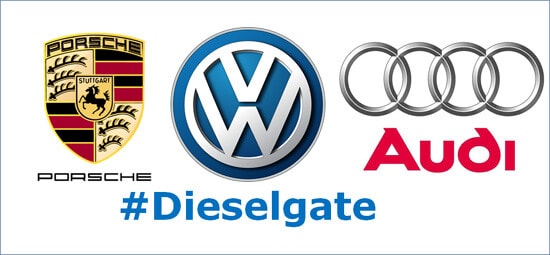 The saga continues in the Volkswagen Dieselgate scandal. The Environmental Protection Agency (EPA) issued a second notice of violation (NOV) of the Clean Air Act (CAA) to Volkswagen, expanding their emissions defeat device claims now to about 10,000 Porsche and Audi vehicles equipped with 3.0 liter engines for model years 2014 through 2016.
10,000 affected models included in the violation notice
Porsche and Audi are part of the Volkswagen Group. The EPA claims these models emit up to nine times the EPA's standard for emissions of nitrogen oxide. The 10,000 affected diesel models include:
2014 VW Touareg
2015 Porsche Cayenne
2016 Audi A6 Quattro, Audi A7 Quattro, A8, A8L and Q5
"VW has once again failed its obligation to comply with the law"
The EPA held nothing back against Volkswagen this time around, coming down hard on them with this scathing claim in their violation:
"VW has once again failed its obligation to comply with the law that protects clean air for all Americans," said Cynthia Giles, Assistant Administrator for the Office for EPA's Enforcement and Compliance Assurance. "All companies should be playing by the same rules. EPA, with our state, and federal partners, will continue to investigate these serious matters, to secure the benefits of the Clean Air Act, ensure a level playing field for responsible businesses, and to ensure consumers get the environmental performance they expect."
We're not taking it anymore!
It appears as though the EPA has a taken a fool me once shame on you, but fool me twice shame on me stance in this latest VW scandal. They claim just like the September 18 notice, that VW installed software in the electronic control module (ECM) of these vehicles that senses when the vehicle is being tested for compliance by the EPA. If the alleged code does exist, VW should have called their software "The cat's away the mice will play" app.
Vehicles which transform from Dr. Jeckyl to Mr. Hyde?
The EPA stated when the Porsche and Audi vehicles sense they are undergoing emissions testing procedures, the car operates in a low NOx "temperature conditioning" mode allowing the vehicle to meet emission standards. But, the EPA further claims that at exactly one second after the completion of the EPA test procedure, the vehicle immediately changes a number of parameters to increase NOx emissions and indicates in the software that it is transitioning to "normal mode."
NOx emissions allegedly increase up to 9 times the EPA standard
In this normal driving mode of operation, the emissions of NOx allegedly increase up to nine times the EPA standard, depending on the vehicle and type of driving conditions. In other tests where the vehicle does not detect the driving conditions similar to the EPA test procedure, the emissions are consistent with "normal mode."
The EPA claims VW's software has one or more Auxiliary Emission Control Devices (AECD) that the company failed to disclose, describe and justify in their applications for certificate of conformity for each model. Every manufacturer must apply to EPA for and be approved for a certificate of conformity for each model and each year otherwise it is illegal to sell these cars. An AECD designed to circumvent emissions test is a defeat device according to the EPA.
Porsche: "We are surprised to learn this information."
What do Porsche and Audi have to say about their vehicles called out in this latest Volkswagen scandal? Porsche released a deer in the headlights response to the EPA's notice of violation, saying "We are surprised to learn this information. Until this notice, all of our information was that the Porsche Cayenne Diesel is fully compliant."
That's a real Scobie Doo response from Porsche isn't it? I suspect they are just getting started at the EPA, and we are likely to see more VW Group models with alleged violations. Keep in mind that currently the spotlight of this Volkswagen scandal is squarely on VW, but the EPA also warned other auto makers recently that they will be retesting other cars, and who knows what they might dig up.
I think these recent NOVs are just the start of a prolonged indictment of the whole car industry. I also think that we are likely to find other cars from other car makers which are not diesel models that have also tried to play shell games with their vehicle emissions also. The saga continues.
Got an opinion on the VW Scandal? Leave us a comment below.

About The Author: Jeff Ostroff
A lifelong consumer advocate with over 20 years of unparalleled expertise, Jeff is the Founder, CEO and Editor-In-Chief of CarBuyingTips.com. As chief consumer advocate, he oversees a team of experts who cover all aspects of buying and selling new and used cars including leasing and financing.
For decades, Jeff has been the recognized authority on vehicle purchasing, sought out often by the media for his decades of experience and commentary, for live call-in business radio talk shows and is cited often by the press for his expertise in savvy car shopping methods and preventing consumer scams and online fraud. Jeff has been quoted in: CNN, MSNBC, Forbes, New York Times, Consumer Reports, Wall Street Journal and many more.
Jeff also has extensive experience and expertise in new car brokering and selling used cars for clients on eBay and Craigslist. Connect with Jeff via Email or on Twitter.