Don't Get Burned Buying the Hot Car
I'm sure you've dreamed of being seen around town in the new, hot car that everybody wants. You want your neighbors to notice you pulling into the driveway in a new vehicle that is hard to get. Imagine living the high life, having fun driving your dream car and bragging to everyone you know. One day you will realize that you could have saved a lot of money by waiting a little longer to buy.
Supply and Demand
When a car is highly desired and dealers are having a hard time keeping them on the lot, they will charge more for them. This practice is normal for any business or product. Since a car is such an expensive purchase, the effect on your wallet is huge.
In addition to the dealer being unwilling to negotiate and even charging over MSRP, you'll also start to see "market adjustments" being added to the price. These adjustments are just fancy ways of adding more to the cost that they hope you won't notice.
The next part of this blog can be thought of as a tale of two cars.
Example of Hot Car Pricing
Since we have data available from TrueCar, we can clearly illustrate what we are talking about. Even though we have chosen a 2016 Corvette Z06 for the example, this phenomenon is not limited to high end sports cars. A few years ago, people were paying ridiculous prices for the Honda Odyssey mini van of all things.
Take a look at this screen shot of the TrueCar Curve for the Corvette Z06. You can see that the average paid is $1,594 above the Factory Invoice. You will also notice that many deals were made above MSRP.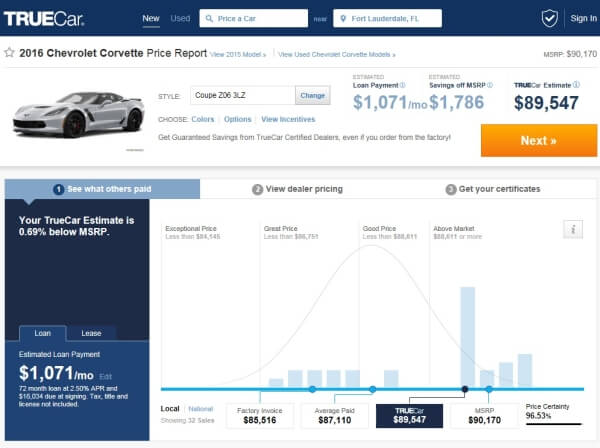 Example of Run of the Mill Car Pricing
The next TrueCar Curve we will look at is one generated for a 2015 Chevrolet Spark. I think we can all agree that this is definitely not what you would call a "hot" car; although it does have a decent ride and fits more cargo than you would expect.
Looking at the data, the average price paid is $292 below the Factory Invoice. Additionally, many deals were made significantly below invoice. I can't explain the select few people that paid above MSRP on the right side of the curve. Clearly, these are not CarBuyingTips.com readers!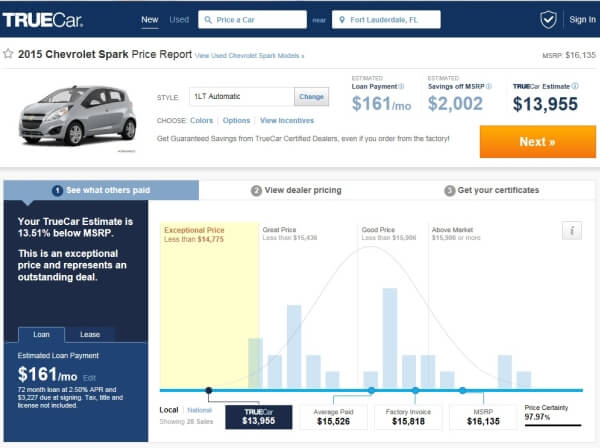 Savings Come to Those Who Wait
I understand that the two examples we looked at are for two very different cars in completely different price points. However, what you need focus on is what people are paying relative to the Factory Invoice and MSRP. Once you wait for the market to cool down on a hot car, you will be able to negotiate a much lower price. It is up to you to weigh the savings against the flash of cruising around town in a hot, new car.

About The Author: Lyle Romer is a consumer advocate, Founding Contributor and Vice President of CarBuyingTips.com. For over 17 years, he's been researching all aspects of the automotive sales industry. The findings of his research are incorporated into the main content on CarBuyingTips.com. He has been an auto industry insider since 1999. Lyle also has worked with other automotive websites to help improve their offerings based upon feedback from CarBuyingTips.com users. He can be found on Google+.