Clearing Up Option Price Confusion

By Lyle Romer, Consumer Advocate
Published March 10, 2016
After you decide on what car or truck you want to buy, the next step will be to figure out what options you want. Sometimes you will be shocked by the MSRP once you have added the options that you think you want. Option pricing is further confused by option packages and trim levels.
We have received emails from readers who asked us why option prices seem to be inconsistent between different vehicles of the same model. We will clear up the confusion so that you understand exactly what you are looking at and how the pricing is calculated.
Trim Levels and Option Packages
Key terms that you need to understand are trim levels and option packages. It can be confusing because they both involve options but they are different from each other.
Trim Levels
A trim level is a designation of a model which includes a set of options that are standard and included in the MSRP for that configuration. For example, the "Lariat" trim level of the Ford F-150 includes (in addition to other items):
2.7 Liter Ecoboost Engine
Leather Trimmed Seats
Heated and Cooled Driver and Passenger Seats
Dual Zone Automatic Temperature Control
Class 4 Trailer Hitch
I chose to just list a few items to give you an idea of what a trim level is. However, the trim level isn't the be all, end all for options. You can add more options on top of what the trim level includes as standard.
Before you start to think that this is getting too simple, the manufacturers like to throw in an extra challenge. Some options are only available with certain trim levels. For example, on a Ford F-150, you can not get the heated and cooled seats on the "XLT" or lower trim level. It's enough to give you a headache!
Option Packages
Option packages are groups of options that are combined and will cost less than if you added each included option individually. Normally, they are priced so that for just a little more than you would pay for some highly desirable options, you'll get a couple of extra options "thrown in." For example there may be a "comfort package" that includes dual zone climate control, heated and cooled seats, a moon roof, an upgraded audio system and a memory package for $5,995. If purchased separately, those options might add up to $7,495 or something similar.
Do not assume that the lower priced option packages are the best value. Sometimes there is so much included in a higher priced package that it would be a mistake not to upgrade.
Option Price Confusion
People who have emailed us have gotten confused when they are looking at a few vehicles of the same model and they see the same option with a different price on it. Their initial reaction is that it doesn't make any sense. They think that an option should cost the same no matter what specific vehicle the option is on.
While this seems to make sense, you have to understand that the option prices are based on the standard equipment for the trim level. If you are looking at two vehicles with different trim levels, the same option can have a different price.
Let's take a look at the example of the 5.0 Liter V-8 engine option on the Ford F-150. A reader was shopping and didn't understand why this option was listed at $800 on one window sticker and $1,595 on another. Here is the window sticker from an F-150 Lariat showing the $800 cost for this option: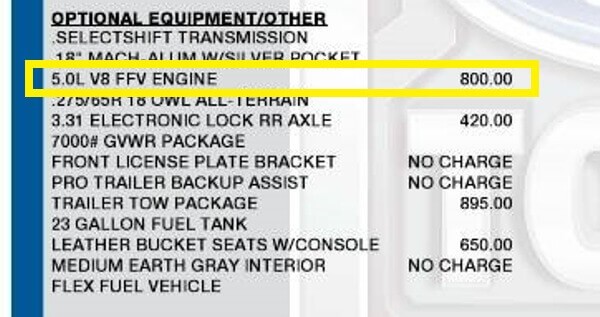 Now, here is the window sticker from an F-150 XLT which shows $1,595 for the same engine: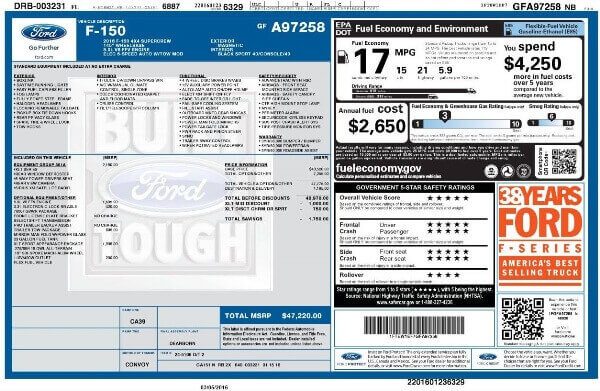 Why Are the Prices Different for the Same Option?
In this case, the price is based on the different standard equipment included in each trim level. The XLT trim level includes a 3.5 liter V-6 naturally aspirated engine as standard while the Lariat trim level includes a 2.7 liter Ecoboost (Ford's name for turbocharged direct injection) engine. Therefore, the Lariat already includes an upgrade over the XLT.
To upgrade the XLT to the 2.7 liter Ecoboost engine which is standard on the Lariat will cost $795. This $795 value is already built into the the Lariat trim level. When you want the V-8 engine, you are only going up one level if you started with the Lariat standard equipment and it will cost $800. If you started with the XLT trim level, you are actually upgrading two levels. It will cost you $795+$800=$1,595.
A similar example would be an option for two-tone leather seats. If the "A" trim level includes standard cloth seats and the "B" trim level includes standard leather seats and you want to upgrade to two-tone leather seats, the option will cost more on the "A" trim level. In that case, you are upgrading to leather seats AND two-tone leather.
Different Packages, Different Incentives
Believe it or not, there is still one more thing to consider when looking at options. Just to drive you completely crazy, the manufacturers will sometimes offer different rebates or incentives for different trim levels or even for different option packages. The higher priced packages normally have larger incentives from the manufacturer. Once again, I said "normally" and it isn't always the case.
Before you make your final decision, you must do research and educate yourself. We highly recommend the FightingChance package to find out what current rebates and incentives are available for your model. It costs $39.95 but is well worth the price. You don't want to miss a secret incentive that could make one option package a much better value than another.
You can see the rebates for free using TrueCar or Edmunds. However, they will not detail the factory to dealer incentives.
Remember, that before embarking on your car buying journey, you should read our entire new car buying guide. Does your head hurt yet?

About The Author: Lyle Romer is a consumer advocate, Founding Contributor and Vice President of CarBuyingTips.com. A 20 years veteran of the auto industry with a high level of expertise, Lyle has been researching all aspects of the automotive sales industry.
Lyle's expertise and research played a vital role during the creation of CarBuyingTips.com in 1999 after years of industry research. He carefully observed every aspect of his own car buying experience as the internet began to take a foothold in the process. He also designed the site to make sure that consumers had easy access to the best consumer advocate education.
Lyle has been an auto industry insider since 1999. He also has worked with other automotive websites to help improve their offerings based upon feedback from CarBuyingTips.com users. He covers important industry events and gathers off the record sources while attending industry conventions.
Connect with the author via: Email