Guide to Buying a Car for Your Teenager

By Jeff Ostroff, Consumer Advocate, Editor-In-Chief
Published December 12, 2013
You find yourself at that crossroad in life where it is Christmas and time to get your teenage kid a car, or maybe they graduated High School and are going off to college. What type of car should you get for them? Where do you get started? Should you buy new or used? Here at CarBuyingTips.com we have listened to many parents over the years and made this useful guide.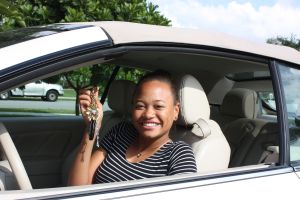 Some parents use this milestone moment as the perfect time to buy themselves a new car and hand down their 10 year old car to their kids. Sounds logical, but maybe there are other scenarios you should consider first. You don't want to saddle someone with a money pit of a car without checking out the reliability and a few other topics first. If you are sending them off to college, they need a solid reliable vehicle that's safe and won't cause them problems.
Topics you need to consider before buying a car for your teen:
Passenger and Vehicle Safety
Reliability
New or used?
Estimated cost to operate
Insurance and warranty coverage
Budgeting and paying the bills
We think safety is top priority so we will cover it first. Other experts just talk about what car to buy, barely mentioning safety. But this is the most critical part that requires some analysis on your part.
Drivers 16-17 are 3x more likely to die in a crash than 20 year olds
The Insurance Institute for Highway Safety (IIHS) rates cars according to their safety record and educates us on reducing crashes. IIHS states that the fatal crash rate for teen drivers who are 16-17 years old is about 3 times the rate for drivers 20 and older. That age demographic from 16 to 17 years is so much more dangerous than even 18 years, because our teenagers need to mature and acquire more hours of experience behind the wheel.
Adding passengers increases the risk of an accident
The risk of a fatal crash is the highest at age 16 and begins to drop after age 18. One sobering fact that IIHS points out is that that the presence of passengers increases the crash risk among teenage drivers. All the major newsworthy fatal accidents involving teens in the last 30 years in our county that I can recall were all 16 to 17 year old High School students and often included multiple deaths of 3 to 5 people.
One high profile crash in particular was a 16 year old girl driving with 7 passengers speeding to a party, lost control and went into a canal. Five teens were killed; the driver survived and still suffers to this day.
We do not recommend a minivan or SUV for teens
I think that each additional passenger is just another distraction source for the driver. Look everyone, Tony just posted photos of his ex-girlfriend on Instagram. That's enough to take a young driver's focus off the road. The danger of extra passengers is why we don't recommend giving an SUV or Minivan to your teenager as a first vehicle. Maybe once they are young adults they can own one, but not now.
You want to minimize the number of passengers in the vehicle. You don't want a party vehicle atmosphere to develop. Interesting though, other "experts" say it's okay to get a minivan for a teen, but I recommend against it, they just are not ready for this yet.
We think that an SUV can be more dangerous because of the higher center of gravity and is a likely rollover candidate, even more so for a youngster speeding around a corner. Minivans and SUVS should be for more mature drivers over 21 to be safe, unless you have a very mature and responsible teenager, with lots of hours under their belt.
Small and compact cars are not recommended even though they get good gas mileage and are inexpensive. They sustain the most damage in an accident. We recommend mid sized sedans for a teen's first car, it's a good compromise between too large and too small.
What are the causes of teen car crashes? Remember back when you were a teen. You thought you were invincible, you are going to live forever, you had no experience driving and you raced around a lot. You also didn't understand the physics of nature how things react at high speed, your reaction time, the ability to avoid an accident without swerving out of control.
Alcohol is also a factor, trust me your teens are drinking at parties. All these risks can be mitigated by limiting their night driving and number of passengers until they have more experience behind the wheel. The driver is the captain of the ship and should require all passengers to be belted in. It's the driver's responsibility to see to the safety of their passengers.
Don't think your child won't have moments of adrenaline rush, because even grown men get it. Just look at the crash that claimed the life of "Fast and the Furious" actor Paul Walker in a 2005 Porsche Carrera GT. They had an adrenaline rush and were speeding and lost control without the benefit of any kind of Electronic Stability Control.
Thanks to the Federal Motor Vehicle Safety Standard No. 126 which is now federal law, requires all new cars have Electronic Stability Control (ESC). Any used car that you consider buying should have ESC, not all have it, but you want to be sure. A new vehicle like that Porsche would no longer be allowed to be sold in the United States.
Lastly, you can visit the National Highway Transportation Safety Administration's Teen Driving Guide. Both parents and teens should study this material together. This should be required reading even if your kid has taken a driver education class at school, because IIHS thinks these classes are not enough.
NHTSA's big safety push in 2013 was the 5 To Drive Program:
No Cell Phones or Texting
No Extra Passengers
No Speeding
No Alcohol
Always Buckle-up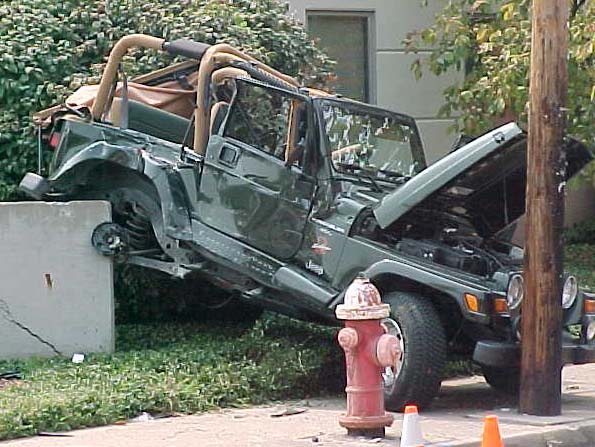 How to find a top safety pick
We like to use the ratings section of the IIHS to show the top safety picks across many different types of vehicles from small cars all they way up to SUVs. If you want the best of the best, then choose one of the cars that has their Top Safety Pick designation.
For each car that you select from the menu they give you a very nicely detailed crash worthiness report with photos showing several parameters and whether the vehicle is good, acceptable, marginal or poor in each category. This will help you narrow down which cars are safer for your teenager.
Recommended safety features we think you should have:
Airbags (should be on just about every car now)
Side curtain air bags, also known as SRS (Supplemental Restraint System)
ABS (Anti-lock Braking System) Brakes
Electronic Stability Control (ESC), helps prevent loss of control
Traction Control for driving in snow and preventing wheel spin
Some form of built in tire pressure monitoring
Blind-spot monitoring systems
Pre-tensioners and force limiters on seat belts
Backup camera
Monitoring systems that tell you if they buckle up, how fast they drive, etc.
Adaptive cruise control (speeds up and down automatically keeping pace with cars in front of you)
Not all of the above features will be present on every car and some are expensive luxury options for example over $2,000 for adaptive cruise control, but we want to make you aware of the current best in class technology for occupant safety.
How to find which cars are the most reliable
We like to review the Automotive Ratings and Awards over at J.D. Power. They have a whole section of automotive studies covering initial quality, dependability ratings by category or by brand. They have a ton of reports for you to choose from. Hold all calls, get a cup of Joe and spend a long evening going through it all. It's not surprising to usually find Honda, Lexus and Toyota on the list of Quality Ratings by Category.
My own Lexus SC300 as of this writing is coming up on 120,000 miles 16 years old, with no major engine issues. I only had issues once with a door lock actuator. The car has never left me stranded.
We also recommend you search forums for your car and see what other people are reporting. For example I go to the Club Lexus forum to either ask questions or post pictures of repairs I have made to help others. Forums like that have the real pulse of the owners and if there's any reliability issues, they will let you know.
Don't confuse car reviews with reliability, they are just reviews covering a brand new car. You want to know how cars perform once they are out on the road for some time.
Should I buy a new car or a used car?
This is the most commonly asked question. There are pros and cons to both, and the answer depends on the person. The main concept to keep in mind is that a car typically depreciates 50% during the first 36 months. So don't ever buy a car thinking it's an investment. It depreciates at least 20% the first year alone.
Now that you know the math behind it, you can decide whether you want the latest technology, safety features, reliability and 3 or 4 year warranty of a new car. Then on the flip side do you want to be financially savvy as the experts say and let the previous owner of a used car assume that huge depreciation drop in value? You'll spend a lot less on a used car but you might expect to be shelling out for major repairs once with no manufacturer's warranty.
If you choose to buy a new car
My opinion is that if you have the money to get a new car and don't care about the depreciation, then get the new car and sleep at night. We have an exhaustive new car buying guide called How To Buy A New Car and Avoid Scams, be sure to read that section entirely before you buy a new vehicle.
If you decide to buy a used car
There's another Pandora's Box of challenges. The main talking points I have for you are to make sure you run a Vehicle History Report on any used car you plan to buy and also have a mechanic put the car on a lift and hook their computer up to it for a thorough diagnostic. Don't buy any used car without doing both. We've been warning people about this since 1998 and those who ignore us have the most problems with no undo button.
We also have a used car guide called Buying a Used Car Tips and Scams to Avoid that you need to read before you venture out. You can buy a certified pre-owned used car, which sometimes comes with a warranty, but make sure you run it through all our filters to make sure you don't end up with a lemon. If you buy a used car, you usually get good safety and reliability with a Honda Accord or Toyota Camry.
Estimated cost to operate
Your main expenses are insurance, gas, tires, oil changes. You can estimate your annual gas costs by finding the MPG rating for your car. Then you simply approximate how many miles you drive each year and calculate your gas costs. The most accurate way to determine your mileage is after a few tankfuls calculating how much you spent and how far you drove. Don't put too much credence into all these theoretical numbers and window stickers with EPA ratings.
Find out what type of tires the car uses and see how much they are at your tire shop. Tires can cost $150 each, valve stems, mounting and balancing all add up. Don't forget you'll be buying a new battery every 2 to 3 years. Forget claims of 7 year batteries, that's a joke. They last 3 years at most and the stores prorate a new battery purchase price as part of the warranty.
There should be oil changes every 6 months, about $50 at repair shops if they can't be done by the car owner. The above costs should all be accounted for in your budget. We encounter many people who make the mistake of not accounting for all these operating costs and run into problems paying their rent when their car died and they had no money set aside for repairs.
Insurance and warranty coverage for the car
It's amazing how other expert guides to don't tell you this, so we will; make sure you get Uninsured Motorist coverage. This covers you for all those people out there who are driving around uninsured and slam into your car. There are lots of uninsured drivers out there. Without uninsured motorist coverage, you're a sitting duck.
You will need to decide if the teen should be on your insurance or if they can have their own and who will pay for it. Your insurance broker is the person to ask, as many factors make up the pricing, like driving record, credit history, grades in school and the driver's age. High School students working part time might not be able to pay for insurance, but they should be able to pay their own gas bill.
Teach them responsibility by allowing them to share some of the expenses like insurance, and teach them how to budget for repairs and emergencies.
If you bought a used car you might consider getting an extended warranty for it. You would hate the idea of your college freshman daughter being stranded in the middle of nowhere with a dead car and no money for repairs. There are good warranties you can buy and you should read our guide How to Buy an Extended Car Warranty and Avoid Scams.
Be sure to give us feed back on how well you did buying your kid their first car.

About The Author: Jeff Ostroff
A lifelong consumer advocate with over 20 years of unparalleled expertise, Jeff is the Founder, CEO and Editor-In-Chief of CarBuyingTips.com. As chief consumer advocate, he oversees a team of experts who cover all aspects of buying and selling new and used cars including leasing and financing.
For decades, Jeff has been the recognized authority on vehicle purchasing, sought out often by the media for his decades of experience and commentary, for live call-in business radio talk shows and is cited often by the press for his expertise in savvy car shopping methods and preventing consumer scams and online fraud. Jeff has been quoted in: CNN, MSNBC, Forbes, New York Times, Consumer Reports, Wall Street Journal and many more.
Jeff also has extensive experience and expertise in new car brokering and selling used cars for clients on eBay and Craigslist. Connect with Jeff via Email or on Twitter.