Beware of the Fine Print in Car Ads

By Lyle Romer, Consumer Advocate
Published January 19, 2016
Car advertising is always filled with fine print that you need to pay attention to. For decades we have talked about how car dealers engage in borderline false advertising. They will do things like make one particular VIN a special price and advertising it. When you go to see it, you find out that the particular car available for that price was "just sold."
However, it isn't only local dealership advertising that you must pay attention to. The regional and national ads that car manufacturers run are also filled with fine print. The beginning of the year is prime time for misleading car ads. There is a lot of advertising centered around great discounts on leftover vehicles from the prior model year. You will be blasted by these ads during the NFL playoff broadcasts.
Don't even get me started on radio advertising. How fast can somebody talk in a low volume? That's a topic for another day...
Let's take a look at a screen shot of a GMC commercial that ran during last week's football games: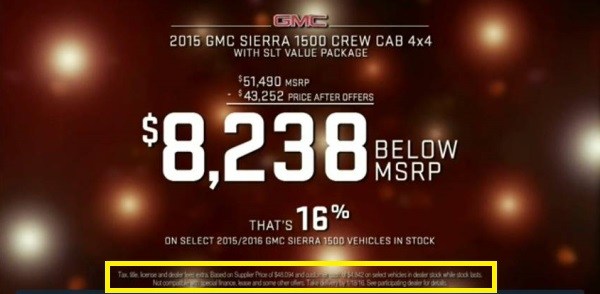 Pay attention to the nearly impossible to read fine print at the bottom of the screen. It says, "Tax, title, license and dealer fees extra. Based on Supplier Price of $48,094 and customer cash of $4,842 on select vehicles in dealer stock, while stock lasts. Not compatible with special finance, lease and some other offers. Take delivery by 1/18/16. See participating dealers for details." Let's break this BS down!
"Select Vehicles in Dealer Stock"
You will notice that this price is not for all 2015 Sierra Crew Cab trucks on the lot. It is only available on "select vehicles." Who selects the vehicles and how they select them is up to the manufacturer and the dealer. Logically, it will be the configurations that they are having the most difficult time selling. This qualification is very similar to the type of ad where a dealer advertises a specific VIN of a model for a certain price.
"See Participating Dealer For Details"
In order to find out which truck you can buy for the advertised price, you have to go to a dealership. There is nothing immoral about requiring you to do this but there an ulterior motive.
Once you are at the dealership, they want to sell you the vehicle that will net them the most profit. In some cases, it will be the "select vehicle" from the ad but, in many cases, it will be another one. If you want the one in the ad, you will have to stand firm and not be swayed by the sales pitch.
Some busy dealerships that move inventory quickly will not have any of the "selected vehicles" by the time you get there. If this happens, you'll have to decide if you still want to make a purchase or wait for another day. We recommend waiting since there is no reason to make an impulse buy once the special pricing is no longer in play.
"Not Compatible with... Some Other Offers"
What "other offers" is this deal not compatible with? Who knows what they might come up with. Maybe they'll offer you a free set of floor mats and that will void the special pricing. They may try to hide this somewhere in the paperwork.
"Take Delivery By"
You'd better be willing to make a quick decision. This ad ran over the weekend and the deal expired by Tuesday. With this particular deal, they ended up extending it but you have to assume it will end when they say it will.
Below is a screen shot of a similar ad found on the GMC web site along with the fine print:


How to Protect Yourself
If you just want to get the vehicle that is advertised for the advertised price, we recommend using TrueCar to get a guaranteed price certificate. This is an ideal use of their service. Once you get a certificate that guarantees the special deal, you won't have to play games at the dealership.
However, before you go to the dealership, we highly recommend that you read our entire new car buying guide so that you know what kind of tricks they will likely pull to squeeze more profit out of you. The price is only one component of the deal you make on a new car or truck.
Carefully Check the Paperwork
As you will learn from reading out entire buying guide, the dealers can try to hide things in the paperwork. They might play with finance rates or trade-in values to hide the selling price. Make sure to carefully check every line on the contract and do the math to make sure you are getting the price that was advertised.

About The Author: Lyle Romer is a consumer advocate, Founding Contributor and Vice President of CarBuyingTips.com. A 20 years veteran of the auto industry with a high level of expertise, Lyle has been researching all aspects of the automotive sales industry.
Lyle's expertise and research played a vital role during the creation of CarBuyingTips.com in 1999 after years of industry research. He carefully observed every aspect of his own car buying experience as the internet began to take a foothold in the process. He also designed the site to make sure that consumers had easy access to the best consumer advocate education.
Lyle has been an auto industry insider since 1999. He also has worked with other automotive websites to help improve their offerings based upon feedback from CarBuyingTips.com users. He covers important industry events and gathers off the record sources while attending industry conventions.
Connect with the author via: Email