Beware of Urgent Looking Extended Warranty Letters

By Lyle Romer, Consumer Advocate
Published March 28, 2016
Don't Let Your Guard Down After New Car Purchase
Once you get home with your new car, you might think that you can let your guard down. Don't fall into that trap. Although you are done with the dealership, you are not finished dealing with tricky sales tactics.
Dealerships use software packages to process their vehicle sales. The software companies have deals with data collection companies where they sell or exchange the sales data. Guess what the data companies do with the data? If you guessed that they sell it to marketers, you would be correct.
Expect Official Looking Letters
One industry that really likes to purchase mailing lists of people that bought cars is the extended warranty industry. Many of these companies use very "suspect" marketing methods to scare you into buying their product. One of their most common tactics is sending you a letter that looks like it is some kind of official correspondence.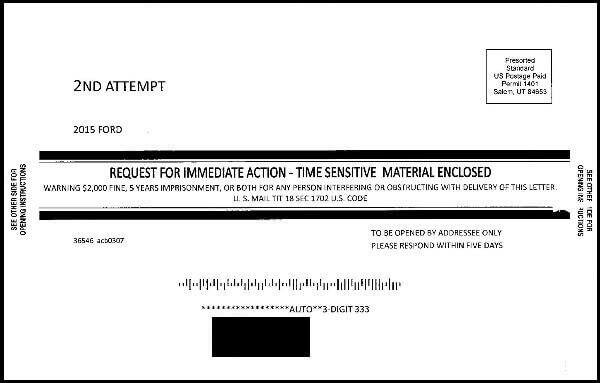 As you can see in the image above, they try and get you to have a sense of urgency. They will often say something about being "time sensitive" or making mention about what attempt number it is.
To make it look more official, many times they print a warning about the penalty for tampering with mail and cite the federal law that sets the penalties. You can see this statement in the image as well.
The entire design of the outside of the envelope is to encourage you to open it and prepare you to believe what it says inside. I recommend that you don't even open it so that there is no way you can fall for their tricks.
What the Letter Says
If you open the letter, you will find a warning filled letter inside. They like to use certain key words like "verification," "notice," "urgent" and "time sensitive."
In order to make you as stressed as possible, they will point out how you will be "liable" for repairs. The image below shows you a typical example of one of these letters.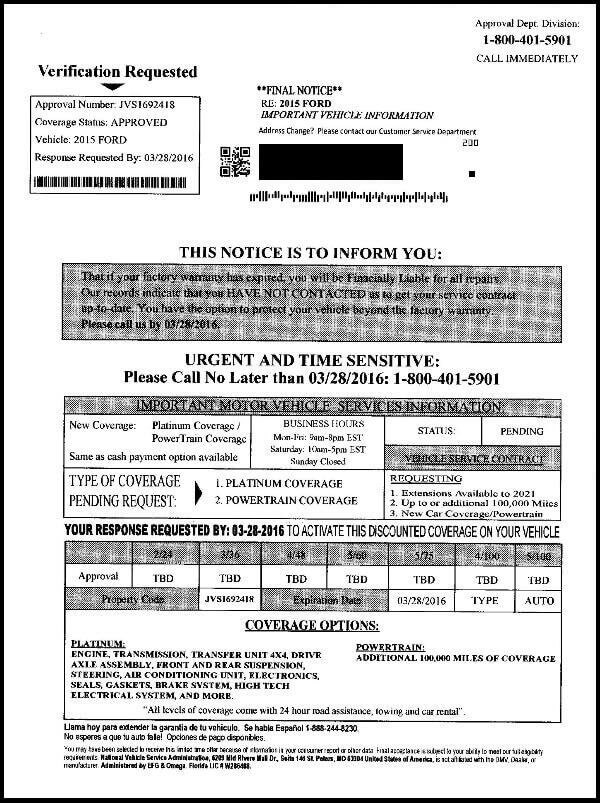 You will also notice how they put a deadline date to make it seem like you have to act or something bad is going to happen. If you look closely, you'll notice how they throw in the word "discount." After making you panic with their wording, they talk about discounted coverage to make you relax and think that even though something horrible might happen to you, it isn't so bad because you can actually save money.
Who Are They?
They almost go out of their way to not mention their company name. You have to look at the very bottom in the fine print to even see who the administrator is for the coverage. In this case, it is EFG & Omega. I decided to try and find out more about them. When I searched for their license number on the State of Florida Department of Business and Professional Regulation site and there were no records found.
Only Use Reputable Warranty Companies
As we talk about in our extended warranty chapter, you should only buy an extended warranty from a reputable, vetted company. You don't want to end up paying for a plan and then finding out that the company does everything possible to avoid paying claims. Even worse, you could find out that the company went under and didn't have high enough quality reinsurance to pay for outstanding claims.
If you want to buy extended warranty coverage, use one of the high quality companies we recommend like CARCHEX. We have thoroughly researched and vetted them. If you ever have any issues, we have close contacts with their executives so that we can help you solve any problems.
Never Contact a Company From a Misleading Mailing
To avoid any pitfalls, you should never contact any company that sends you one of these misleading letters. A reputable company would send a normal advertisement and not try to trick you into buying coverage from them.
Keep an eye out in a few years for more of these. Once you reach the time where your manufacturers warranty expires, they will start sending these again.

About The Author: Lyle Romer is a consumer advocate, Founding Contributor and Vice President of CarBuyingTips.com. A 20 years veteran of the auto industry with a high level of expertise, Lyle has been researching all aspects of the automotive sales industry.
Lyle's expertise and research played a vital role during the creation of CarBuyingTips.com in 1999 after years of industry research. He carefully observed every aspect of his own car buying experience as the internet began to take a foothold in the process. He also designed the site to make sure that consumers had easy access to the best consumer advocate education.
Lyle has been an auto industry insider since 1999. He also has worked with other automotive websites to help improve their offerings based upon feedback from CarBuyingTips.com users. He covers important industry events and gathers off the record sources while attending industry conventions.
Connect with the author via: Email