Best Vehicle for Tailgating

By Lyle Romer, Consumer Advocate
Published September 14, 2015
Football season finally kicked off to a rip roaring start, unless you are a New York Giants fan but that's a topic for another blog. With football season comes the great American tradition of the tailgate party.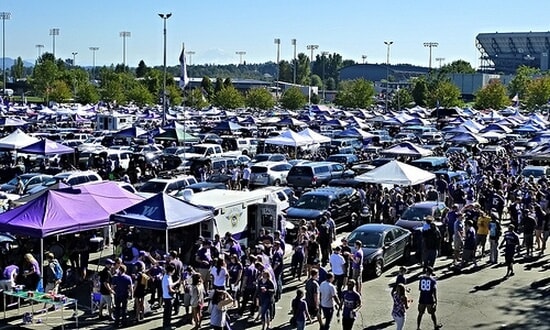 A great tailgate has plenty of food, drink and fellow fans. However, you need to get everything and everybody to the game.
Outdoor Storage
One feature that comes in very handy for a tailgating vehicle is outdoor storage. What do I mean by that? Basically, a pickup truck bed. You don't want your greasy, dirty grill inside your nice clear car, do you?
Does that mean that a pickup truck is mandatory for a great tailgate? No. While pickups are great for hauling your tailgate gear, they do fall short on seating capacity. While in some parts of the country the bed is considered acceptable seating space, we are going to discount that for safety reasons.
Best Passenger Capacity
To bring the biggest crowd to the game, you'll want an SUV with a 3rd row of seating. These vehicles can legally accommodate 8 passengers. They don't carry quite as many people as a mini-van but do I really need to explain why you don't want to tailgate in one of those?
Not Too Fancy
Since you will be parking in a stadium parking lot, you don't really want a fancy new vehicle. Your car is likely to be hit with footballs thrown by people proving why they are watching the game instead of playing in it. Ideally, my pick would be a truck or SUV that looks more comfortable at a Rodeo than on Rodeo Drive.
Unless you are going to buy something specifically for tailgating, you'll probably have to compromise. See what cars your tailgate buddies own and go with the one fits your tailgating needs the best. Hopefully, your tailgate party won't be the best part of your game day experience!

About The Author: Lyle Romer is a consumer advocate, Founding Contributor and Vice President of CarBuyingTips.com. A 20 years veteran of the auto industry with a high level of expertise, Lyle has been researching all aspects of the automotive sales industry.
Lyle's expertise and research played a vital role during the creation of CarBuyingTips.com in 1999 after years of industry research. He carefully observed every aspect of his own car buying experience as the internet began to take a foothold in the process. He also designed the site to make sure that consumers had easy access to the best consumer advocate education.
Lyle has been an auto industry insider since 1999. He also has worked with other automotive websites to help improve their offerings based upon feedback from CarBuyingTips.com users. He covers important industry events and gathers off the record sources while attending industry conventions.
Connect with the author via: Email