Best Month of the Year to Buy a New Car

By Lyle Romer, Consumer Advocate
Published December 23, 2015
There are many factors involved in the process that a dealer goes through to figure out what price they are willing to sell a car for. Some of the factors include their allocation from the manufacturer, how long a particular car has been on the lot, any incentives that may be offered to them and year end sales goals. In this new data driven world, we can determine that the month you purchase a new car has a major effect on the price you can negotiate down to.
Month with Biggest Discounts is December
We have recieved some great data from TrueCar which has helped us determine which month has the largest discounts off of MSRP on average. In the chart below, you can see that the month with the biggest discounts is December. Maybe dealers are scrambling to pad their numbers for the year!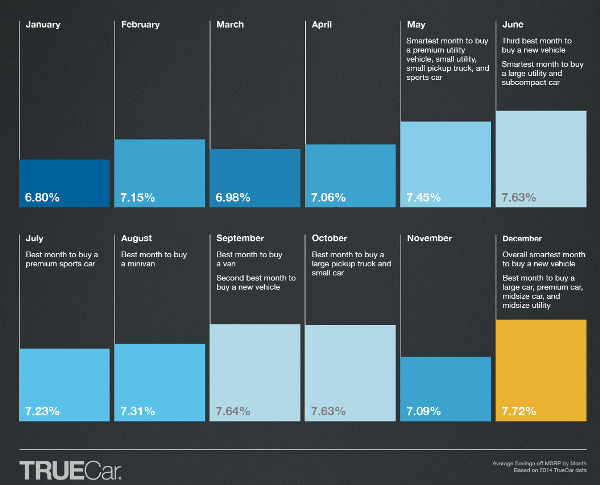 What makes this data so useful is that it is compiled from actual purchase data. You will notice that the average discount in December is almost 1% more than the discounts given in January. If you are planning to buy a car towards the end of one year or the beginning of the next year, you will probably be better off buying in December.
Why December's Dicounts are the Highest
Dealerships make a big push to move inventory at the end of the year. There are yearly sales goals for the dealerships and the salespeople that they are trying to hit. They also want to move as many of the "current" model year vehicles as possible. Even though it is only a couple of days later, somebody shopping in early January of 2016 is going to be reluctant to buy a new 2015 model year vehicle.
Since the dealerships know they will have to discount those even more if they are still on the lot after the New Year, they are highly motivated to sell them in December. If there are prior model year cars available, you will probably save more in January. However, you will have to be willing to buy a new car where the model year is the year before the actual year to take advantage of the savings. Buying in December avoids having to make that decision.
One thing to note is that you can really save a lot if a model has been completely redesigned for the next model year. If you are willing to buy the older body style, you should be able to negotiate a huge discount.
Doing the Savings Math
Lets use an example of a $30,000 car to see how much you can save. Buying this example car in December instead of January saves the buyer an average of $276. Although this isn't life changing money, wouldn't you rather have it in your pocket? The savings we are pointing out are based on the average prices paid. Since you found CarBuyingTips.com, you will have the knowlege to get a much better than average deal.
Make sure to read our new car buying guide and learn everything you need to know to negotiate a great deal. When you combine our tips with buying in December, you can really put a dent in the cost of your new car.
Competition is Critical
One thing we always focus on is that you make sure to pay attention to every part of the deal. If you negotiated a great price but get screwed on your financing, you didn't get a good deal. The first step is to get quotes from multiple dealerships so that you can have them competing against each other.
To save time and make your shopping experience more pleasant you should take advantage of the available online resources. Start by getting a Price Certificate from TrueCar to set your baseline for negotiations. Then use sites like RydeShopper and Cars.com to get additional price quotes.
Let us know how much you were able to save in our comments section.

About The Author: Lyle Romer is a consumer advocate, Founding Contributor and Vice President of CarBuyingTips.com. A 20 years veteran of the auto industry with a high level of expertise, Lyle has been researching all aspects of the automotive sales industry.
Lyle's expertise and research played a vital role during the creation of CarBuyingTips.com in 1999 after years of industry research. He carefully observed every aspect of his own car buying experience as the internet began to take a foothold in the process. He also designed the site to make sure that consumers had easy access to the best consumer advocate education.
Lyle has been an auto industry insider since 1999. He also has worked with other automotive websites to help improve their offerings based upon feedback from CarBuyingTips.com users. He covers important industry events and gathers off the record sources while attending industry conventions.
Connect with the author via: Email