Barrett-Jackson and CARCHEX show how to give back to the community

By Jeff Ostroff, Consumer Advocate, Editor-In-Chief
Published April 20, 2015
In the automotive industry, where often times we focus on over indulgence and conspicuous consumption of high priced offerings, it's refreshing to see companies give back to the community. The examples set by companies like Barrett-Jackson and CARCHEX show how their household name and expertise can be used to help those in great need.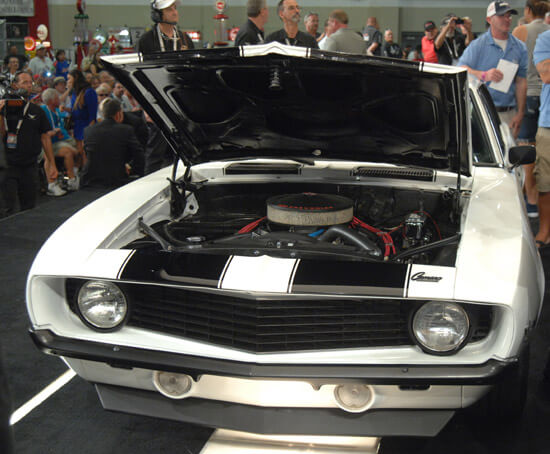 Typically during their world famous car auctions, Barrett-Jackson will slip in a few cars here and there which are donated and sold at the auction to benefit a specified charity. Barrett-Jackson typically waives all of their fees in order to ensure that 100% of the funds go to the charity. This also entices the bidders to bid higher knowing there will be no buyer's premium to pay at the end.
Here are some of the bright moments of charitable giving at Barrett-Jackson Palm Beach this past weekend, by way of charity auctions sprinkled throughout the event.
1969 Chevrolet Chevelle Custom
The first charity auction that occurred on Friday afternoon at 3 PM sharp was Lot #3000, a 1969 Tony Stewart "Smoke" Edition 396 Chevrolet Chevelle. This is powered by a custom 396 and 100% of the proceeds went to fund the Darrell Gwynn Foundation's wheelchair donation program for people who are paralyzed.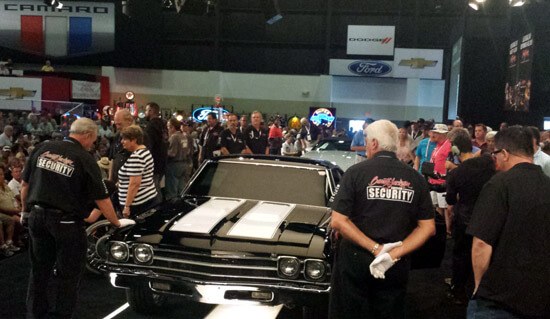 This one raised $75,000 for the foundation. Barrett-Jackson collected no sales fees, no buyer's fees and no commissions; it was all free so that all the money could be donated to the charity.
2016 Cadillac CT6 Sedan first production VIN
GM donated this car, the very first production unit 2016 Cadillac CT6 sedan in black, with the new naming style nomenclature of 2 letters followed by a number. This is the very first one to roll off the assembly line, with letter of authenticity and gives some great bragging rights to its new owner.
This Cadillac sold for an eye popping $200,000 and 100% of this auction, sold without fees, will benefit Karmanos Cancer Institute in Michigan. They are a center of research, patient care and education, dedicated to the prevention, early detection, treatment and cure of cancer.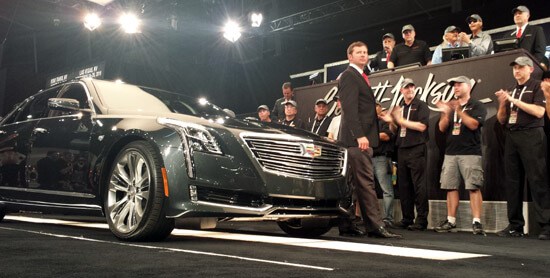 Karmanos is headquartered in Detroit, and is one of only 41 National Cancer Institute-designated Comprehensive Cancer Centers in the United States.
1996 GMC SIERRA CUSTOM PICKUP
This truck is a modified GM 572 cubic inch engine with a crate motor and TCI Turbo 400 transmission. All the proceeds from the sale of this truck benefited the Boy scouts of America. This truck raised $41,000 for the Boy Scouts.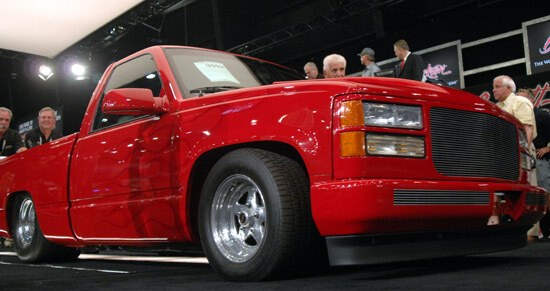 2015 Chevrolet COPO Camaro Race Car
This is the final year of the Gen 5 COPO Camaro. This one was auctioned off at 5 PM Saturday night for a jaw dropping $300,000. It was built as a display vehicle featured in the Chevrolet booth at the 2014 SEMA show. This COPO was also featured in all Chevrolet Performance advertising for 2015.
This car is also serial #0001 out of only 69 units made. This is a ferocious looking powerful Camaro designed for NHRA Stock Eliminator drag racing. The car, however, is not street legal. The winning bidder will not receive a title, they only get a bill of sale.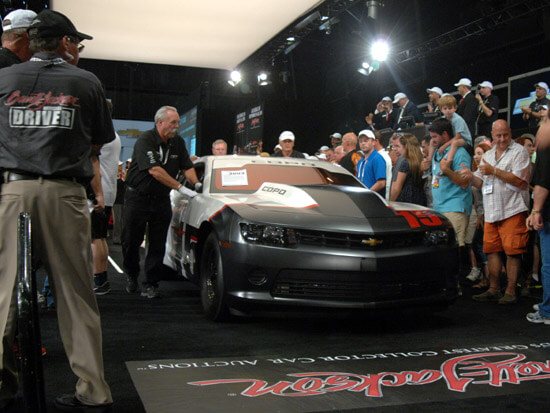 Of course, 100 percent of the winning bid will benefit the Achilles Freedom Team, a non-profit organization with 65 locations which provides athletes with disabilities with a community of support.
1969 Chevrolet Camaro Z/28 Custom Coupe
This car capped off day 2 of the Barrett-Jackson Auction in Palm Beach and was one of the highlights of the weekend as it was auctioned for $150,000 by none other than WWE Wrestler Hulk Hogan himself. He filled the room with excitement as the bids shot skyward for this desirable classical muscle car.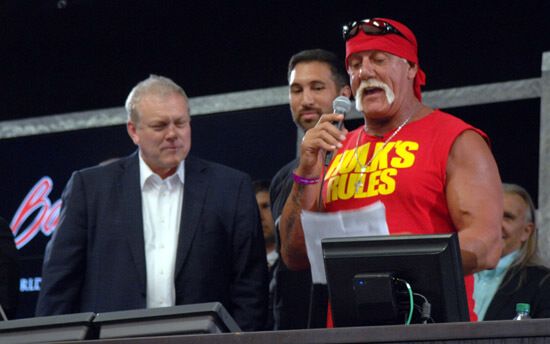 At one point they announced the Hulkster would take off his shirt in order to drive the bids even higher. This Camaro was donated by a private donor for sale in this charity auction. All proceeds benefit The SJO Foundation For Hope, Inc.
This 1969 Camaro Z/28 is a restoration and modification that has a 350 small block engine with a Weiand manifold, Holley 650 carburetor and ceramic-coated headers.
It's good to see other companies in the auto space giving back to the community as well. For example, CARCHEX has teamed up with Mothers Against Drunk Driving (MADD). They are raising money for Mothers Against Drunk Driving's Walk Like MADD event on Saturday May 9.

About The Author: Jeff Ostroff
A lifelong consumer advocate with over 20 years of unparalleled expertise, Jeff is the Founder, CEO and Editor-In-Chief of CarBuyingTips.com. As chief consumer advocate, he oversees a team of experts who cover all aspects of buying and selling new and used cars including leasing and financing.
For decades, Jeff has been the recognized authority on vehicle purchasing, sought out often by the media for his decades of experience and commentary, for live call-in business radio talk shows and is cited often by the press for his expertise in savvy car shopping methods and preventing consumer scams and online fraud. Jeff has been quoted in: CNN, MSNBC, Forbes, New York Times, Consumer Reports, Wall Street Journal and many more.
Jeff also has extensive experience and expertise in new car brokering and selling used cars for clients on eBay and Craigslist. Connect with Jeff via Email or on Twitter.